Dark black cloud
Rooming with Barnesy and the moment New Zealand came to a standstill... it's Miles Harrison's diary!
Last Updated: 10/10/11 3:48pm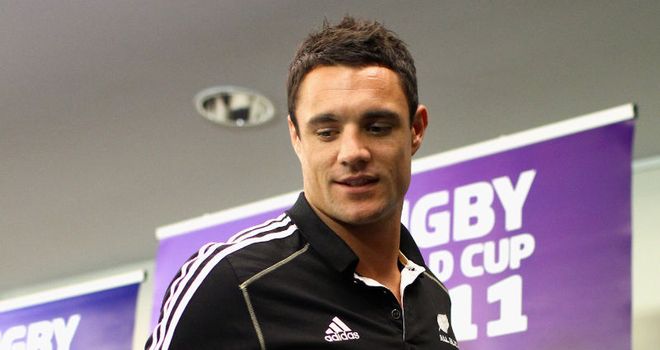 The Rugby World Cup is here as the best teams on the planet go head-to-head in the pursuit of the Webb Ellis Trophy.
Sky Sports commentator Miles Harrison will be in New Zealand for the next six weeks to watch the biggest games and to follow the competition from start to finish.
And he'll bring you a flavour of the tournament in his regular online diary, right here on skysports.com.
In Part VII Miles writes about the pros and cons of rooming with Stuart Barnes and and the moment that New Zealand came to a standstill...
Day Twenty-four - Wednesday 28th
I am sorry to say goodbye to Nelson - it is certainly one of those places to go back to and I can see why many, who come from outside New Zealand to begin a new life in this country, want to settle there.
At the airport, I catch up with a man who went to the United States to begin a new chapter in his life, USA Rugby Chief Executive, Nigel Melville. Over a coffee, Nigel seems pretty pleased with the way his adopted country has gone in this World Cup and so he should be.
The North American teams have, once again, shown how to make much of what they've got when it comes to their moment. It is just that they need more moments in the four years between World Cups.
Referee, Wayne Barnes, is another due to board the plane. I'd seen him pitch-side the night before and we chatted about how it is all going for him.
It can't be easy for a man who is still hated by many in this country and I don't use the word 'hate' lightly. Some have moved on but some others just can't seem to do that. The boos he received last night when running the line were further evidence of how many here just can't let it go. Let's put it like this, I understand why Wayne wears sunglasses!
On landing in Auckland, Stuart Barnes and I head to the rented house that will be our home for the next three and a half weeks. Inevitably, once in the cab, we spoof for first choice of room and, I suppose, it is also inevitable I will make the tea when we get there. I won the spoof which is the good news but, my fears are realised... it's not a battle for the kettle!
Day Twenty-five - Thursday 29th
This day takes me past the mid-way point of my World Cup. The time has flown by and, although, as I've said before, it is never easy being away from the ones you love, I must say, I am loving the whole experience. New Zealand is doing a wonderful job and, you sense that whatever happens from here on in, this World Cup will go down as a success. The effort that has been put in by our hosts certainly deserves that kind of assessment.
But, there is a feeling in the air today that the World Cup has just got more vital, more important. England versus Scotland on the weekend is a 'do or die' match and the increase in the media interest in the build-up to the game reflects this. It's a busy day for all concerned - the Scotland team announcement makes for an early start and, after he's answered the news conference questions, I get time to chat with coach, Andy Robinson, about, amongst other things, his Englishness.
For somebody as patriotic as Robinson, it still must be a challenge to plot the downfall of his country but that is not to doubt his commitment to his current role. Anybody who has seen the Scotland boss in the coach's box during a game knows just how Robinson feels about his job and his team. I joke whether the table in the box at Eden Park has been reinforced for this Saturday's clash?
After the Scotland interviews, I head, via the Sky Sports News broadcast point, to the England team announcement and manage to catch up with Jonny Wilkinson. During our interview, I ask him about the balls being used at this World Cup and he says that, at this stage, he can't say too much because the authorities are involved.
I smell a story later in the day but can't dwell on that for too long because I've got to rush off to see Bobby Skinstad. He is at the North Harbour Stadium conducting a coaching clinic and he has been chosen to preview tomorrow night's head-on collision between South Africa and Samoa. Bobby is a great talker and he gets the juices going with some wide-eyed enthusiasm for what promises to be a great start to the weekend.
By the time I get back to central Auckland, the England story is starting to break with kicking coach, Dave Alred, and fitness man, Paul Stridgeon, suspended for one game for their part in the ball swapping affair in Dunedin. The RFU has got in there to issue the ban before Rugby World Cup does it for them. You just know that tomorrow's England news conference at Eden Park will no longer simply be a match preview.
Day Twenty-six - Friday 30th
This morning it is off to the supermarket to stock up on the essentials. Well, it is for me, did you really think his nibs would go? Don't worry - I will be putting my initials on the eggs in marker pen! Later in the day, the England news conference is dominated by a little more 'egg on face' for the England squad on this tour with 'ball-gate'. Tomorrow's game will move it all on but, for now, there are questions to be answered.
As far as the game is concerned, I can see it being really tight. People talk about England's excellent record against Scotland, which is, of course, true but, in recent times, Scotland have won in 2006 and 2008, have drawn in 2010 and both sides have had a close scrap with Argentina at this World Cup.
This game will be close. But, when on Sky Sports News for the final 'live' of the day, I point out that, if Scotland are to go out of this World Cup, it is the defeat to the Pumas that is more than likely the moment that will come back to haunt them. But, we shall see... First, it's a TV dinner to consume some of the supermarket produce whilst watching South Africa versus Samoa. There is a lot to get my teeth into on both fronts!
Day Twenty-seven - October 1st
A new day dawns, a new month dawns - the month of the World Cup Final - but today is the day that could see the end of the road for either England or Scotland. I see the former England and Bath prop, Gareth Chilcott, out with his tour group having lunch at the Viaduct. 'Cooch' gives me his predictions for the day which centre around the fact that he too thinks this is going to be a right royal scrap and then he gives me some advice on rooming with Barnesy - all worth listening too.
Another former England prop, Phil Vickery, joins me pitch-side pre-match for Sky NZ and we talk about his old position. Vicks feels that the loss of Andrew Sheridan and the selection and availability of Euan Murray changes the dynamic there. As the game turns out, he's spot on and Scotland grab the initiative in the scrum and the set-piece in general.
I watch from the media room behind one set of posts and have a perfect view of Dan Parks' first-half kicking display and his drop-goal on the stroke of half time. Injury to Ruaridh Jackson ends his World Cup, doesn't his distraught face show it, but Parks is playing like a man who should have been selected in the first place. He is having a dream game.
By way of contrast, Jonny Wilkinson is having a kicking nightmare, not for the first time in this competition. The shots of Martin Johnson in the England dressing-room at half time show exactly what their manager thinks of his team's first-half display. England are on the edge with Scotland now just two points away from the required winning margin of eight but England start to turn it around after the interval, first upfront, and then with Wilkinson's boot.
Typical of the man, he finds a right-footed drop-goal and a penalty-goal from his just as famous left, when the pressure is at its height. But, it is only when Toby Flood comes on at the end of the game that England seal the win. Flood's lovely floated ball out to Chris Ashton, who had hardly touched the ball all night, sends the English fans delirious. Wilkinson ends the game injured - Flood on a high - and the debate on that front is bound to start again.
By now, I'm down on the pitch reporting and I am surrounded by people in the stands trying to take in the story of a dramatic night. The post-match interviews in moments like these are always tough. Dan Parks has water in his eyes and Richie Gray can hardly bring himself to speak. You know it means a lot to these men but when you see it up close like that, it really brings it home. A handshake and a pat on the back with Andy Robinson and there's really not much more you can say.
Day Twenty-eight - October 2nd
I know we need to get this into perspective, because we are only talking sport here, but Sunday morning begins with New Zealand sport's JFK moment - where were you when you heard the news that Dan Carter was out of the World Cup?
When the text comes through, my heart misses a beat so goodness knows what is going through the minds of those who live in this rugby-mad nation. Earlier in the tournament, I talked about what would happen to New Zealand if this did happen - well, now it has. Indeed, the nation stops dead - programmes are interrupted in a news-flash frenzy and the tones are as sombre and as dark as the All Black kit.
After a lazy morning after the night before, I watch Argentina struggle to get a grip of Georgia. In doing so, they extinguish any lingering Scottish hope of staying in the competition. New Zealand cope well enough without Carter to dispose of Canada but Colin Slade is really under the microscope now!
I jump in the car and go down to Sky's Viaduct studios to watch Wales dispose of Fiji. They win in a manner that suggests Warren Gatland's men have the confidence and skill to have a go at anybody in this competition. His bold and youthful selections are bearing much fruit.
Lastly, I am in the studio as a panellist for Ireland against Italy and I watch another Northern Hemisphere team, buoyed by the way the draw has worked out and fuelled with self-belief in their own improving form, turn in an excellent display. Flanker, Sean O'Brien, like Wales' Sam Warburton, is winning this country over - the New Zealanders are in love here with these two tearaways.
And, for Ireland, Tommy Bowe is fizzing again, running into those holes. Even Jonny Sexton, so down on form in the early part of the tournament, comes off the bench to bash over the final kick in an emphatic win. Confidence breeds confidence in sport. Ireland have momentum. Their clash in the last eight with Wales should be an epic.
But, the final words on the day in the studio are for Dan Carter. Most would agree that Carter has been the greatest player of his generation. I liken his absence from this World Cup to, say, what it would have been like had Diego Maradona been removed from the 1986 Football World Cup. Of course, hardened England soccer fans probably would have wished that he had been injured so that the 'hand of God' would never have happened.
But anybody with a rugby heart will feel deep sorrow tonight, as they should have done had Maradona missed out on providing those other much more beautiful moments all those years ago. At a World Cup, you want to see the best. This was meant to be Carter's World Cup: in his backyard, his time, his ultimate and crowning moment.
He has had that snatched away from him. Squads move on - they have to, as it is the nature of our game that players get injured, but, apart from being the greatest player, Carter is a super human being, too. Today is a very sad one for those who love rugby and for all those who admire Dan Carter.