No place for Manu?
Dewi Morris cannot understand why Martin Johnson has ignored the potential of centre Manu Tuilagi.
Last Updated: 14/09/11 3:27pm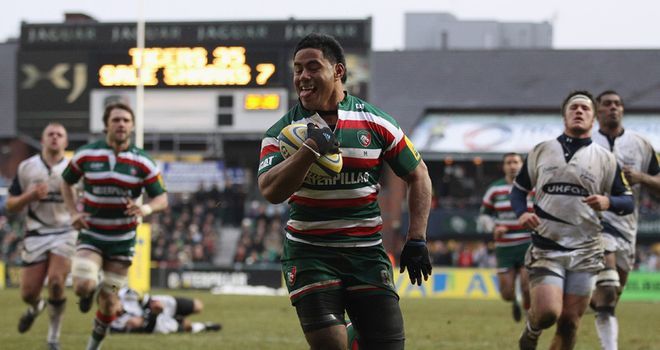 I think it is a good sign that England have brought Joe Simpson into the squad for the Six Nations. He did not start for Wasps against Quins on Saturday which I think they got slightly wrong.
He has shown enough form to warrant his place - he has great pace and I think coach Martin Johnson now has the best three scrum-halves in the country. Danny Care is maturing I think, he is prone to lapses of emotion sometimes and Ben Youngs is still No 1. But it is positive that we have three fantastic scrum-halves heading into a World Cup year.
Louis Deacon had to come back; he has proved his worth with Leicester and has really made a difference there with George Skivington. I don't think that he is the all-round international that England seeks, but he will get stuck in and do a job. He has been rewarded for his fine form at Leicester but I have my reservations. He would not be there if Lawes and Attwood had been available.
You have got to say that Johnson has covered all the bases as there are so many players in the Elite Squad and in the Saxons squad. However one guy I am amazed has been overlooked is Leicester's Manu Tuilagi.
He has made himself available for England and I have no idea why Johnson has not included him. I would like to see him in the Elite squad - maybe it is a little bit too soon but I could argue with him not being in the Elite squad but I could definitely argue with him not being a Saxon.
How many other 19-year-olds out there have his potential? Are you telling me that Johnson could not get one of the coaches to spend an hour a day with this guy to sort out his issues? Everyone has issues - Mike Tindall has got issues after 60-odd caps!
Tuilagi has more potential than I have ever seen coming through the system in England at the moment. He is not the done deal yet, and he needs some guidance and tuition, but at 19 you should be able to guide and develop these players.
He can carry the ball and gets through the first line of defence almost at will. It is something we are lacking and I expect him to really go and prove a point with Leicester. If Leicester are to go on and win things in the Premiership and in Europe then he is going to be a key.
I am shocked that Johnson has totally ignored his potential; I really cannot work that one out. To leave him out of even the Saxons I think is an amazing decision.