Sevens leg for Argentina
Extra leg added to the World Series
Last Updated: 26/06/12 5:09pm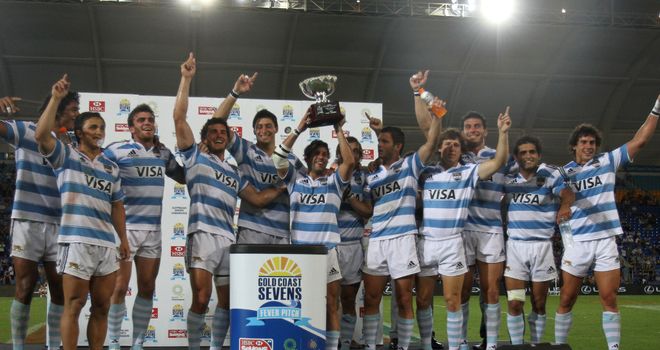 Argentina will host the second leg of the World Series
Rugby Union Betting

Rugby Union Betting

Bet with Sky Bet
The HSBC Sevens World Series has been expanded to 10 legs for the 2012/13 season, with the tournament heading to Argentina.
La Plata will play host the second leg of the event on October 20-21, with the season having kicked off the previous week with the Gold Coast Sevens in Australia.
A woman's tournament will also official run alongside the Series for the first time, while the Rugby World Cup Sevens in Moscow follow the competition's finale in London.
"I am delighted that Argentina is joining the impressive list of spectacular global destinations that comprise the record-breaking HSBC Sevens World Series," said IRB chairman Bernard Lapasset.
"These are exciting times for South America, where participation has grown by 25 per cent in the last four years owing to the prestige and profile of Rugby World Cup, the IRB and CONSUR's investment and development strategies and Olympic Games inclusion.
"Argentina continues to be the beating heart of the South American success story and we very much look forward to working in partnership with the Argentine Rugby Union and the Argentina government to deliver an event that will capture hearts and minds, benefit rugby throughout the Region and mark another significant milestone as we countdown to Sevens' Olympic Games debut in Rio in 2016."
HSBC Sevens World Series 2012/13
Round 1: Australia (Gold Coast) 13-14 Oct 2012
Round 2: Argentina (La Plata) 20-21 Oct 2012
Round 3: Dubai 30 Nov-1 Dec 2012
Round 4: South Africa (Port Elizabeth) 7-8 Dec 2012
Round 5: New Zealand (Wellington) 1-2 Feb 2013
Round 6: USA (Las Vegas) 8-10 Feb 2013
Round 7: Hong Kong 22-24 Mar 2013
Round 8: Japan (Tokyo) 30-31 Mar 2013
Round 9: Scotland (Glasgow) 4-5 May 2013
Round 10: England (London) 11-12 May 2013