Blossoming in Japan
Dave Walder shares his views on England's new coaching team and enjoys the cherry blossom season!
Last Updated: 03/05/12 9:47am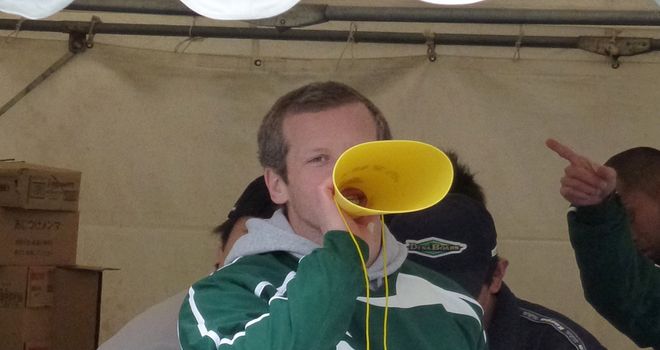 When Stuart Lancaster was appointed England head coach following a bright Six Nations' campaign, few could have imagined that only a few weeks later he would be facing a mini crisis, namely, who to have in his supporting roles.
The obvious choices, Graham Rowntree and Andy Farrell had both been spoken of highly by just about everybody in England's Six Nations' squad. They appeared to be a shoe in and would give continuity to a group that had recently been on an unsteady keel. If only life was so easy. I hope the rumour of the paltry compensation sum offered by the RFU to Saracens was not the reason behind them not releasing one of their prized assets, rather it being down to the man himself feeling a loyalty to the club which stuck by him at the end of a playing career blighted by injuries.
And so onto the next man who "was always part of the vision", Wayne Smith. Again, you would be hard pressed to find anything other than glowing testimonials from anyone ever coached by him.
From his time at Northampton, to more recently helping coach his country to winning the World Cup, he has gained experience of all levels across both hemispheres. He would have been the perfect man for Stuart Lancaster (and other young coaches in the system) to have learnt from but the lure of the job on offer couldn't persuade him to move his family.
Had it been the other way round, and he was coming to be the top man, his answer may well have been different. Successful teams are coached by successful teams of coaches and the dynamic has to be right. Coaches have to have an understanding of each other's strengths and weaknesses and there needs to be a constant dialogue. I'm not sure that Wayne Smith knew enough about Stuart Lancaster and his team to take the chance.
Don't rule out King
And so who is left? It is great to see Mike Catt getting a chance to stake his claim for the permanent role on the summer tour. One of England's greatest centres and a good thinker of the game. I have no doubt the players will warm to him and hope he is successful. However, I am slightly disappointed to see the choice of support coaches.
Simon Hardy has been, and still is, the guru of throwing in coaches and certainly should be used in a specialist capacity but, as a potential forwards coach to the midweek team, the jury is out. Jon Callard has a coaching track record similar to a Great Britain Davis Cup coach - only winning when against sub standard opposition. Therefore, I would much rather Lancaster made a bold statement and gave someone like Alex King the experience of working with international players.
Alex King only ever tasted success as a player and since moving into coaching, has worked alongside two of the other candidates you would hope the RFU seriously considered for the head coach position in Joe Schmidt and Vern Cotter. He has established himself at one of the top European clubs and is swiftly moving his way up their ranks. The timing might not have been quite right for him to have accepted the offer but I hope that Lancaster at least approached him before turning to those who have proven to be no more than adequate in the past.
Oodles of noodles!
Over here in Japan it is cherry blossom season and everybody seems to be mad for it. There was a lot of talk around the clubhouse about festivals and parties to celebrate it but I wasn't too sure what to expect. However on a trip into Tokyo at the weekend I soon understood what it was all about. One of the biggest parks in the city was crammed full of Japanese partying with the help of plenty of sake and beer under the blossoms.
While our local blossom festival in Sagamihara wasn't quite as crazy, it was still an interesting experience! The Dynaboars were out in force making and selling noodles to the festival goers. Thankfully, I avoided the cooking duties, but instead had to stand at the end of our stall repeatedly shouting "noodles and rugby goods for sale" in Japanese for the best part of two hours.
They must have been tasty as there were permanently people queuing up to sample the delights of noodles cooked by a bunch of rugby players. When I finally got the chance to put my budget megaphone down, I was moved to rubbish recycling duty. Another hour and a half on my feet meant I was almost too tired to watch the local marching bands and dance troupes in the passing procession or enjoy the pounding of the many drum bands who were intent on drowning each other out. All in all though, it was a good fun day and it was great to see the rugby players interacting with the local community. Hopefully, once the season finally arrives in five months' time, we'll have persuaded a few more people to come and give rugby a try.
Hart of Wasps
On a different note, I was very sad to hear of John Hart's retirement from the game after 10 years at Wasps. It isn't often that players stay with one club for their career but John has been a loyal clubman, always putting his body on the line for the cause. Once again, the increased physicality of the game in recent years has taken its toll and forced another player to finish his career early. This year, more than any I can remember, has seen an extraordinary number of people forced to retire due to injury. I just hope the people in charge of the game are doing everything they can to try and protect the players moving forward.