The great escape
Former Falcon Dave Walder believes Newcastle will take their fight for survival to the very last day
Last Updated: 13/03/12 2:04pm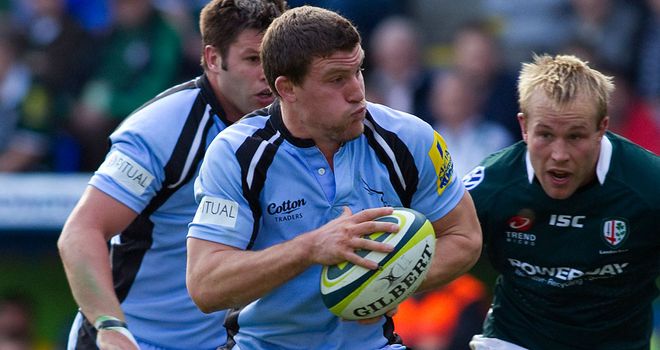 A few weeks ago, I looked at the league table and feared the worst for the Newcastle Falcons.
They were all but cast adrift from the rest of the league and in one last desperate roll of the dice, changed their coaching staff. At the time, they were playing poorly and seemed to be moving towards the inevitability of relegation with no more than a whimper.
Since Gary Gold has come in, bringing with him two of the coaches (John Wells and Mike Ford) who presided over the debacle that was England's World Cup campaign in New Zealand, they have seen an upturn in their fortunes. They have found a spark in their game and, as a beaten up Harlequins team will testify to, a physicality and desperation to their game that befits a side staring at the trapdoor to Championship rugby.
A bonus point away at Bath followed up by a home victory over London Irish saw them close the gap on a Wasps team who hadn't won since the end of October. Suddenly, the momentum was with the Falcons who are more than familiar with the ups and downs of a relegation battle.
At the same time, Wasps were experiencing their worst run of results since the Premiership began. Injuries to key players (and plenty of others too) have made it tough for Dai Young to work with a squad in which competition for places drives performances.
I imagine that any Wasps supporter would have had everything crossed as Nick Evans stepped up to secure Harlequins a draw against the Falcons with the last kick of the game last week. His success meant that the Wasps team went out the next day knowing that a win against Irish would extend their lead to effectively two wins with only five games to go. They narrowly won on the back of a dominant forwards performance and can take confidence from the way the scrum pushed the London Irish pack around.
At this stage of the season, having been involved in a relegation battle back in 2002-2003 with the Falcons, I know the smallest of things can give the whole squad a massive lift and it cannot be underestimated how vital that win could prove to be.
Conversely, it will be interesting to see how much of an impact it has on a Falcons team who were scenting another great escape only to have the wind taken out of their sails by Evans. The dogfight is by no means over yet and I think, as a twist of fate, it is going to go down to the last game of the season when Wasps host the Falcons.
The next round of fixtures is vital I believe. Newcastle must win at Worcester and that would put them back in striking distance as I can't see Wasps picking anything up at Northampton. The following week sees both sides at home with Newcastle hosting a vastly improved, although still unpredictable, Sale side and Wasps play one of the form teams of the competition at the moment, Gloucester.
It goes without saying that Wasps will want to be safe from the drop before the 5 May encounter but if it goes that far, I expect Newcastle to have the slight advantage having faced the pressure of last day nerves in the past. What is for sure is that rugby is an unpredictable game and will no doubt throw up plenty of drama before then.
Land of the early rising sun
The feeling of the first day of pre-season is hard to replicate. There is always an anticipation of catching up with team-mates who you haven't seen for a time, coupled with the excitement of meeting new signings. The dread of what lies in the months ahead is usually overcome by the guilt of having had that last beer to see you through the next few weeks of pain.
My body clock had been playing its usual tricks on me and waking me up every 20 minutes or so during the night in anticipation of the 5am start. The alarm eventually buzzed, I dragged myself out of bed and into the shower and before I knew it, another season had begun. For the last 13 years, I have never had more than a month between seasons as tours and operations in the off season had ruled my life.
I was over the moon when I signed for Mitsubishi last season and knew that I could have as much as 12 weeks off. As it turned out it was more like ten but I can't really complain having had a great time catching up with friends and family back in England before spending ten days in Australia trying to relax before it all starts again.
Normally, the best way to get through pre-season is by ticking off the days until the start of the season. However, with the season being six months away, in Japan, the only way to deal with the pain is to embrace it. My body feels as good as it has in the last six or seven years with the long rest I have had. Niggles and knocks that had rolled over from one season to the next have had time to work their way out of my legs and I am in good shape to start the mornings of running and afternoons of weights ahead.
The one thing I have struggled with is the expectation of being as fit and strong as I was when I left two months ago. We have certainly hit the ground running. In England the talk is always about player burnout from too many games; here it could soon well be about player burnout in pre-season!
Moody was a marvel
As a last thought, I was sad to hear of Lewis Moody's retirement from rugby. I have played against Lewis since we were 13 years old and can't remember anyone who was willing to sacrifice his body to the extent he did. Ultimately, it has cost him but not until he had had an outstanding career.
I'm sure that Premiership fly-halves will be sleeping a touch more easily now, knowing they won't have to worry about him flying at them from all angles again. I'd like to wish him all the very best in whatever he chooses to do next.