Sunny side up!
Dave Walder looks back at his first season playing in Japan and tries his eggs Volcano style!
Last Updated: 13/12/11 1:19pm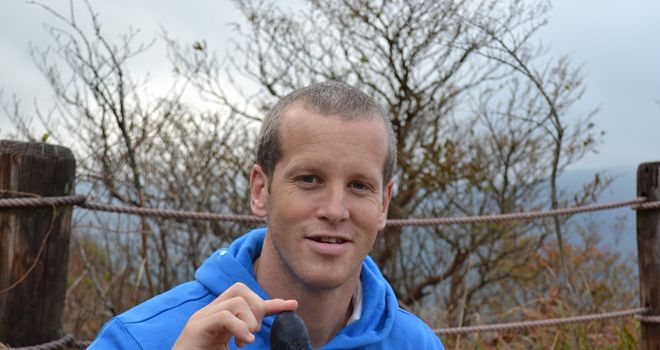 And then it was done. Almost as quickly as it had begun, our season was over.
I didn't get here until June and had missed the first three months of pre-season meaning the slight dread of back-to-back seasons with no break was more manageable than I had anticipated. We lost only one of our nine games and finished third, just missing out on the playoffs.
It is strange playing knockout rugby from the outset of the season knowing the first slip up will prove costly. That said, I have really enjoyed my first season of Japanese rugby and am hoping to go one better next year in our challenge to get to the Top League.
Steeped in history
Off the pitch as much as on it, it has been an interesting few months with the things I have seen, places I have visited and foods I have eaten. Friends and family visiting have helped me to get out and explore Japan.
I've made it half way up Mount Fuji (even if I cheated and drove), eaten boiled eggs cooked in the sulphur pools of Hakone and have seen more temples than anyone could imagine on a weekend visit to Kyoto. The country is steeped in history and round every corner there is something to look at from kimono wearing women to shrines decorated with immaculate detail.
The rugby has proved to be a steep learning curve. Initially, I settled quickly and was comfortable at training. However, take away access to Taro (our translator) at game time and things were a bit more difficult. To start with, I was unable to tell the players around me what I was thinking or was expecting from them.
Communication is the key
Remembering the different patterns was tough, especially as each option on every move has its own name. The more I have played, the more I have been able to adapt and with the help of my twice weekly Japanese lessons, I am now able to communicate far more effectively.
The pace of the game was also something I had to get used to. Rugby in Japan is incredibly quick and what the players lack in physical attributes, they more than make up for in commitment. Tackles are all aimed below the knees and breakdowns attacked at top speed. This ferocity, coupled with referees wanting to see a quick, expansive game means that at times it becomes a bit manic causing plenty of turnovers and broken field attacks.
It is exciting to play and also to watch. So far, the experience has been everything I hoped it would be. I can't wait for next season already. Pre-season on the other hand is a different matter....