Back to business
Dave Walder is back from his honeymoon and is training hard for the big kick-off in a months time!
Last Updated: 08/08/11 1:45pm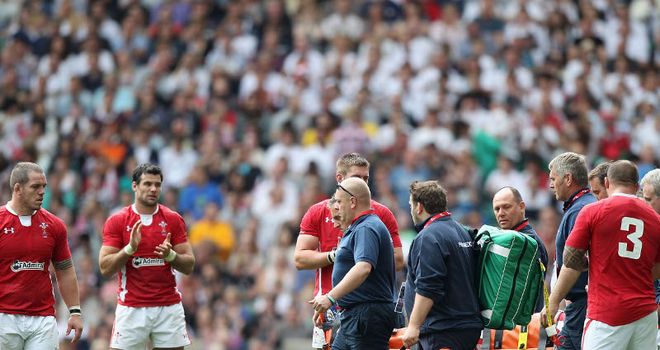 The countdown is on. It's just over a month now until the big kick off and anticipation is building nicely.
Will the favourites be able to handle the pressure being heaped on them or will one of the teams hot on their tails be able to produce that big performance when it really matters?
I am of course talking about the Japan Top East League which kicks off with a local derby, pitting the Mitsubishi Dynaboars against the Kurita Watergush.
After three weeks away, getting married and then lying on a beach at a Six Senses resort in the Maldives (highly recommended by the way!) I returned to find our training has gone up a level as the competitive season draws near. We're done with the preseason, have negotiated a tricky spring season and now find ourselves trying to mount a challenge to make the play-offs and force our way back into the Top League. My time off has done me no favours. Having watched my waistband expand like a balloon I came back to one of the hardest fitness sessions I have ever been put through. As I collapsed over the finish line after running the best part of 6km in a ridiculously quick time, I looked around me to see all my Japanese teammates walking around as though they had just been for a jog in the park. It turns out that while I was drinking and eating pretty much anything that moved over the last month, they had been doing this same session twice a week. Guess I've got a bit of catching up to do!
As a result of that, I turned down the chance of another beer last night so I could stay in and watch the England v Wales game. I thought it would be interesting to see how both teams started their competitive build up to the World Cup. I don't think too much should be read into this first test match as players are on edge hoping to make the final 30 but both teams should come out of the game with plenty of work-ons but also some positives.
To have a chance in New Zealand, I think England need to persist with the midfield combination of Riki Flutey and Manu Tuilagi as I think they complement each other well and have the potential to form a devastating partnership. However, more is needed from the back three to help the backline fire. The best exponent of this, arguably worldwide, is Chris Ashton but without him, England lacked a cutting edge and were over reliant on their forward dominance to win the match. Too often it seemed that wingers were waiting for the game to find them rather than getting as many touches of the ball as possible.
When England have come up against a team which has parity up front in the last couple of years they have struggled and on a couple of occasions, Chris Ashton's opportunism has helped them over the line. I hope that all the talk coming out of the camp about freedom to attack is not just words and that in the last two warm up games the team show an ambition to attack. However, a win is a win and although the other team in black looked pretty convincing in their win against Australia, only time will tell who will handle the pressure best come September.
My thoughts are with Morgan Stoddart after he broke his leg during that game at Twickenham which has ruled him out of the World Cup. Rugby is a hard game, but it is always tough to see players injured like that. I wish him a speedy recovery and hope he gets back to full fitness as soon as possible.