Whistle blower
Dave Walder gets stuck into referees and wished that more former players would take up the whistle.
Last Updated: 25/05/11 4:26pm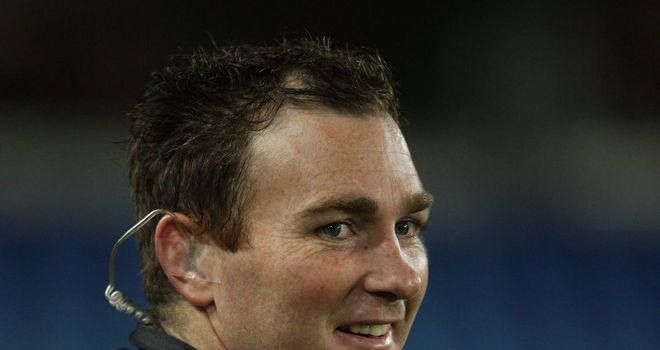 Controlling a game of rugby must be one of the toughest jobs going. A combination of so many intricate laws and a game which has become so fast and so physical must mean that without eyes in the back of their heads, referees face an almost impossible job.
It is very rare to hear a referee praised by both teams following a match and inevitably it is them who are often singled out by coaches as being the main reason behind a loss. The big issue I believe is accountability and the repercussions or the lack of it.
People say you shouldn't blame the referee and should look at your own deficiencies before criticising others, but when a decision is made in a game which can lead to a team getting relegated or missing out on Europe, it can be pretty frustrating.
As a player, I walk off the pitch knowing how well or badly I have played. I go into the club on a Monday morning following a poor game with trepidation as to how far the coaches are going to go with their criticism. Referees certainly have the same levels of analysis and reviews as players but still seem to get selected each week regardless of how they have performed.
Rugby is such a subjective game and the way it is refereed now has a huge influence on the outcome. I think that this year's World Cup will be won by the team who reacts best to the officials as much as by the team who plays the best rugby. So many games come down to a kick here or a kick there and it is the man in the middle who has the ultimate say.
Not enough is done to encourage former players to take up refereeing and the only example I can think of is Glen Jackson who is currently being fast tracked by the NZRFU. Having had 10 years' top level experience including in the Premiership, he will have a feel for the game and how it is played in both hemispheres.
One of the most contentious areas this season has been the scrum and as far as I know, there are no former front row players giving input as to how it should be controlled which is a bit short-sighted of the IRB. The more exposure officials can have to different styles of rugby played at the highest standards, the more universal and accurate their decision making can become.
All top referees presumably have the ambition to go to a World Cup and represent their country and competition within each union is tough. It seems referees feel that in order to stand out they need to wear white boots or develop a new way of signalling a decision (ala Billy Bowden in cricket).
Alternatively, another way of achieving this is to have an effect on the game they are in charge of as opposed to simply being in control of it. The old mantra of not even noticing a referee's performance has gone and has been replaced with forums and discussions about how much a decision here or there has cost a team.
Unions can definitely help by not regularly meddling with the laws of the game and on match day, referees' assistants could also help by not necessarily playing a more important role but certainly a more effective one.