Re-Cooperated?
James Gemmell looks at the anticipated return of Quade Cooper and what that means for Australia.
Last Updated: 18/05/12 10:11am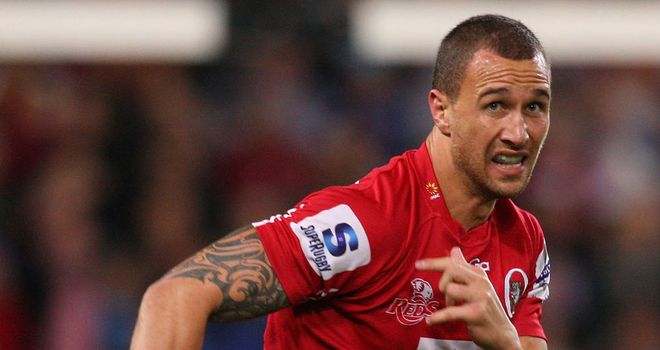 The biggest news out of Super Rugby this weekend is the return of Quade Cooper.
The man who set the rugby world alight through much of 2011 once again dons the Reds jumper in which his reputation was built, and all eyes in Australia (and many in Wales) will be watching his comeback.
What should we expect? Not too much, not to start at least.
It's been almost seven months since his knee buckled at Eden Park, and even after all that time, his return on Saturday has come as a shock.
Reds' coach Ewen McKenzie just this week said it would be a miracle if Cooper started against the Lions. There must have been some compelling medical evidence to follow, because he promptly named him to start two days later.
Whatever the case, Cooper is returning from serious knee surgery, and there must surely be nagging questions in the playmaker's own mind about his ability to revert to the hot-stepping hijinks that came to define him.
Look across at the Crusaders and Cooper's adversary Dan Carter. Injured out of the World Cup a month earlier, Carter's groin is still not at full strength, and as such he's stepped away from the number ten jersey and the kicking duties.
He and his side are short of their best, but the hope is patience and time will pay off.
Will Cooper take the same pragmatic approach? Can he afford to?
The fact that he is straight back into the front line a matter of days after his first contact session suggests his confidence hasn't been dented, and against the bottom placed Lions he'll be expecting time and space.
But Australia's three test series against Wales in less than a month is putting extra pressure on. If Cooper comes through this weekend unscathed, and then next in a tougher test against the Brumbies, his name will be aligned with a test start.
Already the national selectors are hanging on news of James O'Connor, who lacerated a kidney against the Waratahs last month. If one or both of the young stars are deemed fit, you can bet they'll be used.
Aside from the fact that Australian rugby lacks the depth to cover such losses, the Wallaby test schedule in early June must also be considered.
Following Super Rugby round 15 on June 1st and 2nd, the Wallabies play Scotland on Tuesday the 5th and Wales on Saturday the 9th. That's potentially three matches in eight days, except for players from the Reds and Force, who have the bye that Super Rugby weekend.
Looking at it from that perspective, a fit, or fit-enough, Quade Cooper looks certain to be involved in the June internationals.
Whether he's ready to take on the Six Nations champions remains to be seen.