Englishmen in Oz
James Gemmell looks at the differing fortunes of two Englishmen plying their trade in Super Rugby.
Last Updated: 22/03/12 3:30pm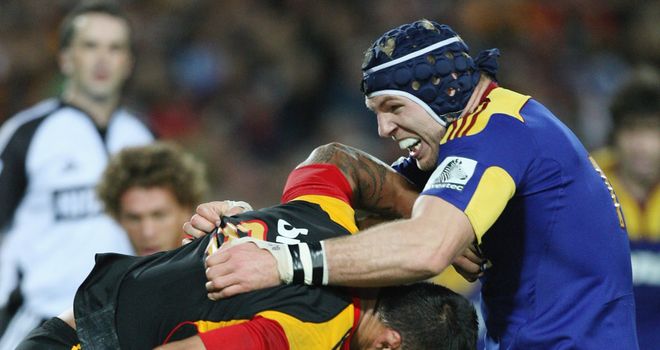 This week's announcement that Danny Cipriani is to return to England for the start of next season comes as little surprise. If anything, it's a surprise he has lasted as long as he has in Melbourne.
The Rebels are once again shaping as Super Rugby's whipping boys, and just as Cipriani signs with the Sale Sharks, he finds himself back on the Melbourne bench. It could be a long southern season for one of England's most trumped-up talents.
His decision to move to Australia and to try Super Rugby was admirable enough. Sure, he had fallen foul of the national setup and was chasing redemption elsewhere, but the move still made him something of a rugby trailblazer.
Players almost exclusively chase the pound, yen or euro these days, and while the dollars dished up Down Under can't compete, the rugby certainly can - provided you perform.
This is where Cipriani was the wrong man for the move. His natural confidence and skill are obvious and appealing, but he has delivered precious little on the field itself. He came with a name and a reputation, and in a part of the world where English sportsmen must first earn respect, he was always going to be up against it.
Keeping a low profile whilst doing everything possible to help improve the fortunes of a battling team; that's how you win friends in rugby circles down there.
Cipriani's team choice must also be questioned. The Rebels brought together a group of talented individuals - and you can add James O'Connor and Kurtley Beale to that list this season - but a winning team culture can't be manufactured, and this is where the newest addition to the competition struggle.
They have gone out and paid for star players in the hope that those players will carry the team to success. Cipriani was the first, O'Connor and Beale are the latest, one wonders if they'll take a different approach with their recruitment from here on in.
We'll now follow Cipriani's fortunes with Sale, where he faces an uncertain future and no guarantees. In many ways, the situation is similar to when he left for Melbourne in the first place. The question is, how has he changed? Sale have recently struggled in the Premiership, but in Steve Diamond have an ambitious and demanding boss who will no doubt keep a close eye on his new recruit's work ethic and influence.
England aspirations
Cipriani's made no secret of his desire to return to the international fold, and whether the current England management remain or are replaced, rest assured the recent changes made to the culture of the side will remain.
And then of course there's the growing list of talented number 10s who have their own sights set on the white jumper.
It will be very interesting to track his progress. It's a pity his time in Australia hasn't been more of an on-field success - he certainly possesses the skill set to have shone in Super Rugby.
Perhaps a better example of what can be achieved has come in the form of James Haskell with the Highlanders.
Haskell's been a bit of a rugby nomad in the last year, bouncing from Paris to Japan to Dunedin, and he'll be back in London at season's end down south. His decision to move was borne of a long-held desire to play Super Rugby, and his choice to join the Highlanders has so far proven inspired. They are a team with a distinct culture, from a province with a huge rugby history, and their geographic isolation bonds them in a unique way.
The players themselves carry the legacy, with the tradition to align oneself with an amateur local club passed on to Haskell by new team-mate and All Black Andrew Hore. It's all part of playing rugby in New Zealand's deep south, and Haskell apparently signed straight up to Hore's club, the Maniototo Maggots. You couldn't get more Kiwi if you tried.
The Highlanders are under the guidance of former All Black Jamie Joseph, a relative rookie in the coaches box, but a man held in very high regard by all those who work under him.
The community, the jersey, the coach, the individuals - all serve to inspire the team that is currently unbeaten at the top of the Super Rugby table.
Just think of the experience it is providing for their English recruit.