Australia defeat shows no desire in France camp, says Will Greenwood
Lack of consistency not helping Les Bleus
Last Updated: 15/06/14 4:37pm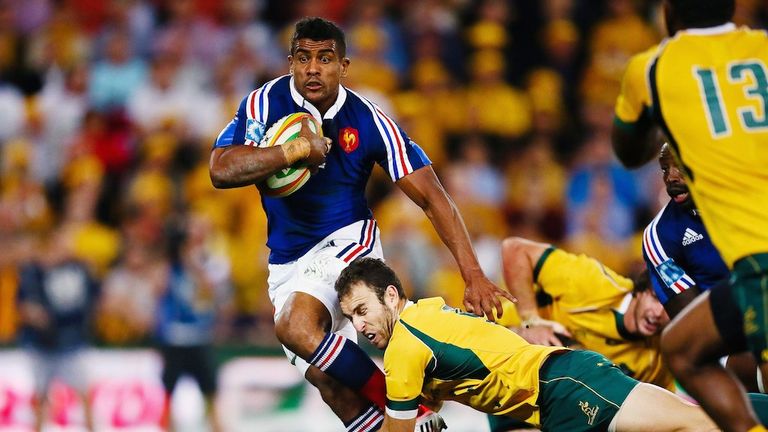 A complete lack of core in the team could ruin France's summer tour, says Will Greenwood.
Philippe Saint-Andre's side were on the wrong side of a 50-23 hammering at the hands of Australia on Saturday as the Wallabies ran out seven tries in Brisbane.
The French endured a topsy-turvy Six Nations campaign earlier in the year and have to pick themselves up from Saturday's quickly as they face the Wallabies in Melbourne on June 14, and Sky Sports pundit Greenwood was very disappointed with their defensive display.
"If you were planning an early-season run out, you'd have picked this French team to play against you," he said.
"There's clearly a problem. Defence is pretty simple in life – do you want to go and make a tackle, and do you want to work with the bloke next to you?
There's a complete lack of desire from the players on the field to work together, to improve, to get up off the floor and make the next tackle.
Will Greenwood
"Right now that's just lacking completely in that French side, and that's nothing to do with how many foreign players you have playing in your Top 14.
"There's a complete lack of desire from the players on the field to work together, to improve, to get up off the floor and make the next tackle. That has to all come down to the environment in which they're playing."
"[Wesley] Fofana is world class, of that there's no doubt, but he's in a system that's just not allowing him to play, and they're just being picked off. But you still need to score and it was a lesson in finishing."
Impossible
Saint-Andre has now won just five out of 19 Test matches, and with just 15 months left until the World Cup Greenwood believes the coach needs to stop ringing in the changes for each match.
"You look at any great sporting organisation - there is a consistency to selection," he said.
"There is a belief in those in and around you, and you tweak and adjust very slightly. The wholesale changes that take place week in, week out - as a player - make it impossible for you to feel comfortable.
"The only way you can go to the southern hemisphere and have a chance is when you look around the changing room and you go 'I know what he does, I've seen him do it and I've been alongside him when he does it'.
"With all the French team, they look around and go 'I've got no idea who you play for at Bordeaux Begles, I've played against you once this season, I've never met you'. You've got absolutely no chance."
The 2003 World Cup winner was full of praise for the performance of Australia, who take on Wales and England in the pool stage of next year's tournament.
The win over France is the Wallabies' first Test of the year ahead of another packed schedule, and Greenwood is impressed with how they have started the campaign.
"They've got a long season ahead, Australia – they do that incredible Rugby Championship where they fly across continents and time zones, and then they come on the autumn tour – so in terms of the first knock in front of the Australian cricket team they did very well," he added.
"They took their chances – what they showed us is if you allow Australia to play they will absolutely cut you to ribbons. If you force them, put them under pressure and work on the set piece, then occasionally they can make the odd error.
"They've announced themselves, and Wales and England will be watching them very closely over the next six weeks."