Will Greenwood was impressed with Toulon and says their 'mercenary' tag is well and truly buried
Will Greenwood was impressed with Toulon and says their 'mercenary' tag is well and truly buried.
Last Updated: 28/04/14 9:39am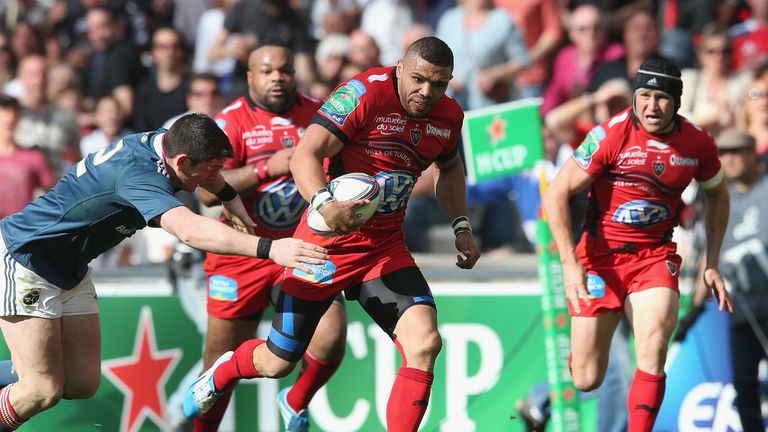 It was a nervy win as Munster soaked up all the pressure the French giants threw at them and came close to upsetting the odds.
Toulon's team sheet is a who's who of rugby with the likes of Bryan Habana, Carl Hayman and, of course, Jonny Wilkinson in their line-up. In the past they have been called a team of mercenaries who put the money ahead of the rugby but Will Greenwood says that is far from the truth.
"You see Bryan Habana jumping up and down; he's a World Cup winner - and look what it means to him just to get into the final," said Greenwood on Sky Sports.
"You can see what this means to them all, they are an outstanding side and that label of mercenary is well and truly buried.
"I thought at times in that second half both sides were unbelievable in defence. They put their bodies on the line and it just shows what this means to them. But in the end that chance that was turned down and the opportunity that Munster could just not take was where the game slipped away from them. When they tried to play from deep late in the game they got turned over and that left peg from Jonny Wilkinson did them in."
Alan Quinlan agrees and said that Munster lacked a bit of composure in the first half but did well to fight back in the second.
"It was a great performance from Munster in that second half," added Quinlan.
"Toulon are such a great side but Munster will feel that this is one that got away. They will rue the penalties and the errors in the first half and maybe played a little bit too much in their own half. There was a period there for maybe 10, 15 minutes where I thought Toulon were panicking a little bit and making some errors after that Zebo try. They were right back in the game, but could not quite finish it."
Final thoughts
Toulon will know face Saracens in the final in Cardiff after Sarries demolished Clermont Auvergne 46-6 on Saturday. It promises to be a cracking game and Greenwood says that Sarries will not be overwhelmed by the star names of Toulon.
"Toulon expect to bully teams, what we saw today from Munster is that if you scramble, if you make those last-ditch tackles then you can keep yourselves in the game.
"We also learnt today that you can get into their lineout, and that that their scrum struggled a little bit. Saracens will be watching this game at home and say yes, they are an unbelievable side, but if we can apply the intensity that we applied against Clermont then there is no reason why we cannot win. This will be a cracking final."
Quinlan says that Saracens have to bring the same intensity as against Clermont but does not expect Toulon to capitulate like their Top 14 counterparts.
"Munster failed to make those real impact tackles - their effort level was excellent but they just failed to hurt them; to slow down their ball enough. If Saracens play anything like they did against Clermont then they can stop Toulon. However the one thing we learnt from Toulon today is that they are a resilient side. They are together, tough and mentally strong.
"The worrying thing for Toulon from today is that they did not score any tries. They need to find a way to break down the Saracens defence. Sarries' defence is just brilliant - they are a really strong defensive team and Toulon have to come up with a way of scoring some tries in the final."