Phil Edwards on England's secret plans to fight tooth and nail to win the first Test
Last Updated: 05/06/14 10:45am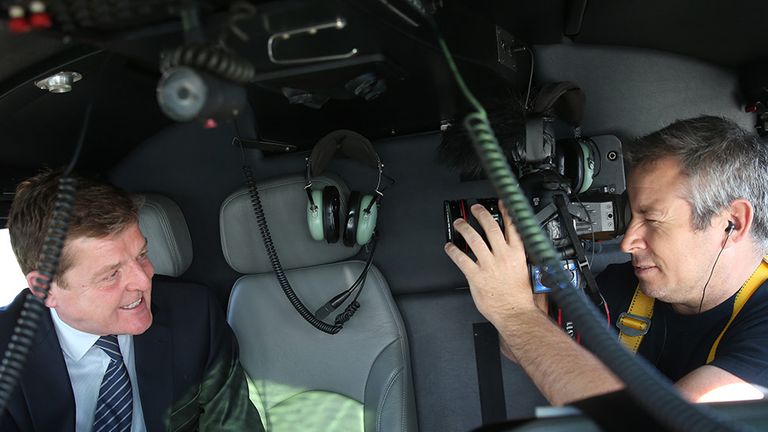 A very warm welcome from the delightful city of Auckland. Actually, it's not always delightful at this time of year, especially when languishing beneath low clouds and drenched in a relentless drizzle, but all this week it's been basking in warm sunshine.
What a difference that makes when it comes to the task of following the England team and piecing together reports for Sky Sports News.
You will be glad to hear that the mood in the England camp is buoyant. There is no shortage of self-belief, a vital ingredient for success out here in the land of the long white cloud according to forwards coach Graham Rowntree. He should know. He was a member of the last England side to win in New Zealand. That was the match in 2003 in Wellington when both Neil Back and Lawrence Dallaglio were sin-binned at the same time, but the six remaining forwards managed to cling on at scrum time, sometimes in the shadows of their own posts. Martin Johnson was asked afterwards what was going through his mind at the time and his reply was: "My spinal column"!!
The highlight of our tour so far has been a helicopter ride over the city to film some of the landmarks, including Eden Park, the stadium where England will go up against the World Champions on Saturday morning your time. Paul the pilot (an ex-pat from Marlow in Buckinghamshire) removed the left hand door so that our (legendary) Australian cameraman Ben, in a full safety harness, could get an unlimited field of vision, while I cowered on the other side of the aircraft. I reckon the visibility must have been a hundred miles in every direction.
The reason for the flight was that England were having a day off from the media (can't blame them I hear you shout) while our bosses, unfamiliar with the concept of down time, demanded that we come up with something for the benefit of the viewers. They seemed pleased, but I haven't showed them the bill yet.
Buff and polish
As for the England players, they clearly made the most of their day of freedom from the training paddock and team meeting room. Some went sight-seeing. Some visited friends or relatives. But some, mindful that they are shortly to be facing arguably the most daunting side on the planet, a side crammed with warriors of the most proud and noble rugby nation on earth, decided, on a whim, to pop off to the nearest beauty salon for a pedicure. Even worse, they posted a picture of the session on social media.
I thought at the time that this was another example of something I like to call gross stupidity in a built-up area. However, before any retired colonels start spluttering into their gin and tonics hear this: one of the hardest men ever to pull on an England jersey, the pugnacious pit bull of a front-rower Brian Moore, once trained as a manicurist. So what do I know?!
On another lighter note, one of our esteemed colleagues out here, Chris Foy of the Daily Mail, lost his suitcase on the journey over here. Apparently his airline sent it to Sydney or somewhere, so until it was returned to him he had to buy a new set of clothes here in Auckland. Cue much teasing about his lack of fashion sense when he appeared at breakfast in bright red trousers. Of course the fun continued when his case did arrive and he could revert to his usual wardrobe.
Anyhow that's all for now. I must dash because my nails are in a dreadful state and I must get them sorted while boring some poor beauty technician senseless by discussing my summer holiday plans. Bye for now.
Catch all the action as New Zealand take on England in the first Test, Sat, 8am, Sky Sports 1 HD