Humidity of Hong Kong is first big test for Lions, says Phil Edwards
Phil Edwards blogs from a sweltering Hong Kong as the Lions announce their team to face the Barbarians.
Last Updated: 02/06/13 1:19pm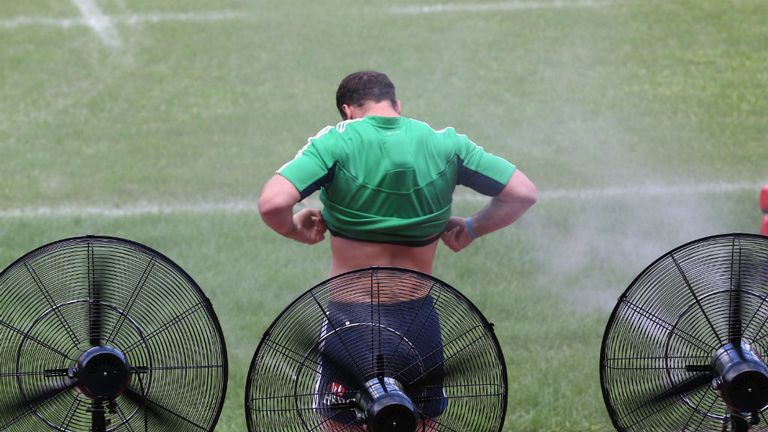 I know it is hard to believe, but that is how many days of our lives have slipped by since the British and Irish Lions last played a game of rugby.
On July 4, 2009 they beat South Africa at Ellis Park in Johannesburg, thanks to a brace of tries from Shane Williams and one from Ugo Monye.
And finally, after all the publicity shoots, departure dinners, hospitality events and even the odd training session, they are once again about to don the most coveted of jerseys and experience the blood, sweat and tears of a tour to far flung places.
Did I mention sweat? Here in Hong Kong the daily temperatures nudge 90 degrees Fahrenheit, while humidity levels are just above 80 per cent.
There is a polite saying that horses sweat, gentlemen perspire and ladies glow; that is all very well, but in conditions like these, rugby players positively cascade.
Waters sprays and electric fans have been installed at the side of the training paddock, but apparently make little difference to player comfort levels. The first of many challenges on this tour will be the very elements themselves.
Honour
So to team news and as expected Sam Warburton will take no part in the opening fixture after taking a knock. Paul O'Connell, skipper of the whole shebang four years ago, will have the honour of leading the Lions once again, this time at a sweltering Hong Kong Stadium.
As expected, circumstances have dictated that Welshmen make up the majority of Warren Gatland's first line-up. Given the conditions in this part of the world they are probably missing wet Wednesday nights in Pontypool.
The same goes for the Barbarians, of course. With one eye on the weather, and in light of a pretty disappointing match against England at Twickenham last Saturday, they have made a number of important changes.
Never mind drafting in some bloke called Sergio Parisse, by far the most significant has been the decision to ditch decades of tradition and introduce a voluntary alcohol ban. Apart from the odd glass of wine with a meal, there will be no serious consumption of either grape or grain.
This is a huge and highly controversial move and something aficionados of the sport thought they would never witness. It seems that gone are the days of Baa Baas players spending six days on the lash, working out a couple of plays in a pub car park, then taking on (and often beating) the very best in the business.
Last night in the hotel bar I suggested to my fellow rugby journalists that we might like to think about a similar gesture. After about 25 minutes they finally stopped laughing...
Watch every Lions game live only on Sky Sports. To sign up or upgrade click here