Sailing along nicely
Phil Edwards reports on England's nautical skills and an airport faux pas in his World Cup diary.
Last Updated: 04/09/11 12:14pm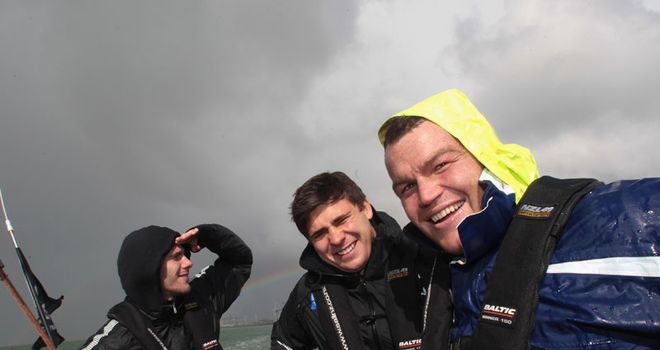 The final preparations for the seventh Rugby World Cup are almost complete.
As the eyes of the world focus on New Zealand, Sky Sports News HD rugby union reporter Phil Edwards will bring you the inside track on the biggest and best stories around - as well as some of the more bizarre - in his skysports.com diary.
Follow Phil on Twitter as he reports on the latest developments from the heart of the England camp and tackles the headline issues as the tournament unfolds.
It has been a challenging start...
Wednesday August 31
Jet-lag is a horrible phenomenon.
Sitting here zombie-like a hotel room in Auckland, my senses tell me it's mid-afternoon, but my brain thinks it's five o'clock yesterday morning. Or it might be five o'clock tomorrow morning.
Either way it seems Tuesday August 30 never existed during the 25 hours we spent travelling from Bank Holiday Monday at Heathrow, to Wednesday August 31.
Someone who understands these things better than me (which right now could be a bright ten year old kid) claims we will experience October 27 twice when we fly home. It's something to do with crossing the International Date Line on the journey back via Los Angeles.
At least we had the good fortune to be brought here by the national airline of New Zealand, which meant we could get up to speed straight away with the wonderful thing that is the marvellous Kiwi accent.
Here is a quick refresher course for you if you're intending to come out here for the World Cup
"Pin": This is something you write with, as in "Hello mate, could I borrow your pin?"
"Pun": This is something you'd use to pop a balloon.
"Flight-dick": This is where the pilot and co-pilot sit.
"Sux": This is a number between five and seven.
Thursday September 1
We received two bits of really good news today.
To begin with we attended our first press conference with Martin Johnson and Lewis Moody where it transpired that every member of the squad is expected to be able to train down in Dunedin on Monday.
This was important news because at no time during the 10 or so weeks of preparation at their base in Surrey were England able to get all hands on deck at any one time.
People like Ben Youngs, Andrew Sheridan and Shontayne Hape were recovering at various rates from either minor niggles or minor surgery, while Moody himself damaged his troublesome right knee in the warm-up game against Wales at HQ.
The England captain could very well be available for selection for the opening match against Argentina on the 10th, but it's by no means certain that the selectors will throw him into the mix straight away. After all, Moody has played just 60 or so minutes of Test rugby in this calendar year!
The other bit of (even better) news was that one of our colleagues in the media has been fined $400 for breaking strict import regulations at the airport.
Even before you land in New Zealand there are video messages on the plane warning travellers not to enter the country with so much as mud on their boots, let alone foodstuff or animal parts.
One esteemed writer, whose identity has since been revealed on the blogosphere, was caught bringing in an apple in his backpack. He said he thought this would be okay, since he'd been given the item of fruit on the flight from Hong Kong.
This only seemed to make matters worse, and he is quite clearly guilty of gross stupidity in a public place.
Friday September 2
We are just about to head off to interview a number of players and then film England's first training session here on New Zealand soil.
The guys had a great day yesterday out in the harbour on a couple of huge Americas Cup racing yachts, but now it's time to get back to the day job.
One or two of them will be feeling a fair degree of competition for their shirts, so it should be interesting to see how they respond. Full details in the next instalment...