Blues thinking ahead
Head coach excited about signing of young talent
Last Updated: 12/09/12 10:42am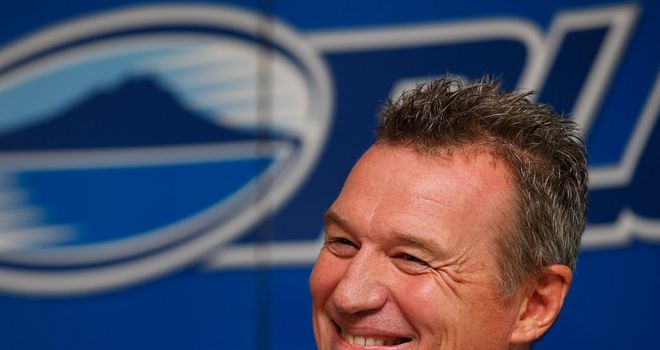 Sir John Kirwan: Positive about the future
Rugby Union Betting

Rugby Union Betting

Bet with Sky Bet
Crusaders flanker Brendan O'Connor and Southland outside-back Marty McKenzie are to join the Blues squad on two-year deals.
Both players have come through the New Zealand age-group system, with previous impressive performances for the NZ Under-20s.
Blues head coach Sir John Kirwan is delighted with the new signings as he thinks it is important to explore the wealth of young rugby talent on offer and prepare them for Super Rugby.
"This last season, I think it was the young guys who really stole the show across the New Zealand franchises," he told the club's official site. "We saw the coming of age for some pretty special rugby players."
Kirwan, who has kept 20-year-old McKenzie under his watchful eye for a while, claims that the current Southland player has "stacks of talent" and giving him the opportunity at Blues will see him "flourish" to Super Rugby level.
The outside-back has had a strong start to his ITM Cup campaign and is excited about his first move to Auckland to be part of the Blues 2013 season.
"It's an awesome opportunity to be coached by the new Blues coaching staff and I want to be part of the Blues in this rebuilding phase which could be the start of something pretty great."
Potential
O'Connor, 23, has already had two years in the Crusaders camp yet Kirwan believes the loose forward has shown a lot of potential and deserves time on the paddock to develop that.
"He's a strong and mobile player, with a solid defensive game and we are keen to get our hands on him to develop his Super Rugby ability within our squad," said Kirwan.
The flanker is currently recovering from knee surgery but the head coach said he will hit the ground running when the Blues assemble in December.
O'Connor said: "I've had a couple of conversations with JK and I really liked what he had to say. These are exciting times and I am determined to make the most of this opportunity at the Blues."