Brumbies double boost
Shepherdson and Campbell back for Cheetahs clash
Last Updated: 17/03/08 12:35pm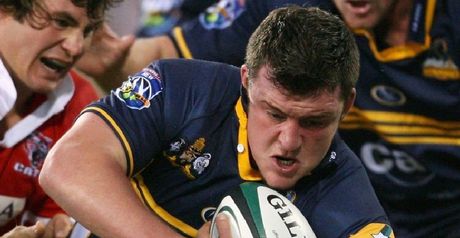 Shepherdson: Brumbies comeback
Rugby Union Betting

Rugby Union Betting

Bet with Sky Bet
Australia duo Guy Shepherdson and Alister Campbell are set to return to Super 14 action for the Brumbies against the Cheetahs on Friday.
The news comes as a timely boost to the Brumbies who have slipped to the bottom half of the Super 14 table and are currently the lowest ranked Australian side.
Coach Laurie Fisher remains confident his side can turn their fortunes around, and he is set to welcome back a number of key players from injury.
Fisher said it was unlikely he would rush Shepherdson back into the team because of his lack of recent scrummaging practice.
"The fact that he's done nothing rugby-wise for three weeks, and he gets out there scrummaging against blokes who are 130kg and working each week and the fact that he hasn't packed a scrum for three and a half weeks it's not the ideal prep," Fisher told the Canberra Times.
"They'll certainly be taking us on physically. They are very big men and I would see taking us on physically is their best way to win the game.
Struggled
"We'll just need to see how [Shepherdson] gets through training and how much scrummaging he can do [to see] whether he's in a position to start in that game."
Shepherdson made it through a tough training session last Friday and trained with the squad yesterday for the first time since injuring his leg.
"The boys have done really well [in the scrum] so I'll probably have my work cut out for me there to get my spot back in the side," Shepherdson said.
"But the physicality around the field is an area where we've struggled the last couple of weeks particularly on the ball and at the breakdown.
"I've got most of the strength and was able to get through a significant running load on Friday.
"We always know that the Cheetahs, and most of the South African sides are going to be big and physical and they're a very confrontational side."