Captain Sam Warburton backs Mike Phillips to shine for Wales
Last Updated: October 30, 2013 9:32am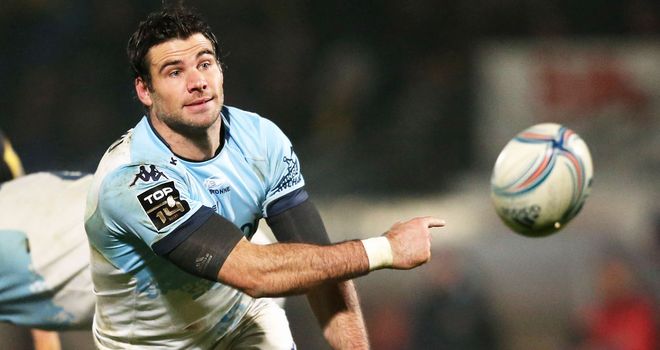 Mike Phillips: Sacked by Bayonne
Rugby Union Betting

Rugby Union Betting

Join the Free Bet Club
Wales captain Sam Warburton has backed Mike Phillips to "put things behind him" in the forthcoming autumn internationals.
Phillips was sacked by French club Bayonne on Monday, and the scrum-half has launched legal action against them as a result.
Phillips is alleged to have turned up drunk for a video analysis session at the Top 14 club earlier this month.
Phillips trained with Wales in a public session at the Millennium Stadium on Tuesday - which was watched by a crowd of just under 10,000 - and he looks set to start the autumn series opener against South Africa on November 9.
"The players have been quite respectful of Mike and not really asked him about what happened," Warburton said.
"I am sure he is sick of answering all the questions, and we have kind of left him alone.
"But whenever he has been in a Welsh shirt he has always played great, so I am sure he will put things behind him and perform this autumn."
Wales coach Warren Gatland has also backed the British & Irish Lions star ahead of the matches against
South Africa, Argentina, Tonga and Australia next month.
Bayonne, meanwhile, issued the following statement on Tuesday after an episode that also saw Phillips' team-mates Dwayne Haare and Stephen Brett face the club board to answer for their involvement in the same incident.
Phillips sat out last Friday's 24-19 victory over Montpellier, but Brett started the match and Haare was included on the bench.
In their statement, Bayonne said: "Mr Philippe Ruggieri, chairman of the management board of the Avion Bayonnais, specifies to have met on Saturday, October 26, 2013 Mr Mike Phillips before ultimate reflection.
"He indicates that the contract of employment linking the club to Mike Phillips came to an end in an anticipated way (this contract normally had to arrive forward on June 30, 2014).
"The legal representative of the club wishes to specify that the facts which the media stated do not concern in the same way the three players whose identity they reported."
Phillips claims he then learned of his dismissal from an interview in a French newspaper on Monday morning, when Bayonne chairman Alain Afflelou described Phillips' alleged behaviour as "treason".
In his statement, Phillips said: "I am extremely disappointed and frustrated by the decision taken by Aviron Bayonnais Rugby Club to terminate my employment.
"I was also disappointed by the fact that I officially heard about my dismissal through an interview given in a French newspaper.
"As a result of discussions with my legal team in France I have now instructed them to issue proceedings against Aviron Bayonnais Rugby Club through the French judicial system."