Premiership side Exeter close to deal for Waikato forward Romana Graham
Last Updated: 29/08/13 4:11pm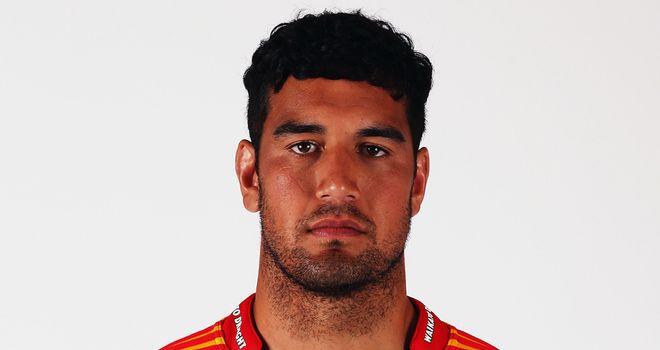 Romana Graham: Identified as second row cover
Rugby Union Betting

Rugby Union Betting

Free Matched Bet
Exeter Chiefs are close to signing Waikato Chiefs second row Romana Graham on a one-year contract.
Chiefs coach Rob Baxer has identified the New Zealander as cover for Tom Hayes and James Hanks, who are recovering from back and collarbone injuries.
And Graham's arrival is likely to signal the end of the Premiership club's summer recruitment following moves for Don Armand and Fetu'u Vainikolo.
Baxter said: "With Tommy still in the end stages of his rehab now, but still not at 100%, and James Hanks breaking his collarbone again we were looking a little thin on the ground.
"We've made the decision to strengthen our resources there and so we've gone back to a guy we've looked at before and we quite liked.
"Since that time we've done a bit more work on him and we're lucky that Waikato are prepared to release him from his contract and he's going to come over here on a year's contract.
"We'll go from there with him. What he's got to do is prove himself to be a Premiership starter and then it's really in his hands how much rugby he plays and how he goes.
"We're quite comfortable with what we've seen. He is a big guy, but we think we can work on a bit of his conditioning and add a bit to the amount of actions he makes in a game.
"That should be it for recruitment for next season. If we have a crippling injury crisis in one position next season that will change, but we feel that will give us that extra bit of cover we need at second row."
Exeter have also confirmed that Dean Mumm will wear the captain's armband this season, taking over from Tom Hayes.
Mumm said: They're big shoes to fill aren't they?. Tom has quite a legacy here at the club because his time as captain has been one of real change and real success. I say full credit to him for what he's achieved and yes it is a big job to try and fill his shoes.
"That said, you can't really approach it that way, you have to put you own mark on things. Tom has done an excellent job for us; he's a real strong leader still within the squad and I suppose I'm lucky to be the guy that gets to run out first onto the field."