Rugby Union Expert & Columnist
Dewi Morris: England need a victory to back up their performances in New Zealand
Last Updated: 19/06/14 3:26pm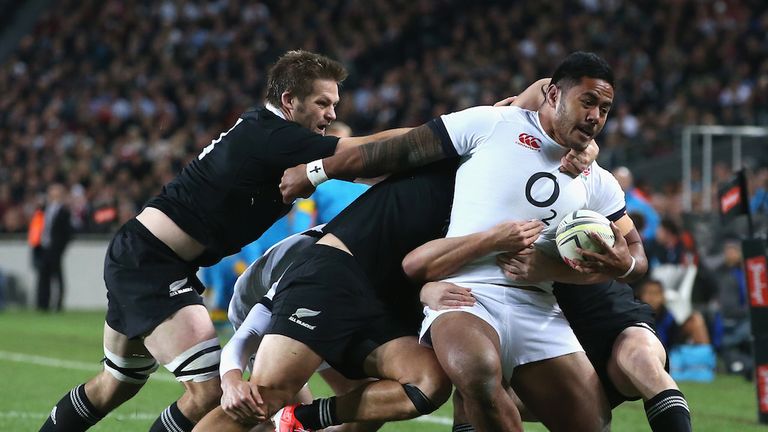 Narrow defeats in Auckland and Dunedin have left England's tour of New Zealand in danger of a whitewash, and the result rather than the performance will be what matters when the third Test takes place in Hamilton on Saturday.
I didn't agree with Manu Tuilagi going out to the wing. I'm not having a go at Stuart Lancaster because I think it's just about the first mistake his made selection-wise in his entire time as England head coach.
Tuilagi needs to be at the centre of things and that was evident on Saturday. This is the partnership that started the first Test and did well. Kyle Eastmond is still learning the game and the question was over whether he could make the step up. He proved that he could. He's got great feet and he's a Jason Robinson-type.
New Zealand v England
8.35am, Sat, Sky Sports 1
If we're going to win this Test then it's going to be by scoring tries. Obviously you've got Freddie Burns coming back in too. They did themselves a lot of credit in Auckland but they've got to get a victory now. We've had two pretty good performances but it's time to kick on and get that win.
If we can get that win, it'd be great. It'd be a real lift after a tremendously hard season and then there'll be a fantastic build-up to the 2015 World Cup.
We have 12 games left until the World Cup and we have this issue about the centre of control in our team. You look at New Zealand and Ma'a Nonu and Conrad Smith play together like Brian O'Driscoll and Gordon D'Arcy did. They're just brilliant and everything comes through that.
We've always had great props, second rows, back rows, back three, no problem. It's just the centres have always been a problem area for us. We've got to nail it down. We've tried Brad Barritt but he's more of a battering ram. You could say the same about Tuilagi but on his day he attracts so much attention that he's making space for the other guy. Eastmond has been plying his trade at 12 at Bath and Burns offers much more attacking threat than Owen Farrell, so I think that's the right move.
You've got to have a creative spark to threaten defences and both Eastmond and Burns have that, while they can always offload to Tuilagi, who can then make five, 10 yards with defenders on his back. It's a massive problem and it will be there when we come back from the tour. There are a few games to sort it all out. In the Six Nations, it seemed Billy Twelvetrees and Luther Burrell were the right combination but you learn more from defeats than when you're going forward. It looks that Tuilagi is a shoe-in for the World Cup so the decision is more about who will partner him.
Burns has had one good game for England after a terrible season. Farrell is the incumbent. I think we've got good 10s now with George Ford pressuring and Danny Cipriani showing that he has learned lots during his time away from the international stage. Farrell is the man in charge at the moment and it will stay that way until one of the others shows that they can consistently offer more of an attacking net. Farrell takes the ball nice and flat like the best attacking 10s but he doesn't have the pace to kill people off.
On the wing, Chris Ashton has had a relatively good season and has learned lessons. He can be very disruptive in a group but I think he deserves his chance. He needs to prove himself now because there'll be a lot of pressure applied to him with high balls, because he's not technically the best defender. It doesn't matter what anyone says - he isn't. We know he can finish. I want him to create more but when the pressure comes down he's got to bite down and turn up defensively. He can't afford any yellow cards.
Evolution
It's a professional game now. You just have to watch the U20s and see their professionalism. The game is in rude health. Does anyone remember the guys who finished second? No. So let's get on and do the right things to get this victory. There have been some great things from England on this tour but a victory would be fantastic, whether it's 3-0 or not doesn't matter.
It's good to see Courtney Lawes' inclusion with Geoff Parling. I also think the front row will go well. That being said, New Zealand have Kieran Read and he's just so important. He's actually more important on the wide outside when New Zealand drag people across the field because he's got a great offloading game.
It's a big call bringing in Billy Vunipola but we know what he can do going forward with a good front five. He's a powerful lad and brings the added dimension of being a wrecking ball. If he gets rampaging, he could be the difference between winning and losing. England will want to go up the middle more than New Zealand and he'll be key to that. You don't need much more motiviational edge than to be playing against Read, who is one of the best if not the best No 8 in the world. It's up to the front five to dog it out as well.
Tom Wood has been fantastic. He does so much unseen work a bit like Richard Hill used to do back in 2003. The back row has been firing and they'll be there until something happens. Obviously you've got Steffon Armitage as an out-an-out seven who's been playing as a No 8 in France but he's not selected due to the overseas policy. Despite that, the balance is very good in Lancaster's squad.
Let's make no bones about it - New Zealand will want to win this series 3-0. They won't care that they've already won the series. The supporters will not allow anything less, the history doesn't allow it and these players won't allow it.
Dewi Morris
Let's make no bones about it - New Zealand will want to win this series 3-0. They won't care that they've already won the series. They've always been the same and don't know any other way to play. The supporters will not allow it, the history doesn't allow it and these players won't allow it. That's why it's such a big Test. I think there's something special coming from this England side in the future, though.
The guys have done so well, it's been a hard season and a final Test win would be just rewards really.
Future
Tomorrow we've also got the Junior World Cup Final, with South Africa taking on defending champions England.
The Baby Boks play a lot like the senior Springboks. They're very powerful and have a very good kicking half-back in JP Smith. They've got Handre Pollard outside him and Andre Esterhuizen is an exciting centre.
England I've also been very impressed with. They've got a lot of power in their game and the half-back match-ups will be good. England also have Harry Sloan in the centre to face up to Esterhuizen. The Harlequins starlet is an important ball carrier.
It's the first time England will really have been taken on in the power game. Against Ireland, they put on a fantastic performance and had scored four tries before half time. This is a different kettle of fish because the Baby Boks centres are almost as big as their second rows.
England will have to box cute and play with pace. New Zealand tried that against South Africa and nearly beat them but ultimately failed. A few of the forward guys who will need to help England's power game are Maro Itoje and Danny Hobbs-Awoyemi. All the guys up there have been outstanding.
Interestingly, you've got Freddie Burns' playing at stand-off and he's much like his brother in that he takes the ball right to the line. It's a cracking game in prospect, and if you can join us for the third and fourth place play-off beforehand then do that too!