Rugby Union Expert & Columnist
Dewi Morris previews Championship semi-final second legs
Dewi Morris previews the Championship semis as the race for a Premiership place continues.
Last Updated: 16/05/14 7:52am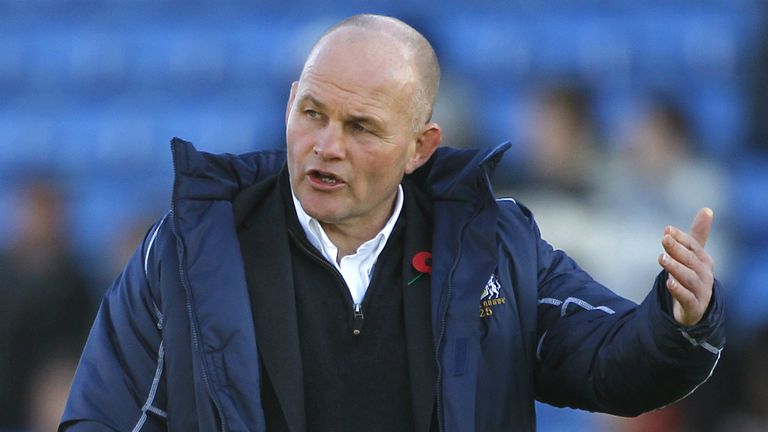 On Saturday evening Bristol take a slender advantage on the road to Rotherham before London Welsh and Leeds do battle on Sunday afternoon.
Rotherham (14) v Bristol (17): 6.05pm, Sat, Sky Sports 4
Going into the first leg Bristol coaches Andy Robinson and Sean Holley said that pressure is a privilege. Well, that pressure could be a bit of a millstone hanging round their necks now.
Bristol will have been desperately disappointed with the first-leg result, which sees them go into their away leg with a three-point advantage. They have got to go away - it is not to Clifton Lane so Rotherham will not have the advantage of being at home - but it is in south Yorkshire.
The pressure is now on. As Holley said, it is not just another game, it is the game. If they lose this they are out of contention for going up to the Premiership. There is a lot of investment, a lot of time and a lot of reputations on the line. While Rotherham have a contingency plan to be in the Premiership and if they have one of their days with the pack they have they could do it.
Bristol would have liked to have a few more points going into the game. They did not cope with the pressure very well in the first game. Conditions were bad but saying that some of Bristol's passing and decision-making was not good enough. Rotherham turned over a tremendous amount of ball and put pressure on them.
Alfie To'oala was outstanding in the first match for Rotherham, delivering huge physicality, while Alexander Rieder was my man of the match as he put in some great turnovers and choke tackles. There was no way through for Bristol and I think they would have taken any single-digit deficit going to the second leg.
For Bristol, Nicky Robinson's kicking must be better and any time three points are on offer they must take them. They haven't done that all season; they want to win games by tries. But this is the play-offs and there is not another game if you lose. Their records shows that they have beaten Rotherham the last five times, four times this season, but that does not matter. This is a one off.
I think it will be a phenomenal semi-final and there is a huge amount at stake. It could be the greatest upset in the Championship if Rotherham were to do this. I have watched them numerous times this season and they have hearts the size of a lion's.
Bristol should win this because should not be as silly or as inaccurate as they were last time. They could squeeze the living daylights out of Rotherham, but the underdogs could yet have their day.
London Welsh (31) v Leeds (38): 12.45pm, Sun, Sky Sports 4
Again this is set fair. It is a difficult one because both teams have their strengths and weaknesses and they are both great sides to watch.
London Welsh are back at home after choosing to play the first leg away from home and they will come back down to the Kassam Stadium where they are used to the pitch. I don't think Gordon Ross will be as inaccurate as he was in the early stages of the first game with some of his place kicking for Welsh, with his experience coming through.
Welsh are a bit more pragmatic with bigger forwards. But they will still have to play because if they try to close the game down then Leeds can still go from 80 metres. Both sides have the capability of that.
Jimmy Lowe is doing a great job at Leeds. He was a tenacious character in rugby league and a guy who likes to put his foot on the accelerator. His philosophy is that if the opposition scores a try they will score two, three or four. They love the ball in hand. They have a robust scrum that held London Welsh in the first leg and a rampaging back row.
For me the side that is willing to have a go and take a risk. And I have seen that from Leeds more than any other team this season. So I am going to stick my neck out and say that Leeds are going to do it.
These are not going to be turgid affairs because these sides attack and are positive sides. They are a credit to the championship. They are a must see.