Dewi Morris says that Conor Murray and Ian Keatley hold the key in Munster against Toulouse
Dewi Morris says that Conor Murray and Ian Keatley hold the key for Munster's success against Toulouse.
By Dewi Morris
Last Updated: 03/04/14 1:45pm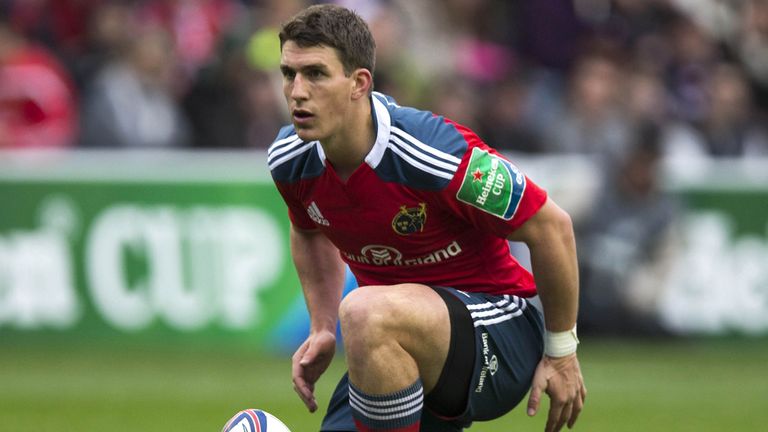 When the quarter-finals were first announced and I saw this game I thought Toulouse would have too much power for Munster, but as the weeks have gone by I think the gap has narrowed and I think this will be a very tight game with only three to five points in it.
Munster's tactics are going to be crucial, though. Do they go back to their traditional game where the forwards look to dominate and the halfbacks control or do they play the Rob Penney way and go for a bit more width? I think personally they are a little under-cooked in the midfield in terms of creating holes so I would suggest that they go back to the traditional Munster arm wrestle. That is going to be difficult against this power-packed Toulouse side, though.
For me Munster's half-backs hold the key to their success. Conor Murray has improved greatly; he has really learnt from his Lions experience and his Ireland caps. He can sometimes lose his head and tries to take on everyone but that won't help Munster at all - he needs to give his No.10 the space and times to do his thing.
Right on the button
Ian Keatley is also going to have to step up at fly-half. Ronan O'Gara has made so much history at Munster but it is time for Keatley to start writing a new chapter. He needs to up his percentage for goal-kicking and his line-kicking needs to be spot on because this is going to be a very tight game and it will come down to how much time he has on the ball and where he puts his forwards. He will need to have one of those games that is not flashy but is right on the button! His orchestration has to cool and that will come if his forwards get parity upfront and from Murray being calm and collected as well.
If Keatley starts chucking the ball around willy-nilly and tries to bring his centres in then I think he will come a cropper because Toulouse have a formidably strong midfield with the likes of Yann David, Florian Fritz and Gael Fickou to call upon. Yann David is the size of an outhouse, so Munster will have plenty of defensive work to do. It all comes down to the control of the No.10 for me - games like this will define Keatley and tell us if he is the man for the job. I hope for Munster's sake that he is because everything will revolve around him. Munster's forwards are in for a battle for the full eight minutes and they will need Keatley to direct them around the field and get the most out of them.
They are up against a big, old, traditional Toulouse pack with even bigger men coming off the bench. Munster will be looking for as much advantage they can get and that will come from Keatley's direction.
Stopping Picamoles
The key man for Toulouse is Louis Picamoles. Munster have to stop him. Against Toulon in the Top 14 last week the big No.8 made 16 carries with an average of seven metres per carry and made just one tackle! If you read into that like I do, he is used as a weapon to move their big armoury around the field. He crashes the ball up; he picks up from the base of the scrum and he gets people in position and just moves his battalion up the field. He is not used to go and hunt out the tackles - they have Yannick Nyanga and Akapusi Qera to do that.
Toulouse will look to batter Munster up front; yes, the back three of Hosea Gear, Yoan Huget and Vincent Clerc can create something out of nothing, but predominantly Toulouse are a very powerful pragmatic side who will do a job - they squeeze, squeeze and squeeze until something gives.
This game is a great way to kick-off the Heineken Cup quarter-finals and I am really looking forward to commentating on it - it's going to be a huge battle up front and luckily we have Frankie Sheahan pitch-side to give us all the finer points of the dark arts.
I do think Toulouse will steal this one, though, but I would not be surprised at all if Munster, in front of the Thomond Park faithful manage to nick it either.
Watch Munster v Toulouse, 13.00, Sat, Sky Sports 2 HD