Stuart Lancaster will stick with Chris Robshaw until openside flanker arrives
Chris Robshaw was Stuart Lancaster's only choice for England skipper, says Dewi Morris.
Last Updated: 24/10/13 3:32pm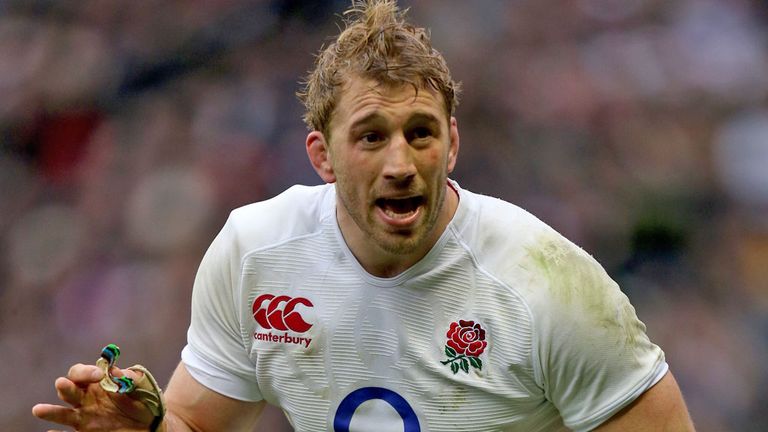 I still stand by the fact that England are struggling to find an out-and-out No.7 - Lancaster has admitted that himself - but until they do, then Robshaw is the man for the job.
He has not let anyone down and I think his captaincy has improved, and even though he has made a few mistakes, we all do that.
Tom Wood was thrown into the mix after he led England on their successful tour to Argentina but that was just because Robshaw was rested.
Wood will still play an important part for England this autumn and will be seen as one of the senior men in the team that Robshaw will rely on.
Problem
Robshaw is not the flashiest of backrow players but you don't want flashy - you want someone to do the job and someone to lead and control the side.
At the moment he is that man. Whether he is or isn't he a specialist 7 often overshadows the good work he does - though, saying that, it is still a problem for England.
On current form Robshaw has carried England pretty well through last autumn and the Six Nations. I was also impressed with his incredible work rate against Clermont Auvergne.
He had 7 on his back in that game but played a No.6 role while Luke Wallace, who was wearing the No.6 jersey, played a No.7 role.
I am slightly biased when it comes to the role of a No.7. Where are the key areas in rugby? For me, it is the breakdown and the key man to rule that area is an out-and-out 7, be it a McCaw, a Pocock or a Hooper.
These are the guys that influence the decisions.
Balance
I am talking from experience because I have dealt with some very good 7s - the likes Neil Back and Peter Winterbottom - and I know the advantage of having someone like that in your side. At the moment we have this imbalance in the England backrow.
You can get past that imbalance if your front five are dominating and powerful but it is when that momentum slows down and you get on the back foot that you have to have your 7 making the same impact.
Robshaw's role is a more carrying and linking one rather than getting over the ball. He can do it and he does do it but it is not natural for him and he is playing slightly out of position.
England have a powerful front five, but when they come up against a front five who get parity or get one over them, that is when you really see their lack of a specialist flanker.
We all thought Matt Kvesic would build on his form from Argentina with Gloucester but it has not happened. Will Fraser is back from injury and needs more time. Luke Wallace is looking good but is he good enough to get in ahead of Robshaw?
Lancaster was right to stick with Robshaw as captain and will stick with him until a specialist No.7 comes knocking on the England door.