Stop the crooked scrum feed, says Dewi Morris
Dewi Morris likes the new scrum laws, but he does not like how they are currently being policed.
Last Updated: 19/09/13 10:38pm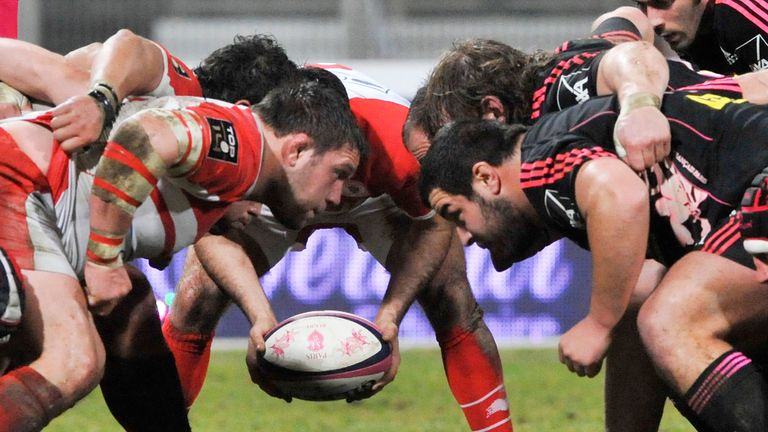 I was delighted that this was finally going to happen as I have been banging on and on about it since I joined Sky - 17 years ago!
For me it was taking the scrum back to what it should be - a scrum situation rather than a big hit situation.
All the signs were there that the scrums were going to now be square, stationary and then the scrum-half could put the ball in straight.
I asked Barnes if there will be zero tolerance regarding the crooked feed and he said absolutely.
Well, unfortunately what I have seen this season has not filled me with any hope; the ball is still going to the second rowers' feet and while referees are pinging occasionally, there is just no consistency.
It is very frustrating as I feel this is stopping the new scrum laws from being really effective. The powers that be were 100% correct in bringing back these new laws, but unfortunately they are not policing it and letting players carry on like they used to do.
Marshall
Scrum-halves have either lost the art or have been told by their coaches to slam the ball in crooked.
I know that this is a 12-month trial, but they really need to marshall this area properly and make sure that all the clubs are aware of what is going on.
They are missing the art of actually hooking and using the scrum as an absolute weapon.
A good quick hook from the hooker, straight to the No.8, can create incredible amounts of space and pace out wide. If I was playing now I would not put the ball in straight away, I would wait for my hooker to tap and then put it in.
If they allow the props to bind and then delay the ball going in - just a couple of seconds then that would depower the hit and force the front rows to get back to a bit more timing between the hooker and the scrum-half.
I want to see the art of scrummaging coming back to allow teams to really use the ball in various options - not just get the ball out.
They almost need to get the likes Jeff Probyns, John Olver the hooker from Northampton and Neil Hitchen - all these guys to go around and teach the modern front row what to do.
However, as long as the referee keeps on allowing the scrum-half to put the ball in crooked then they are never going to really learn.
It is an art and I hope it gets sorted as the scrum is an incredible part of our game and we need to keep it.