Dewi Morris: England have plenty to ponder as they build for 2015
Dewi Morris says England are in a good place and this autumn will be crucial for the World Cup in 2015.
Last Updated: 12/09/13 10:21am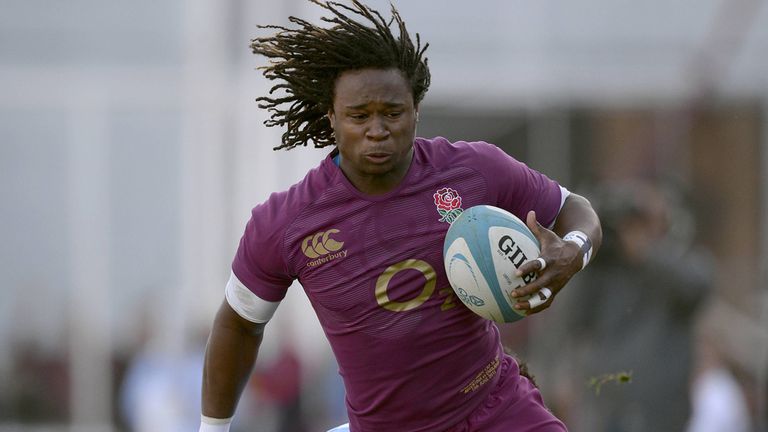 Unfortunately the drubbing they received in Wales still does hang over them but that happens in sport.
England were off their game that day and did not compete at the breakdown and Wales were just magnificent, but England's youngsters would have learnt from that and after a successful tour to Argentina, they are looking full of promise.
England Attacking Skills Coach, Mike Catt, came out this week to say that they want to know their 23 for the 2015 World Cup before they go to New Zealand next summer.
That is certainly a promising sign and I think the trip to Argentina certainly got a few more names pencilled in.
I am very happy where England are at the moment in terms of player strength and depth, though there are a few questions that need answering.
For me the most important one is the centre combination. Will Billy Twelvetrees and Jonathan Joseph be the men to break up the Brad Barrit and Manu Tuilagi centre pairing?
Pressure
Something really needs to happen there as England need to get more distribution going in that area. Another player who could feature in the centre is Kyle Eastmond - Catt is a big fan of his.
Then it is the matter of what kind of game plan England want to play. Will Freddie Burns put pressure on Toby Flood and Owen Farrell at fly-half? Do they go for a bit more pace, or do they go for the dead eye accuracy of Farrell.
Marlon Yarde was also impressive in Argentina and I think he will certainly be considered on the wing, while does Lancaster want a No.7? My thoughts are you need one and Chris Robshaw isn't a seven - he is a great six!
If he does want an out and out 7, is Matt Kvesic the man? Can Ben Morgan's engine keep on going for the full 80 minutes? He is a hell of a unit but if he doesn't then Billy Vunipola will be putting a lot of pressure on him.
England have got three massive games this autumn to fit the right pieces into the right places and I cannot wait to see how they go; New Zealand will be looking for revenge after last year's humiliation, while Argentina are learning and will do well at the scrum.
Talking about the scrum I really hope England embrace the new scrum laws - I am sure they will and keep on using it as a strength. Now is the time for Lancaster to get these people in and see what they can do. It's going to be a fascinating time.
Development
England have done a good job of recognising skills and talent and it looks like that is really starting to beat fruit with the senior team.
Those skills are developed at an early age and I was lucky enough to go to Twickenham and meet John Fletcher recently.
John is the RFU's Professional Player and Development Manager and spoke about how to build a winning U20 side - appropriate after England became world junior champions for the first time in June.
This was not only about what they were doing at the U20 level but also what they were doing at a younger level and how that affects the senior team.
A few years back there was a lot of pressure at all ages to focus on things like rucks and scrums - even at the U6 level! Now, though, they have gone down a different route where they are getting the ball into players' hands and teaching them skills.
Rucks and scrums are still important but they are taught at the end of a session. It is all about ball in hand and getting your skills sorted at an early age.
Fletcher used the example of Mako Vunipola and Henry Thomas as players with exceptional ball handling skills. He said when they played at U17 and U18 level they had the best handling skills of out of everyone.
Where do they play? In the front row - which just goes to show that you can have big players with soft hands.
We will have to wait and see if players from that world-beating U20 team go on and play for the senior team, but the future is good for the Red Rose - not only at the senior level but at the junior level, too.
Watch England take on New Zealand, Argentina and Australia in the Autumn Internationals, live on Sky Sports