Dewi Morris previews Friday's Amlin Challenge Cup final
Dewi Morris expects Leinster's exciting brand of rugby to be too much for Stade Francais.
Last Updated: 15/05/13 2:10pm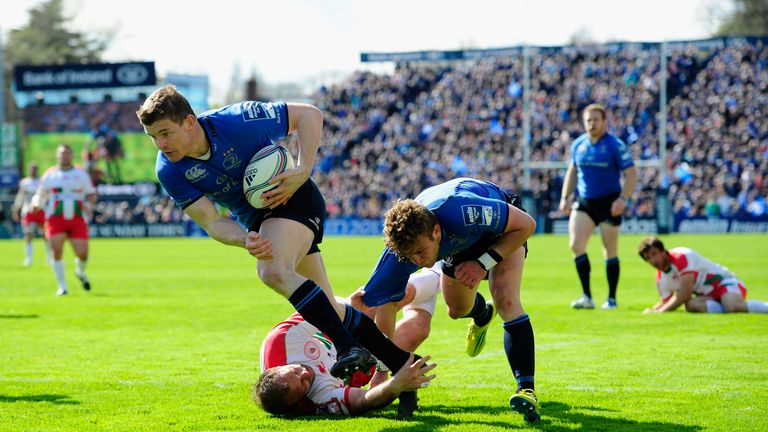 Obviously Joe Schmidt's side, who have been crowned European champions for the past two years, would have wanted to be on the other side of the road at the Aviva Stadium a day later for the Heineken Cup final. But it was not to be.
I tipped them to retain the Heineken Cup but victory in the Amlin Challenge Cup final against Stade Francais will be the next best thing. And they will be determined to finish their European campaign on a high and give Schmidt, Jonathan Sexton and possibly Brian O'Driscoll a big send off in front of their home fans.
They will be strong favourites because of the way they play and how they can dismantle teams, and if I were a bookmaker I would be giving them a start of 10 to 12 points.
But make no mistake, Stade are more than capable of ruining the party. As we saw in their quarter-final victory over Bath - when they scored four tires - they can play an off-the-cuff game and have a potent strike force which can score from long range. Then in the semi-final at Perpignan - not an easy place to go - they used the other weapon: their setpiece.
They almost scrummaged Perpignan off the park and looked to get points by kicking penalties from scrums. If I were them, I would take that approach into the final, trying to strangle Leinster and stop their quick ball.
Their attitude in certain games in the Top 14 has not been great and that is why they finished 10th. But they have quality. Sergio Parisse is a truly talismanic influence - I have never seen anyone as pumped up ahead of that semi-final - while Julien Dupuy controls matters from scrum-half, and celebrated Australian back-rower David Lyons, American lock Scott LaValla and Kiwi loose-head Aled de Malmanche provide real muscle in the pack.
It has not been a great season for them in the French Top 14 with a host of changes off the field but they want Heineken Cup rugby and they will be going for it.
Unstoppable
What Leinster can do, and the reason they are Heineken Cup champions, is that they can turn it on. And when they turn it on they are almost unstoppable, playing fantastic round-the-corner stuff that can leave defences grasping.
They were formidable in dispatching Biarritz in the semi-final, playing with a passion, a precision and a lot of power and pace. If you play with pace and controlled pace, it is very difficult for sides to stay with you. That is what they will be aiming to do.
They have shown a great brand of rugby under Schmidt and I still believe, as I said at the time, Warren Gatland missed a trick in not including him on the list of coaches. He will want to go out in a little blaze of glory, while Sexton is leaving for France at the end of the season and O'Driscoll is expected to hang up his boots this summer.
Iconic
They have had a great journey together. Winning those Heineken Cups was tremendous after coming out of the shadow of Munster and they will want to go out on a victory. It is a slight end of an era because they are losing some iconic figures but good clubs absorb that - and they have proved how good a team they are in recent years.
I hope it will be a very entertaining game because that is why we are going to Dublin: to have a few Guinnesses and watch a great game of rugby. From a viewing point of view you want Stade to be in the game with 20 minutes to go and I think they will be because their forwards are strong.
But if Leinster play as they did against Biarritz it will take a hell of a Stade side to stop them. We know Leinster like to play a fast and furious game but they can also apply the brakes and kick their goals through Sexton when needed.
If Leinster drop 10 or 15% we could have a shock on your hands. But I don't think that will happen - there's too much at stake.