Key to success
Dewi Morris assesses the form of the Premiership sides still in the hunt for European glory.
Last Updated: 17/01/13 2:46pm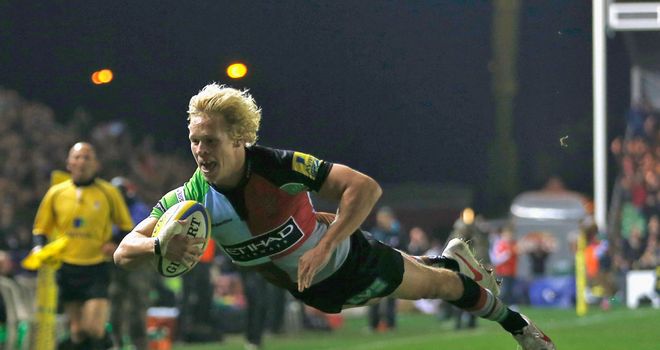 Harlequins are out in front in the Premiership and also leading Pool 2 of the Heineken Cup.
The fifteen tries they scored against Zebre have certainly given them the advantage but I am looking forward to seeing how the go about beating Biarritz this weekend.
I say 'beating' because if Quins want to go further in this competition then that is the type of scalp they need. Biarritz may be a pragmatic and boring rugby team at the moment - mainly because of the total upheaval after sacking their coach - but it will still be a big game for Quins. Saying that, I fully expect them to beat Biarritz and expect them to book a home quarter-final.
I do think the 47-8 score line against Connacht flattered Harlequins, especially after the spirit and fight shown by Connacht in the first half. Quins were just calm and collected and then just cut them to pieces when they saw their chance.
Harlequins have a lot of youth - Matt Hopper and Tom Casson are developing into a very effective centre partnership and everyone around them knows their job. The beauty of this side is that they never seem to waver. I am expecting big things from Harlequins this season.
When you play at the speed that Harlequins play you are going to have a few wobbles but they are well worth watching and I actually feel that they are not quite where they want to be yet. They are ticking over at around 80-85% and when the big games come in the Heineken Cup and the Premiership they should be able to step up even more.
The Six Nations may hamper them a bit when the likes of Chris Robshaw, Joe Marler and Danny Care go, but they have some good people to come in with the likes of Tom Guest and Karl Dickson. They also have this young lad called Ollie Lindsay-Hague who they may play at 15 in the LV Cup. He is a sevens player, a slight lad but he is phenomenal. They have people coming in all the time who can fit in to the pattern that everyone understands and enjoys.
What I like about Harlequins is that they look to unlock doors rather than bash them down. That is the sign of a good side.
Marmite
Saracens are a bit like Marmite, you either love them or loathe them. However, no matter what camp you are in, you have got to respect them. They are phenomenally dogmatic and will just not let go. They have some big guys to come off the bench like John Smit and they get a job done. They are building a winning mentality and have this 'we shall not be beaten' attitude which carries them far.
Racing Metro were pumped up and really came at Sarries but they did not yield and came away with the win; they did not buckle. They are not the most fluid of sides and do struggle to score tries but at the end of the day if they become Heineken Champions and Premiership champions then who is to say that their way is not the right way?
The win against Racing was a phenomenal performance that really put them in pole position. I expect them to get a bonus point on Sunday against Edinburgh.
Face-off!
Leicester face one heck of a challenge against Toulouse - it's a case of who blinks first. Both have big strong scrums and it is going to be a humdinger. Toulouse with all their stars are still struggling to get a half-back combination going but on their day they are simply the team to watch. And they are going to have one of those days against Leicester because if they just come and try to arm-wrestle Leicester, well I think that will play right into the hands of the Tigers.
It's a fantastic Sunday matinee and, although it could go either way on the toss of a coin, I think Toulouse will go through. There is something that suggests to me Toulouse will come and try and do a little bit more than try and scrummage Leicester off the park.
As for Northampton, I can't see them going through. They need to go up to Glasgow and get the bonus point. Against Castres their forwards were fantastic but their backs were pedestrian and predictable and that is why they did not score any tries.
Historically 18 points has not been good enough to get through and I cannot see them suddenly turning it on and getting four tries. I think their goose is cooked for this year.