England need quick ball, better skills and a fly-half with vision if they want to be World Cup contenders again
Dewi Morris believes that England will never reach the top if they don't resolve three crucial issues.
Last Updated: 14/11/12 4:11pm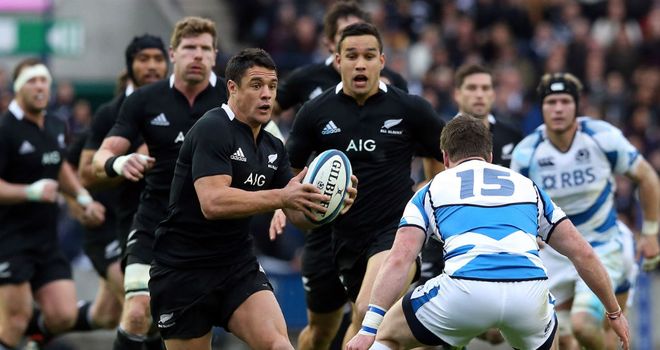 I know these are important games coming up as far as World Cup seedings go, but we only have a couple of years to fix it.
The first thing is the presentation of the ball and by that I mean quick ball. England have battled to do this since they won the World Cup in 2003! It is no coincidence that the team who does this so well is New Zealand, the current world Champions and the best team on the planet.
If you watched New Zealand demolish Scotland on Sunday you would have seen the perfect example of this. Richie McCaw took the ball up into midfield, got tackled but he fought to get back. He does not lie on the ball, does not get the ball tucked up under his knees or try and lay it back like a chicken. He fights back to look at the scrum-half and his arms - still holding the ball - go back towards the scrumhalf and he presents it like that. The supporting players ruck over him and the ball goes straight into the scrum half's hands and they are away.
It is so easy and it is something that I banged on about when I played - I wanted people to fight back in the tackle to make sure the ball was well presented so that I could get it away as quickly as possible. No one seems to do it anymore apart from the All Blacks.
It is a simple thing to do as long as you have support; the trouble is that our guys don't seem to support enough to get that quick ruck started to present that quick ball. That was highlighted on Saturday against Fiji when we really needed quick support players, smashing in and rucking over. We seem to be more worried about the second, third and fourth phase rather than securing the first phase as quickly as possible.
Pace and vision
The second aspect is that England needs a 10 who has pace and can actually threaten defences. Toby Flood is a lovely passer of the ball who stands flat but he does not cause enough damage. Dan Carter against Scotland created a hell of a lot of damage because he has got good pace, good strength and fantastic vision.
The only man who can do this as far as I am concerned is Freddie Burns. He has to be elevated in the squad for the Six Nations and get him playing. We are never going to move on if we do not have players looking for quick ball and causing threats with that ball.
Skills under pressure
The final thing is that our players need to get better at the basic skills under pressure. I am talking about being able to catch and pass when it really matters. Again, I am going to highlight the All Blacks - you watch their forwards, they can all catch the ball and get the ball away under pressure. I think all our forwards are able to catch and pass but it is under pressure that counts and they always seem to take the contact option.
Against Fiji, Dan Cole had a seven-to-one overlap but decided not to pass the ball and took the contact. Taking the contact is part of the game and of course New Zealand do that, but they do it because it is the right option rather than just looking for contact because it's the only thing they can do.
We are over-coaching our players and teaching them to run into brick walls and asking them to constantly recycle the ball just to set up another phase without the players looking up and seeing what is actually on. Our players would rather try and smash through the wall, New Zealand have gone round it quicker than anyone else.
I feel that we are trying to redefine the wheel while New Zealand have just put a pair of slicks on the wheel. They don't play a different game but they play a fast-paced game and a balanced game using athletes who have an incredible vision of the game and also a great appetite to play the game the way it is meant to be played.