Missing a trick
Dewi Morris says Steffon Armitage should be in the England squad and picks his team for Australia.
Last Updated: 02/11/12 10:42am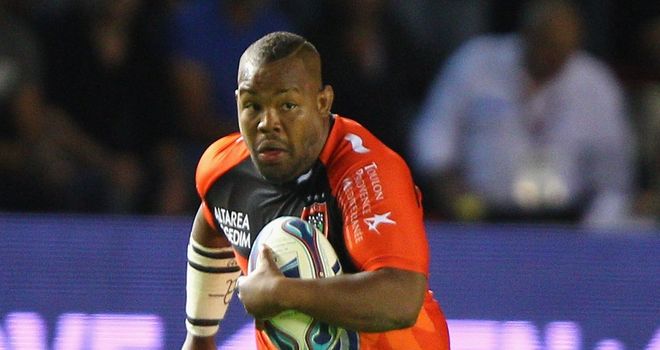 As far as I am concerned, Steffon Armitage should be in the England squad.
He was talked about going to South Africa with England in the summer but he didn't because of his Toulon contract and I was really hoping to see him involved in the autumn Tests.
I understand there are issues and ramifications surrounding England players playing in France but Armitage is just too different and too good to ignore.
England Head Coach Stuart Lancaster is probably sending out a message to other players about going abroad but I have watched Armitage perform over in France and have heard other people talking about him, and while he is not the finished article, England are missing a trick.
If he was Welsh, Scottish, Irish or whatever they would be making a special compensation for him. I think he is without doubt one of the top five marquee signings in France and I think in the last two years he has been the standout import in over there.
Week-in and week-out he is the stand-out player in a team full of superstars performing against other high performance teams - why are we not giving him a go?
I would love to see England play him at seven. They could put Robshaw at six because he is not really an out and out seven, more a six-and-a-half! All good sides have to have a good No.7 - the McCaws, the Pococks, the Warburtons of this world - and I really think that England are missing someone of that calibre.
In my opinion Armitage gives you everything that they have and something more. Lancaster has said that Steffon - and his brother Delon, who is also performing well for Toulon - are on the radar. However I want him involved now and think that these Tests would have been the perfect opportunity to see what Steffon Armitage can do on the international stage.
Team to face Australia
The Tests kick off with Fiji on 10 November and that will be the opportunity for England to try out a few new combinations to give some of the youngsters a taste of the international arena. That is no disrespect to Fiji and England will have to be careful of their superb running game; however I think the big test will start the following week against Australia and here is my pick of who should start for England...
1 - Joe Marler
Marler has been promising a lot over the last few seasons and I would love to see him take his Harlequins form into the Test arena - let's hope he recovers from his hamstring strain.
2 - David Paice
David Paice would come in at hooker. He has had experience and I think Tom Youngs is still learning the game and needs to learn to handle the pressure.
3 - Dan Cole
He is the best tight head in the northern hemisphere. He does what he needs to do in the set-pieces but he's also there because of the work he does around the field.
4 - Geoff Parling
England like the way Leicester do the lineout and Parling rules for Leicester in the air. England will be looking for him to take full control here and lay the platform for England to attack.
5 - Mauritz Botha
I don't think Tom Palmer's form has been that good, Botha is a bit of an enforcer too and England are going to need that this autumn.
6 - Tom Johnson
Johnson has a tremendous engine. He is not the heaviest of forwards but he is the form six at the moment.
7 - Chris Robshaw
Robshaw is a great leader and a great player. He will put his body on the line and lead England from the front.
8 - Thomas Waldrom
I am disappointed in Ben Morgan's form - he is an outstanding athlete but until he pulls his finger out and works for the full eighty minutes, Waldrom will always be my pick at No 8.
9 - Ben Youngs
Despite Danny Care being in fantastic form I think Youngs will get the nod because of that Leicester 8, 9,10 combination. However saying that I think Care would do a fantastic job if he gets the chance.
10 - Toby Flood
Owen Farrell will be on the bench but I would have loved to have seen Freddie Burns somewhere in the squad. With his lack of international experience I don't think you could have put him in against Australia though and with no one else really performing I would opt for Flood.
11 - Manu Tuilagi
This is a bit contentious but I just think that he can be well utilised on the wing. If England are going to play with ball in hand then you can use Tuilagi coming in of his wing and crashing the ball up the middle and causing havoc. If they want to go for a kick and chase game then go for Ugo Monye.
12 - Brad Barritt
I think he is playing better at Sarries because he has Joel Tomkins outside him. He has been able to pass and get the offload away. His defense is so important for England too.
13 - Jonathan Joseph
I want to see how he develops - I know it's important to get the points so England get a good seeding for the World Cup, but it is also important to develop players like Joseph.
14 - Chris Ashton
He has been in terrific form and I really want to see him getting his work rate up.
15 - Mike Brown
Brown has been pretty secure and on his game for the last two seasons, with Ben Foden out injured Brown will step up and will not let England down.