Dewi Morris says that Saracens must forgo their rotation policy and stick with Charlie Hodgson
Dewi Morris says that if Saracens want to reach their full potential they have to stick with Charlie Hodgson.
Last Updated: 24/10/12 5:32pm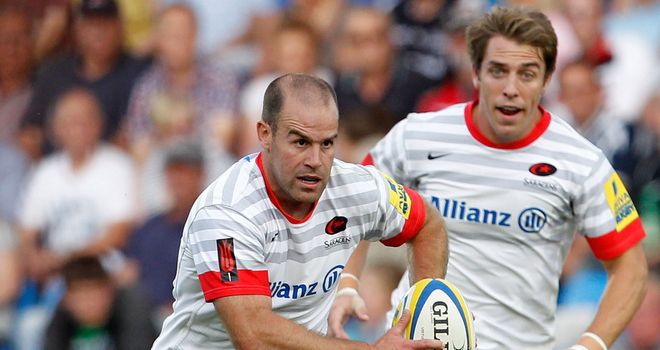 Hodgson is head and shoulders above Owen Farrell at the moment and, as a club with great ambition, they cannot afford not to play him.
I know they have this rotation policy of two games on and two games off but Hodgson is the best distributor in the Northern Hemisphere. Saracens are playing a similar brand of rugby that they normally play but it is just more effective with Hodgson at the helm.
All the jigsaw pieces have always been at Saracens but all good sides need a 10 to pull it all together and that man for Sarries is Hodgson. He has got the platform and the players to play to that pattern. They are playing this slightly more expansive game and the main reason is because of the crisp and sublime passing from Charlie.
Hodgson, as opposed to Farrell, takes it up to the line and into the opposition faces and then he passes the ball.
With Farrell it is premeditated, he is two yards behind and he does not check defenders - Hodgson stops them and makes them think once, think twice and by that time it is too late.
This may be to the detriment of the development of Farrell but I am sorry for the big games they need to stick with Hodgson.
Where that leaves Farrell I am not so sure. He can play 12 and 13 but at the moment I cannot see him starting for Sarries.
At 13 I would like to see Joel Tomkins given more time to develop. He is a poor man's Sonny Bill Williams and I mean that in a good way. He likes to distribute the ball and get the offload away out of the tackle.
Impact
This would have a massive impact as far as Farrell and his England standings was concerned. If you are not playing No.10 for your club then there is no way you will play there for your country.
Hodgson has retired from international rugby and would not be in Stuart Lancaster's plans because of his age. I see Lancaster using Farrell initially from the bench mainly because of his ability to play 10, 12 and 13.
I would think that Toby Flood would start for England, however, against Fiji I would love to see Freddie Burns given a start at fly-half. I think he could step-up as he has pace to burn and that is what you need at international level.
Flood is great but he does not frighten back rows - I think someone with the pace of Burns would.