Beauty and the beast
Dewi Morris looks at the good the bad and the ugly of the Premiership and picks his team of the week.
Last Updated: 20/09/12 1:09pm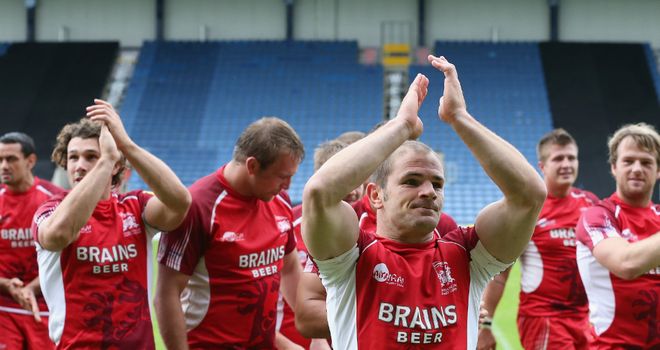 After two weeks of great rugby we were let down by a pretty boring game at Wembley when Saracens and Leicester drew 9-9.
It is still early days and there is a heck of a lot of rugby still to be played but this was disappointing from both sides. They played within themselves again - playing no-rush rugby because they can control it.
We have seen some of the beauty of the Premiership but we have also seen some of the beast of it. I know you have to have balance but from a spectators' point of view it is not what they want to see.
They were like two heavyweight boxers who knew each other so well that the defences were up before a punch was thrown. There was no one out there creating anything and you have got to say that England have a bit of a problem at 10.
It may have been just one of those days for Owen Farrell - and he is a young lad - but to miss 12 points is a disappointment. Leicester fly-half Toby Flood is great with front-foot ball but he does not frighten anyone because he lacks the pace.
I do think Saracens did not help their cause by using their rotation policy - Leicester at Wembley was the wrong game to bring Farrell in. Charlie Hodgson did eventually come on and should have won them the game but I think if he had started that game then Sarries would have won.
London Welsh got a well-deserved win against Exeter and it was just fantastic. Skipper Jon Mills lost two teeth but came back on the field just three minutes later to lead his team to victory. That is commitment; I wonder how many footballers would do that?
London Welsh showed a tremendous amount of heart and commitment. Alfie To'oala came on for Mike Denbee after about 20 minutes and really played his part. Their tackling was just superb and it was a team effort.
There was a lot of skill there too - they came back from 14 points down, but they regrouped, tightened everything up and pulled it off. They kept on harrying and asking questions of Rob Baxter's team and it is what they deserved.
We like the story of them coming up into the Premiership but we tend to think that the new boys will be on the end of another drubbing - which it looked like on after 11 minutes but that does not do anyone any good, so it was fantastic to see them get their first win in the Prem.
They have a massive game against Sale next up and the Salford-based side will certainly feel the pressure from the Premiership new boys. Sale did not play too badly against Harlequins but Quins are just a level above.
I think it will come for Sale, I think this year is all about rebuilding. If they are playing this badly next season then I will have some serious reservations about not only players but also the coaches.
Dewi Morris team of the week: Round three
1. Logovi'i Mulipola (Leicester): I thought he was the only really bright spark on show at Wembley. They love to use him to carry the ball and he carries very well too.
2. Neil Briggs (London Welsh): He was brilliant for London Welsh. He can play in the backrow too and did his fair share of tackling against Exeter.
3. James Johnston (Harlequins): He does what he needs to do and has a good pair of hands.
4. Jon Mills (London Welsh): For obvious reasons, he was captain fantastic!
5. Dean Schofield (Worcester): I struggled to find another lock who performed but I thought he has played well under the pressure of losing two tight games. They should never have lost this game but I thought his carrying and leadership was great.
6. Alfie To'oala (London Welsh): He came on and performed very well - he may have been blowing a bit at the end but was superb.
7. James Scaysbrook (Exeter): Even in defeat I still think he is the in-form seven in the Premiership. He is an old fashioned seven who is just brilliant.
8. Ashley Johnson (London Wasps): Whoever decided to get this guy over from South Africa should get a huge pat on the back. At the first viewing he was fantastic. I think he tops the carries and even Jonathon Poff looked quiet next to him which is saying something. It was a phenomenal performance
9. Joe Simpson (London Wasps): Tyson Keats from London Welsh came a very close second but Simpson showed his unbelievable pace against London Irish and just shred them to bits.
10. Nick Evans (Harlequins): Even though Stephen Jones kicked nine out of nine for Wasps, Evans controlled the game so well and once again underlined his pure class.
11. Ugo Monye (Harlequins): I think he will pose questions for the England selectors - I don't think it will be enough but in a very good side he is performing very well and his work rate is exceptional.
12. Hudson Tonga'uiha (London Welsh): Epitomises what they had to do which was carry and tackle and he did that all game.
13. George Lowe (Harlequins): I thought he did particularly well after the horrendous time he had in the win against Christian Wade in the opening game.
11. Tom Varndell (London Wasps): Like Monye he also plays 14 but he is that talented that they can play together.
15. Mike Brown (Harlequins): With Ben Foden being injured I think Brown is not going to weaken any side.