No need to panic
Dewi Morris says that Saracens may have had a hiccup against Wasps but will improve against Bath.
Last Updated: 09/09/11 1:08pm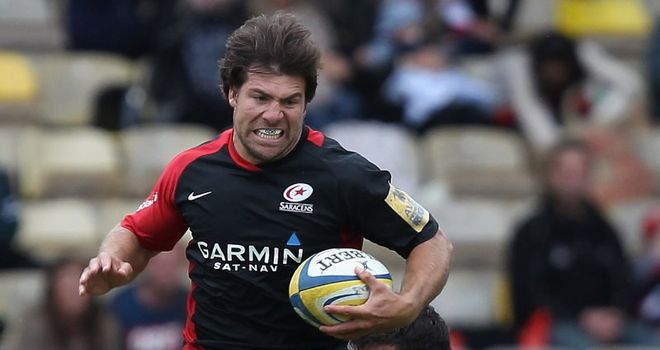 I am really looking forward to seeing the Bath v Saracens game on Saturday. We'll catch the England v Argentina game from The Rec in the morning with a nice cup of coffee and then get ready for what I think will be the pick of the Premiership action.
Saracens' loss to Wasps was a wake-up call for them - I saw Andy Farrell after the game and he was a bit shell-shocked. These things happen though and they will bounce back. It may have looked like they were taking that game lightly but knowing Andy and the Saracens' ethos they were not.
They missed the big Namibian Jacques Burger who really runs this wolf pack, as they are called. They were just off their stride a bit - they were sliding off tackles, they were not competing at the breakdown and their line out - which was such a potent weapon - was very shaky. Even the great Schalk Brits looked average.
Saracens lost the first game of the season last year to London Irish so they will not be too concerned. If it keeps on repeating then they will have problems.
Saracens have always loved the chip on their shoulder - now they have won the Premiership, that chip has gone and all the other clubs have that chip now. Everyone wants a pop at them now and if they want to build a dynasty then they have to take the knocks and realise that you are a marked team. Against Bath they need to be a little more aggressive at the breakdown
They are absolutely chucking money at the brand - they don't want to dominate the Premiership, they want to dominate Europe.
Bath have also got some money behind them - I have met Bruce Craig a couple of times and he is a great guy - but he is also a ruthless businessman.
He will be ruthless at Bath and he will demand success. Ian McGeechan's smile at the end of their game against Newcastle said it all though. Bath won that game at a canter with Sam Vesty playing very well indeed. He kicks his goal and he could be a better signing that Lewis Moody.
Bath's scrum went well too and will test Saracens. Carl Fearns had an okay game but he is one for the future and I though Simon Taylor was great at No 8. They looked like a good unit and I think that was what Geech was smiling about.
With Michael Claassens at nine Bath are still playing that attractive style of rugby; he plays a high tempo game that keeps the defence on their toes.
I am expecting a thriller and I do hope that Saracens try and play a bit more rugby. We have seen the percentage game all before from Sarries. They started doing this last year and then went away for that meeting where the players said they wanted to play a different way. That is when we saw that running style from them. However they have to realise that they cannot control the ball all the time and that they have to have a varied game.
Last year Bath probably went too far the other way - but you cannot deny them though as under Steve Meehan they were the side to watch. They play some fantastic stuff, they need to learn to close games though which I think they will.
Two very adventurous and ambitious clubs and both have backers willing to invest in their clubs - that can only mean good things for both Saracens and Bath.