Saracens and Northampton face key Heineken Cup clashes, says Miles Harrison
Miles Harrison expects a ferocious clash when Toulouse take on Saracens at Wembley on Friday.
Last Updated: 17/10/13 6:15pm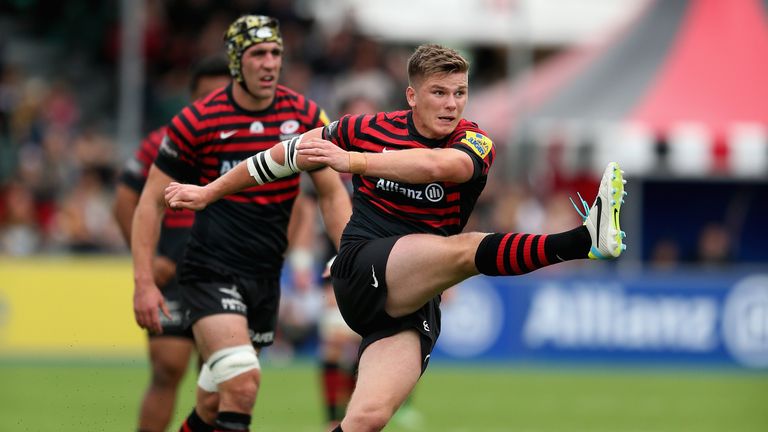 They overcame Connacht in Galway to launch their Pool 3 campaign with an away victory. But their European aspirations face a far tougher test this Friday when they face the French aristocrats of European rugby Toulouse.
Meanwhile, Northampton and the Ospreys will be desperate to kick-start their campaigns with victory at Franklin's Gardens on Sunday, following their opening round defeats to Castres and Leinster respectively.
Saracens v Toulouse
7pm, Fri, Sky Sports 1HD
Should Saracens be concerned about their stuttering opening win over Connacht?
MILES REPLIES: They have been in fine form in setting the pace in the Premiership and I don't think they played badly last week against Connacht. They actually set off well and I thought they were going to absolutely run away with it. But it is great credit to Connacht; the qualities of this competition and the fact that those kinds of trips are never easy - so Saracens found Connacht coming back at them.
At the start of the second half there were times when Saracens really could have put the game away but they didn't quite finish off those chances like they have been doing. I don't think there is anything inherently wrong though, because Saracens still walked away from a very difficult place to win a game of rugby with a victory. When you look at this Pool and you see the other teams in it, it does really come down to Saracens' clashes with Toulouse as to who tops it.
If Sarries can get the victory at Wembley on Friday night then they will be setting themselves up in a really strong position, not just to win the Pool but to be a home quarter-finalist.
Is it important for Saracens to put down a marker against these former champions?
MILES REPLIES: It is more important to do the maths and win the Pool than send out any signals. But, for what it is worth, I think they are already sending out those signals in terms of their general performance in the Premiership. But this is a notch up; this is Toulouse with all their stars and we are talking about a crowd of possibly around the 60,000 mark which is absolutely fantastic. So, it is a big occasion and they will want to perform.
They will like to feel that with their disappointment of their semi-final loss last year to Toulon at Twickenham they are a little bit more ready and a little bit wiser to launch another European assault. I think they are and I think they have a really good chance to make that point on Friday.
Which Toulouse players will Saracens be most wary of?
MILES REPLIES: That is an impossible question to answer. Toulouse will be coming fully loaded with stars right the way through. It is not just the starting XV for Toulouse, but their squad. A lot of the talk these days is about the Toulon chequebook, buying all these players, but Toulouse have never gone away. They were first to arrive in terms of depth of squad and big money.
To pick out a Toulouse player is almost impossible because they are, as I say, absolutely brimming with stars, through the team and on the bench - and that is the big difference in games like these. This bench will severely test Saracens - if Toulouse turn-up and bring on these serious replacements. I think Wembley will bring the best out of Toulouse as well. They will like playing in a big-match occasion and I think we could have a really, really fantastic game of rugby on Friday night.
Will Saracens relish playing at Wembley again?
MILES REPLIES: They have had mixed results at Wembley in Europe: they lost against Leinster and beat the Ospreys. Wembley in general though has been a very good place for Saracens to be. If you are going to be brutal about it, for rugby reasons they may like to get Toulouse at the Allianz, where it may be a little bit more uncomfortable and a tighter environment. It may open the game up a bit by having it at Wembley, but I am not saying it is the wrong decision; it is entirely the right decision because of the sheer numbers that will be able to be part of it.
Northampton v Ospreys
12.30pm, Sun, Sky Sports 1HD
Following both sides' defeats in the opening round, is this win or bust for both sides?
MILES REPLIES: It probably is having lost their opening games. It is not a bad result for Northampton to go to Castres and get a losing bonus point, but it won't look like that if they then go on and lose their next home match. Given the nature of the Pool, to have played two and lost two you could still get out, but it would be a very slim chance. Yes, it is not a game that either side can afford to lose. It is a tough game for Northampton but they will have thought, 'if we have designs on going a long way in Europe we are going to have to win our home games in this Pool' - simple as.
The Ospreys will have been really disappointed with their performance in their defeat to Leinster. As well as Leinster played - in that limiting way when they just strangled the Ospreys - to come out of that game with nothing, the Ospreys really are behind the eight-ball here. They have got to win.
How much will Northampton miss England prop Alex Corbisiero?
MILES REPLIES: It is a clear blow. Corbisiero turned out to be a Lions star over the summer and he is going to be a big loss to Northampton and, if the injury continues, a big loss to England during the autumn internationals. Of course we don't know yet on that one and there could still be a chance he plays for England.
In terms of this weekend though it is a blow but Northampton have Dylan Hartley firing in that front row and they have Salesi Ma'afu, a big signing from Australia who went well against Castres. It is a blow to the team but it is something they have to absorb if they are going to be a serious contender in Europe and for the likes of Alex Waller it is a long awaited and deserved opportunity. And, Northampton this season, have been firing in lots of different ways so they will be looking to show that at Franklins as they have done in the Premiership.
Who could be key for the Ospreys?
MILES REPLIES: We hardly saw Eli Walker last week and he is just too much of a talent not to use. It will have been to the Ospreys' frustration that they didn't get Walker into that match. We saw that in the Heineken Cup last season against Toulouse and Leicester and we have seen in the Rabo that this man is a major talent. When he gets the ball he is a very exciting player to watch.
With Northampton's George North on one side and Eli Walker on the other you have two contrasting wingers but two real stars of the Welsh game. I am sure that Walker will go on to play international rugby. His problem at the moment is that he has North and Alex Cuthbert wearing those shirts in the national side, and they are two of the best in the world.
As a collective, the Ospreys pack will have to deliver. They did not last week. They have got too many star names in there to not deliver two weeks in a row. They started well last week but as the game went on they got less and less influential. The Ospreys will not win this game if they don't have a big performance from their pack to set the likes of Walker free.
Do Northampton have what it takes to qualify from this pool?
MILES REPLIES: I think they have what it takes but many people think that the Ospreys have what it takes, Castres and Leinster too. It is Leinster who have made the really good start. They went out at the pool stages last year because they ran into Clermont Auvergne - and it is no disgrace to go out to them.
They set their sights as high as you can in Europe and they have started well. I think it will come down to those Leinster against Northampton games before Christmas but I am not writing the Ospreys off just yet though. This is a real Cup final game for them and it is going to be a thriller to watch I'm sure.
Click here for Heineken Cup rugby live on Sky Sports or you can watch all the action unfold with a 24-hour Sky Sports Day Pass from NOW TV. For more information visit click here