End of an era
In his final Lions Diary, Miles Harrison previews the decisive Test and reflects on rugby's sad day.
Last Updated: 04/07/13 4:47pm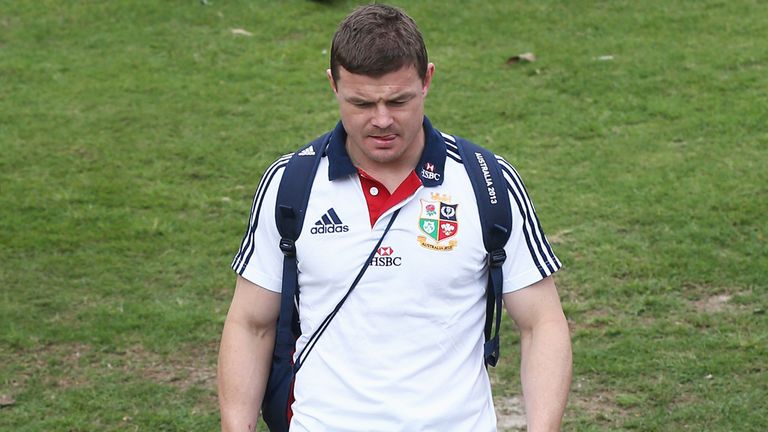 The 2013 Lions tour to Australia is set for it's final showdown as the winner takes it all on Saturday in Sydney. Miles Harrison has been with the Lions every step of the way and offers his insights into what has been a disappointing week for the Lions...
Thursday 27th June
It is the most important day of the tour so far. The announcement of the Lions team, the one that could win the series, will come at lunchtime. Before that, there's time to digest the Wallaby team news as we head to their training session. All those injuries last week and, in the end, there's not too much disruption. In fact, their team looks stronger than it did a week ago, with Kurtley Beale's threat back at full-back and the dangerous Joe Tomane in on the wing. That is not to say Digby Ioane is not a terrific player but he did not look right in the first Test, even before his injury. The key thing though is the fitness of Christian Leali'ifano and the fact that he will kick the goals.
When Andy Irvine reads out the Lions team, the anticipation in the room is clear. The media contingent is much bigger now and there are interested murmurings as the names of Tommy Bowe, Ben Youngs, Mako Vunipola, Geoff Parling and Dan Lydiate are all in. It's tough on Alex Cuthbert but Bowe has the experience and is defensively sound. Youngs for Mike Phillips had been rumoured but it is more than interesting to note Gatland's comment that Phillips would have played had he had to. Nobody is quite sure whether it is a dropping or a fitness-related issue with Phillips' knee. The truth is that it is probably somewhere between the two. Vunipola starts and is rewarded for his hard work on tour but this is a big step for him and one that the management will know is key to the outcome of the Test.
Parling has earned his call with, amongst other things, excellent leadership on the tour and Lydiate's tireless work, and the trust that the Head Coach has in him, means that Tom Croft is another unlucky man not to start. Lydiate will be primed to do a job on Will Genia but the Lions lose Croft's line-out work and his speed around the field. The game plan is being tweaked and it is fascinating.
In the afternoon, I catch up with members of the Wallaby media team and their coach, Robbie Deans. Deans is meant to be a man under pressure with his job reportedly on the line if Australia fails to win the series. But, he is doing a good job of appearing relaxed and I sense he is really enjoying the week. Perhaps not all the off-field distractions but his competitive juices are running at full tilt and there is a look in his eye that says, 'bring it on'.
Friday 28th June
As you will know, if you have been following this diary blog, Friday is my time to lock myself away and get the prep where it needs to be. Although, of course, it is still important to stay across events and clearly this James Horwill story has legs. The IRB's intervention takes it onto another level and the chatter is that, surely, he will now be banned. But, I'm not so sure and Horwill certainly doesn't see it that way as he issues another firm denial of wrong-doing at the Australian captain's news conference.
A trip to the ground later in the day to check the facilities brings it all back. I last worked in Melbourne in 2003 when England beat Australia in the build-up to the World Cup. The commentary position is a long way from the pitch as the stadium is, again, essentially an Aussie Rules oval but, with the roof on, the noise should more than compensate for the slightly long-distance view. Time for a quiet meal tonight and the waiting will be nearly over.
Saturday 29th June
These match days seem to take forever though, what with the 8pm kick-offs but this one seems particularly bad. By the time it comes to leave the hotel, I am pacing up and down in my room like an expectant father to be. Crikey, if I'm feeling like that, what are the players going through?
At the ground, I get a tap on the shoulder just before the pre-match interviews from the ARU representative to say that, for legal reasons, James Horwill will not be taking questions on his situation. It makes the interview a tricky and, journalistically, rather unsatisfying one. But, sometimes you simply have no choice.
The match itself is not what you would describe as a great game, in fact, from a pure skill and technical position it is a poor game of rugby. But, it is tense, very tense and, because of this, it is totally gripping. Both sides seem a little too scared of losing but, because of the excellence of Leigh Halfpenny's boot, the Lions put themselves in a position to win the series. It is Australia who then have to show the bravery to save themselves. Much to their credit, they do exactly that as their fighting spirit comes shining through. Adam Ashley-Cooper's try says much about their attitude - the Aussies are so hard to put away. Christian Leali'ifano does what he would have loved to have done the week before and nails his kicks. His last one, the pressure one, says so much about his phlegmatic character. Even then, the Lions and Halfpenny get one more chance but there are echoes of the previous week and Beale's miss, as Halfpenny's shot for glory falls short.
Inevitably, those of us broadcasting to a UK and Ireland audience feel more than a little flat having been so close to being able to call a first Lions series win for sixteen years. But, over a glass of red in the early hours, there is only one conclusion...the Lions got away with one in the First Test and the Aussies probably did the same today. There is clearly very little between the teams and this is a series that is crying out for a decider to show who really is best? Sydney, in seven days' time, will give us that opportunity.
Sunday 30th June
Goodbye Melbourne, great city with lots going for it. The Lions are heading up to the Gold Coast to Noosa for a few days and we will catch up with them later in the week. The Aussie Sunday newspapers are much more bullish than they were a week ago. They are also pretty scathing over the quality of the game produced in Melbourne. However, as I say, the drama was for real and it is clear that the nation's confidence in their Wallaby team to pull it out when it really matters most has returned. Chatting with locals at the airport reveals that their bravado is all there now.
The Lions troubles are increased when it becomes apparent that their captain, Sam Warburton, is to stay behind in Melbourne for a scan on his injured hamstring. It is not looking good for the skipper.
Monday 1 July
The sun is up and Sydney looks magnificent. After some horrendous weather here apparently whilst we have been in Melbourne, the forecast is good for the week - which is great news. This decider needs to be played in fine conditions so that we get the true answer to the question - who is really the best side? It will also be good for the crowd because the seats at the Olympic Stadium are very exposed to the elements. There was a record sell-out crowd in Melbourne for the Second Test and you can imagine just how hot the tickets have become for the Third Test.
I have lunch in Manly with Greg Clark, my Fox Sports equivalent. We talk about the finely balanced nature of the series and, inevitably, about how we've called the games and what words we have used at those vital moments. But, sadly we won't be mentioning the Lions captain, Sam Warburton, in live commentary again in this series as he's out of the tour. He played so well and bravely at the weekend. But, what a story could be emerging here for Brian O'Driscoll. Could it be that he is the man who leads the Lions to glory in the last match of his Lions career?
Tuesday 2 July
A bit of fun today....when our morning work is done, we are have a Sky Sports rugby union department indoor cricket match. You can guess who might have organised this! It's a chance for us all to relax and have a team bond, with a slightly competitive edge, before the big work starts in the run-up to the weekend. Of course, I'm in the 'Golden Oldie' team and I am glad, no relieved, to say that we triumph over the 'Young Bucks'.
In the evening, it is a dinner with the Fox Sports crew - our host broadcast partners. They have been so helpful and given so much to our output over the past few weeks. They have been terrific to work with and it is really nice to spend some social time together as opposed to be dashing around in the work environment on match-day.
Wednesday 3 July
It is an early start this morning as we are heading up to Noosa to see the Lions for their team announcement. Noosa is a top destination in Australia and it ticks all the seaside boxes - warm all-year round sunshine, beautiful beaches and that perfect relaxed holiday feel. The Lions have been tapping into all of that to get some rest alongside their build-up work for the third Test. But, now it is the serious business of naming the team for Sydney and, as a story, it does not disappoint. But, it is a story with genuine rugby sadness.
Although the sun beats down outside the team hotel, you can hardly get a seat inside the room assigned for the media...but there is no place in the team for Brian O'Driscoll. It is a massive decision and everybody knows the repercussions will reverberate around the rugby world. Jamie Roberts is back, Mike Phillips too - Alex Corbisiero and Richard Hibbard return to the front-row and Sean O'Brien and Toby Faletau come into the back-row but, to drop O'Driscoll: that is a big call. OK, it did not go that well in attack last week but O'Driscoll gives leadership to the group, his defence has been superb and you just know that he would have given all of that and more to get what he so desires this weekend, not just for himself but for the Lions too.
However, you also have to respect Warren Gatland's right to make the call. And, some of the best rugby that the Lions have played on this tour was when Jamie Roberts and Jonathan Davies were briefly together forming their familiar partnership. Jonathan Davies will also be back in his favourite position. I have spoken to ex-players who would have done it and ex-players who would not have done it but Gatland is in the position where he is paid to get this right in the way he sees fit. He does not want any regrets and 'if only' feelings when he boards that plane home. He is backing his judgement and that is what he is there to do. I am sure Brian O'Driscoll will understand all of that and the right of the coach to make the call but this is going to hurt - it has to. The Lions head coach also knows that the success of the tour will be judged on the outcome of this one match and, with somebody as important to Lions' rugby over the years as Brian O'Driscoll, not to be in that match when available, well, it certainly leaves an open goal for the critics should it go wrong on the weekend.
So, that's it from my tour diary. What will happen come Saturday? Well, I know one thing that will put a smile on my face - my wife and daughter walking through those doors at the airport after they touch down, just in time for a morning sleep to then ready themselves for the game on Saturday night.
But, will the game put a smile on my face too? Last week, as I'm sure you gathered, I was concerned for the Lions yet, in the end, my heart ruled over my head and it was so nearly the right way to go. This week, I'm desperately trying to get the head and heart moving in the same direction. To my mind, there is no doubt that the Lions can still do this but, to do it, they are going to have to play the game that we have all been waiting for. This is not as good an Australian team as it was in 2001 but, to be fair, so far it has not been as good a Lions team as it was twelve years ago either. They have not hit those heights that the 2001 side did in the first Test and the first half of the second Test. And, as Australia showed at the end of last week, they still have enough threats to make it another four year wait for a Lions series victory. It has been a compellingly tight and tense series - in that respect right up with the very best - but both sides need to fire more shots, like they were doing in Brisbane, to give it the end it really deserves.
Finally, thanks for taking time to read these musings along the way - it has been a privilege to do it all again, a fifth Lions tour with Sky Sports. On every occasion, it has been a fascinating journey. I'll speak to you on Saturday from the commentary box and then again next season. In the meantime, let the Lions roar and have a good summer too!
Watch every Lions game live only on Sky Sports. Click here to sign up or upgrade now.