Magic of Melbourne
In his latest Lions Diary, Miles Harrison has a tour of the MCG and relives the first Test.
Last Updated: 27/06/13 2:15pm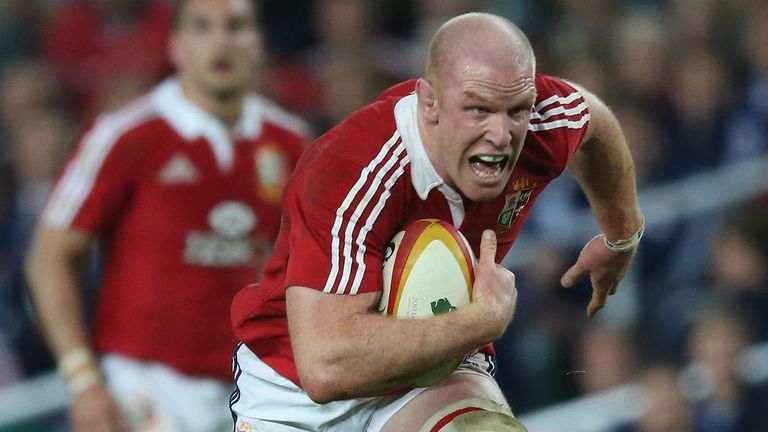 In his fifth Lions diary, Miles Harrison is delighted with the Lions first win, takes a tour of the MCG and looks ahead to the crucial second Test in Melbourne...
Thursday 20th June
The excitement is really building now. Australia have gone with James O'Connor at ten, as we thought they would, and the squad look relaxed enough as I arrive for team training at Ballymore. It's the first time I've seen Israel Folau close up and he looks much bigger in real life - an imposing athlete. I'm also struck by the size of Kane Douglas; it is clear that the Wallabies want extra 'grunt' in the second-row to combat the Lions' forward power.
At the Lions team announcement, a couple of hours later, I have a chat with Warren Gatland. For what it is worth, the Lions side is exactly the team that I would have picked. My only reservation is the back-row cover, and the versatility there, but I understand why the coach has gone with Dan Lydiate - a man that he trusts and has worked so closely with.
The day concludes with a visit to the Wallabies hotel for their news conference and Robbie Deans confirms that he has no doubts that his three debutants are ready for international rugby union, in particular Folau, whom he points out already has great experience of international rugby league and, of course, top flight Aussie Rules. I can't wait to see this guy in action.
Friday 21st June
It is a day to get my head down and get everything right for match day... my commentary chart on the players, my general match notes and records and the bit of the broadcast before kick-off, the team-sheets and what to say when the teams run out. This section is always planned in conjunction with the director and the producer so that my words match the pictures being offered.
On this tour, we are working predominantly to the pictures provided by our sister network, Fox Sports but we do have the capacity to cut to pictures supplied by our own Sky Sports cameramen who are on site too. All the pre-match production has to be done to time as, at various points, we know what the shots will be because Fox Sports are providing the pictures for what is called the 'world feed'.
The broadcast is obviously taken around the world by various companies but they will be joining the coverage at different points, as dictated by their own schedules. So, as you can see, this takes a bit of planning and thought and, as a broadcaster, I find that this is the key moment in the commentary - because, like in all things in life, it is so important to get a good start.
It's almost as if, once the game begins, you can relax a bit and let the action dictate. However, it is also important to be able to react to whatever happens in those minutes before kick-off because live events mean anything can happen and the director, producer, commentator, everybody, all have to be very aware of that too.
After a brief rehearsal at the ground - I'm off to bed early. Quite simply, tomorrow is the biggest broadcast day for the Sky Sports rugby union team for the last four years - sweet dreams!
Saturday 22nd June
A day that has been etched in the minds of British and Irish and Australian rugby fans for the last four years... I head off to the Botanical Gardens in Brisbane for one last read of my notes in the sunshine. It is a beautiful day, too - the rain of yesterday has long gone.
It seems the rest of the rugby world can't wait for this one either and I take a call from Radio Sport in New Zealand. Their discussion of the day is which is bigger: the All Blacks test versus France or the Lions against Australia? Many of their listeners are plumping for the game in Brisbane.
The match itself does not disappoint. George North's try is as good as any Lions try that I can remember and Israel Folau is every bit the athlete that he looked in training on Thursday and has looked all season in his first Super Rugby campaign - what finishes from both men.
When Kurtley Beale lines up that last kick, I have flashbacks to South Africa four years earlier. As Warren Gatland confirms after the game, he was also having flashbacks to all those recent Wales versus Australia encounters. But, sometimes in sport, things do work themselves out. For the Lions, it always has to be a four year wait but where Morne Steyn could, Kurtley Beale could not, and the Lions just get over the line. It was a truly exhausting game to watch so goodness knows how the players felt. I know how the fans feel and it's high time to go into town to sample a bit of the post-match revelry.
Sunday 30th June
Warren Gatland holds a media briefing and is his usual honest and candid self about various aspects of yesterday's Test Match: the refereeing, Beale's studs, the fact that the management had been told that they would only get an hour at best out of George North etc. It is always good stuff at a Gatland presser.
Geoff Parling is named captain for the match against the Rebels on Tuesday and we are told that he has just become a father, too. But, no sooner have we had the chance to congratulate the Leicester man on both counts, more news starts to emerge of Paul O'Connell's worrying situation.
We are off to Melbourne. On the flight, I sit next to a Welshman called Gareth who hails from Newport. Ten years ago, he moved to Victoria and is clearly loving his new life, but Gareth is also loving the fact that his whole family are out here living the Lions tour. It is yet another example of how, from so many different angles, this tour is creating very special moments for so many people.
When we land in Melbourne, the texts are flooding in about O'Connell and Alex Corbisiero etc.
News is also coming through on the Wallabies skipper, James Horwill, and his disciplinary hearing. It seems that he might have escaped a ban although, having seen the incident, admittedly on a small screen, I would be surprised if that is the case. If it is, then Horwill's survival in the series and O'Connell's absence from it now would potentially represent a big momentum swing.
Monday 24th June
A short stroll from our hotel is the sporting centre of this sporting capital of Australia. The MCG, Flinders Park and the brand new AAMI Park are all within a six, a lob or a punt from each other, whichever way you look at it.
The Melbourne Rebels staff are all very welcoming, as all the Australian teams have been on this tour and it has been a pleasure to work in such an environment. The Rebels coach, Damien Hill, tells me of his and the region's excitement over a first full-house for Union at the new stadium.
The Rebels are without their stars - O'Connor, Beale, Phipps and Higginbotham - but they are not really a team of stars and they look a well drilled and together unit. For the Lions, it should be a reasonable challenge based on the Rebels Super Rugby form of four wins this season but not a challenge surely that they can't overcome with something to spare.
At his news conference, Graham Rowntree confirms that the riot act was read last week and the mistakes against the Brumbies will not be made again. For Scott Quinnell and I, the mistake of going out for another four course meal will not be made again either. We're off to the Chinese take-away and even have a beer as we wait - just like being at home!
Tuesday 25th June
Before the match, I interview Gareth Delve and it is nice to catch up with him. Gareth is such a popular figure here now in Melbourne and they will really miss him when he leaves at the end of the season. For the avoidance of doubt, it is not the same Gareth as I met on the plane.... The Rebels captain, Mr Delve was born in Cardiff!
The game takes a very good course for the Lions. They nil the Rebels which, in view of what happened against the Brumbies, is a big plus. Also, there are some excellent pieces of handling and there's no doubt that, had just one or two more final passes gone to hand, then the Lions would have run up a very sizeable total. Having said that, five tries and 35-nil in the week in between the first and second Tests will do very nicely thanks very much. The line-out works better as the match goes on and the scrum certainly works well too.
Owen Farrell plays a very mature and confident game from fly-half and Manu Tuilagi suggests his power may still have a part to play in the series. I have nothing but praise for Toby Faletau again and Sean Maitland does some excellent things on the wing. And, it is a good night for captain, Dan Lydiate, and back-rower, Sean O'Brien. Both are still pushing hard for Test selection. But, there are lots who impress and it is an altogether more satisfying display than a week ago.
For their part, the Rebels look a little overawed and simply do not produce their Super Rugby form, although, of course, the Lions do not allow them to.
Wednesday 26th of June
Today is the calm before work kicks in again in earnest on Thursday. After I've written the bulk of this, there are a couple of hours free this afternoon, so what to do? What does a sports-mad bloke do in Melbourne with time on his hands? Go to the MCG for a guided tour? You've got it! And, it doesn't disappoint.
The dressing-rooms are big and cavernous, built for Aussie rules, and they must be very strange places for cricketers, who are used to finding themselves in more confined spaces. The ground itself is wonderfully inspiring yet intimidating, even when empty.The tour takes us to the players' viewing balcony and you can imagine the walk down the steps, along the side of the stand all the way to the pitch, with the best of 100,000 fans screaming their advice, being a nerve-wracking experience, even for the most seasoned batsman. The museum, the traditional and the interactive, is one of the best I've seen. Shane Warne's 3D hologram and his journey through his career are worth the admission on its own. There are plenty of Lions enjoying it all and it is a great afternoon out.
Tonight we are having a Sky Sports team quiz, followed by the State of Origin on the telly. Tomorrow, all thoughts turn to the Test and tomorrow's selection from both teams. It will be, in many ways, the most important day of the tour so far - getting the selection right for the match that matters most now. When you read this next week, will it be in the bag? I think so - but, like last week, I'm not entirely sure. We know Australia are come back hard and that's exactly how the best sport should be.
Watch every Lions game live only on Sky Sports. Click here to sign up or upgrade now.