Keeping cards close
In his latest Lions Diary, Miles Harrison says the Lions are right not to show their hand to Australia.
Last Updated: 13/06/13 10:14am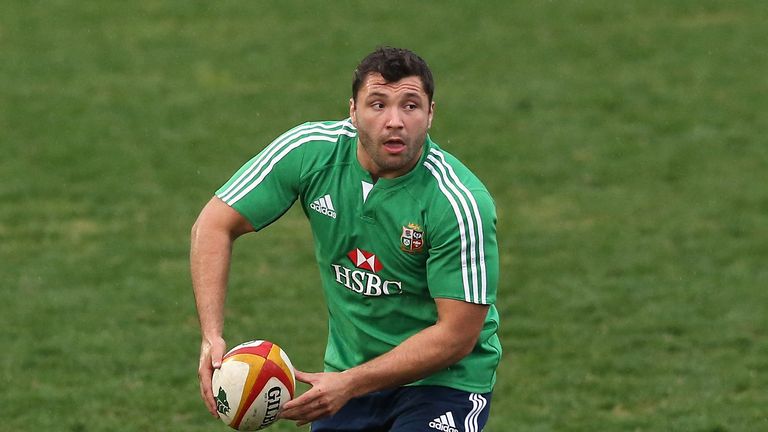 In his third Lions diary, Miles Harrison stays on top of the Lions' injury latest, call ups and selection issues.
Thursday 6th June
At the airport, the Queensland Reds very kindly text through their team for Saturday's game and it is good news, on two counts. First, it enables me to get to work on the four hour flight from Perth to Brisbane but, also, the team is as strong as it can be.
Quade Copper will start and this is, of course, big news but aside from that there are plenty of familiar faces, even with the absence of the Wallaby squad members. The Western Force missed a massive opportunity this week - maybe not to beat the Lions but certainly to host a night that would do wonders for rugby in their part of the world. Sadly, last night's game is already falling into the forgettable category but there are much higher hopes for this weekend and we are told it will be a sell out at Suncorp. We will have our first major event on this Lions tour and one that will hopefully not be forgotten.
The Lions are on a later plane and that means an evening team announcement in the rather grand surroundings of the Tattersalls Club in Brisbane. It is good to see Sam Warburton at the top table as captain - but he knows he has to perform, given the starts made by Sean O'Brien and Justin Tipuric.
A chat with Ben Youngs, who will run out in this game with his brother Tom as a starting Lion, confirms there is another player loving every minute of the trip. Ben talks about the way everybody in training picks things up so quickly as this is, after all, 'the best of the best.'
Friday 7th June
The most interesting aspects to the Lions selection for Match Three are the use of Jonathan Davies at 12, Tommy Bowe on the left wing and Manu Tuilagi at outside centre. Players are not only being asked to back up very quickly, as in Bowe's and Tuilagi's cases, but also to be versatile.
After a morning at my desk making sure the facts and figures are all in place for the commentary - it's off to Suncorp to see the Reds. I really like this stadium - the stands come right up to and, almost on top of, the pitch. The atmosphere is said to compare with any sporting arena in Australia and, having worked here before, I wouldn't disagree.
The Reds hold a media news conference and their boss, Ewen MacKenzie, shows total commitment to this fixture. The main focus is, quite naturally, Quade Cooper and he too shows some dexterity as he fields questions about his potential involvement in the series. Above all, both men look bang up for the match and the rest of the players do too. The bit of training that we are permitted to see shows a happy and skilful unit who would love nothing more than to make history by beating the Lions. The tourists are going to have to play well to win this one. What a relief it is to be able to say that!
Tonight, it's the Brumbies versus the Rebels on the box and time to take another look at the two teams that the Lions will encounter mid-week in the run-up to the first two Tests.
Saturday 8th June
Match day - they come around thick and fast on Lions tours. There is a buzz around the ground when we arrive and, waiting to interview Warren Gatland pre-match, I can sense the big match feel in the tunnel area. The overnight news is that Gethin Jenkins has to follow Cian Healy home, out of the tour injured, and I ask Warren about this in our interview.
Obviously, he is disappointed to lose someone of Gethin's experience on top of Healy but he is clearly more than comfortable with who has come on board. Warren points out that both Alex Corbisiero and Ryan Grant were close to initial selection. It is easy to see one of them slotting in as a starter in the First Test. Corbisiero would be the favourite, given that his form for England over the last year, when fit, has seen him more than hold his own in South Africa and be part of a victory over New Zealand at Twickenham. There is always somebody on a Lions tour who comes out of the woodwork and Alex might well be that man.
The match itself is a relief and a delight in equal measure. Queensland play as they promised and their start gives the Lions a fright. Luke Morahan's try is a beauty. But, the Lions come back well and show good maturity, despite the youthful nature of the team, to muck it out. The weather gets filthy in the second-half but the Lions are on top up-front and that gives them a platform to score the necessary points.
George North is sensational and is nearly part of a score that would have ranked alongside John Bentley's, back in 1997 in South Africa. The Lions will be annoyed that they didn't finish off a number of chances and they are outscored, two tries to one. But, all in all, it is the test they needed and a good experience for the squad in a stadium that will host the First Test.
Again, however, the victory comes at some cost as Tommy Bowe damages a hand and will need an operation. Manu Tuilagi takes one on the shoulder but we are told that this is less serious. Bowe's loss, if that is what it turns out to be, would be a major blow - he is looking very threatening every time he gets the ball.
Will Greenwood and I are dropped off by the Fox Sports commentary team at our hotel and we have a good yarn in the car on the way. It is unanimously agreed that the tour is well and truly on the road now after a proper Lions experience at Suncorp. Tomorrow, Newcastle, here we come.
Sunday 9th June
Once more, it is an early morning Sunday news conference. There are some bleary eyes but none more so than those belonging to Alex Corbisiero; we talk about his arduous journey to get to Australia but he doesn't care a fig - he is just happy to be a Lion.
On the short flight to Newcastle, I am seated next to a 6'10" - 20 stone giant who is wearing a Combined Country tracksuit. The player's name is Rory Arnold and he is heading to join up with the squad to act as cover following the nasty looking concussion suffered by Country boy, Beau Robinson, in last night's game for the Reds. Rory is intrigued by the strange bloke alongside with pictures of all the Combined Country players on his laptop. Well, he is one player that I will have no excuse not to recognise having spent an hour alongside him on the plane!
The Combined Country training takes place shortly after we touch down and their coach, Cameron Blades, tells us that his team, with a heavy semi-pro element, will give it their best shot. But, we all know that there's only one winner again and it is not the home team. However, it does feel like old style touring and there's nothing wrong with that. It's time to retire to the hotel - with names having been put to all those faces.
Monday 10th June
It's match day minus one again and that means prep, prep and more prep but I make sure that I have a wander down to the beach at Newcastle and up the coastal path to take a view back towards the centre. It really is a lovely spot and those with sharp eyes can spot the whales in the sea.
At the Lions news conference later in the day, Andy Farrell lets it be known that he is surprised by the omission of Quade Cooper from the Wallabies squad and the Aussie scribes immediately jump to their notebooks. The home media focus at this stage has been on domestic matters - not the Lions themselves.
Arriving back in the hotel after a meal, I catch up with some members of the Lions medical team. They really do have long days tending to the players and they look like they've earned a moment to unwind.
Tuesday 11th June
The match goes very much to plan - not for the first time on this tour. But, my own view is that this game was never trying to kid anybody. The Lions have always played fixtures like these and more often than not have won them comfortably. If you are going to do the touring thing then there has to be room for a 'spreading the word' kind of game - maintaining the tradition - and this one is it. As I said before, the expectation on the Super Rugby teams to play their best teams is much more central to the overall success of these tours.
The key thing for the Lions is that there are no injuries. Brian O'Driscoll leads magnificently (when doesn't he?), Stuart Hogg makes a very good fist of fly-half and the scrum goes well again - but you are left thinking, against what?
The line-out is not functioning anywhere near full capacity but it is also important to remember that the Lions really don't want to give anything away at this stage. Why let Australia see what they've got, especially in a game that they win 64-nil? The Country play with great pride in the second-half and can walk away well beaten but not shamed.
Wednesday 12th June
After an early morning stroll back up the cliffs to get the heart-pumping it's off to Sydney. We leave behind the warm Newcastle sunshine (not something I normally say during the course of a rugby season back home!) and hit the rain on the two hour drive south. However, it clears up which means the NSW Waratahs keep their training session at their main ground - the old Sydney Football Stadium - another terrific arena in this sport mad country.
The Waratahs are without ten players in the Wallaby squad, six more injured and two due to be the Australian 7's team (although there are rumours that some of these players will be released back from the national squads for this game). But, a little like the Reds, the Tahs have a good squad and the signs are from training that they will be competitive anyway. The win by their second string against a full strength Force team last weekend will have given them some confidence too.
The Stadium is sold out for Saturday night and, whilst I expect the Lions to triumph again, I don't think it is going to be an easy one at all. The Lions management will certainly be hoping for that to be the case. Enjoy the atmosphere on Saturday morning your time and I'll speak to you from Brisbane next week when we will have been to Canberra and the First Test will be nearly upon us. That is quite a thought.
Watch every Lions game live only on Sky Sports. Click here to sign up or upgrade now.