A fine start
Miles Harrison shares the latest on Warren Gatland's selection headache and Lions quizzes!
Last Updated: 06/06/13 11:00am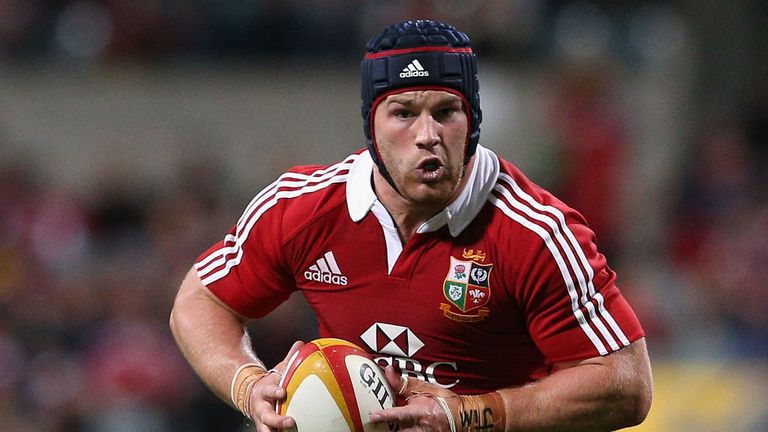 In his second Lions diary, Miles Harrison reveals how even the commentators battled with the humidity in Hong Kong and the mood from the Lions management as they notched up their second big win of the tour.
Friday 31st May
In my nearly twenty years of commentating on rugby at Sky, believe me, I have never stopped thinking how fortunate I am to have this job - and, on this fifth Lions tour, that feeling escalates every day. Take last night: I hosted a Q & A session at a testimonial dinner for fly-half Stephen Jones at the Hong Kong Football Club. Stephen is one of rugby's true gents - we have many, we are lucky in our sport, but, undoubtedly, Stephen stands right alongside those at the top of the tree. Part of my duty was not only to interview Stephen on stage but to host a discussion between three former Lions - Shane Williams, Mike Teague and Peter Winterbottom. Their chat was fascinating and all of them predicted a Lions series win. The feeling in the room was so bullish that I could go to bed feeling that my pre-tour prediction of a Lions' series win by 3-nil might not have been too radical after all!
After a day of commentary prep, to get those finer details ready for Saturday's big kick-off, I have a late afternoon meeting down at the ground to check the commentary position and go through sound checks etc. Communication is established between myself, Will G on the touchline and Barnesy alongside me. It is around 5.30pm and it is still very hot and humid. You just wonder how the players are going to manage?
Tonight, I'm hosting another evening with a couple of Lions' legends: Gareth Edwards and Martin Johnson. Yep, I told you that this is a privileged job! The setting too is amazing - a restaurant called Aqua on the 29th floor of one of Hong Kong's many skyscrapers. The nightly laser light show would make it worth being there for that alone but, when you listen to those two legends of the game describe exactly what the Lions mean to them, well, that truly is a stirring moment. It sets us up nicely for the big day tomorrow.
Saturday 1st June
After all the hype, match day has finally dawned. I'm sedately reading my notes in the shade yet still pouring sweat just sitting down. Various Lions players walk past to go to the pool - the non-players are grateful at not having to play in such conditions but no doubt they are more than a little anxious as they have to wait whilst others have the chance to make their mark.
Our taxi driver drops us off a 'three minute walk' from the stadium because the roads near the ground are closed off. It turns out to be a twenty minute hike - not normally an issue - but, in this weather, our shirts soon start to resemble wet towels. I must also add though that Messrs Harrison, Barnes and Greenwood must take some of the blame for choosing, shall we say, a rather circuitous route...but we are drenched by the time we get to the ground and, again, it makes us think - just how are the players going to do this?
But, they do come through it and, in the end the game ticks a fair few boxes. However, young Owen Farrell shows the two sides of his temperament: ice cool despite the heat after he had missed a kick by slotting the next ones perfectly; yet, overheating after his Saracens team-mate, Schalk Brits, strikes out at him. Farrell is not blameless in all of this but Brits' punch is exactly that, a punch, and he deserves his time in the 'cooler'. The Aussies though will have noted Farrell's loss of composure. He is a fiercely competitive young man and this is sometimes what you get from those who occupy that space. But, the Lions will have to be careful as these things can decide tight Test Matches. It's no surprise to hear Warren Gatland publically issue a warning to his squad later on.
When I spoke to Warren Gatland in the pre-match interview, he said that he wanted an examination and no cricket score. The Barbarians, despite their lack of tries and the conceding of more points than they did at Twickenham, are a whole lot better than they were against England. But, it is the Lions' opening night and they perform well on it. The Welsh boys look in fine form: Phillips, Roberts, Davies, Cuthbert, Adam Jones, the back-row and Alun Wyn Jones when he comes on; they all look good. And, there are two stand out moments for me, both again involving Welshmen: George North's introduction off the bench to slip seamlessly into the Jamie Roberts role offers real food for thought; and Dan Lydiate's try - a real statement that one from the Lions.
On arrival back at the hotel, the Lions management seem pretty happy after step one. But, they know this is just the start - it is, though, an encouraging one. I think we can all agree on that.
Sunday 2nd June
The Lions' doctor, James Robson, holds a news conference at 9am and he is delighted to report that there are no injuries and no major ill effects after last night's game. James also feels that the players' ability to cope with being put under such stress can only be good for the Lions. He also adds that when Scotland were in Fiji last year it was actually hotter and that we should not forget than many countries play rugby in very different conditions to the ones we have back home. Fair perspective - but, regardless of that, I'm sure he and the team are delighted to be heading to fresher climes.
So, it's goodbye Hong Kong - I won't miss the humidity but the people and vibe of the place were really great. The flight time of just over seven hours will allow plenty of time to shift my preparation to the Force squad and my notes on that game. I meet some of the touring Lions fans on the plane and we chat about the pleasing start that the team has made. The fans in their Lions' tops, reading every last column inch written on their team, really make these tours so special and rewarding. The Australian squad though is looking increasingly less special by the day. It is now minus the injured Higginbotham and Timani.
We get to our hotel in Perth at well gone midnight and a wedding party is rather coming to a head. I step over a man trying to swim on the carpet outside my room. Oh dear! I think I'll pop down to reception and ask for a quieter part of the hotel. Shut eye is most definitely required.
Monday 3rd June
Monday morning and the sun is up and warming nicely - the sky is blue, the air is crisp and clear and, at Western Force training, it is easy to see why so many choose to live in Australia. This, after all, is winter! It's good to catch up with the old Bath coaching pair of Michael Foley and Steve Meehan, now in charge of the Force. But, it's clear that the coaches are going to have to manage their resources for the Lions game on Wednesday and the match versus the Waratahs on the weekend - so, we are not going to see the Force's 'Cup Final' team and that is very disappointing.
Look, I do see it from the coaches' point of view - they have to be able to put two teams out to be competitive in both matches. But, a Lions tour comes around once every twelve years and the Force play the 'Tahs' twice a year. If we are going to keep these great trips going, we have to insist that the host nations put out their best teams in all the matches. The real crime was committed when the Super Rugby fixture list was drawn up to clash so horribly with this Lions fixture. Surely the bigger picture for those trying to expand the game in Australia, and especially in Western Australia, is to see their teams make the best possible show in the Lions matches? If they do, that really could inspire a generation.
At the Lions news conference, their team is named and Brian O'Driscoll will captain. However, concern is growing for his Leinster team-mate, Rob Kearney, who is not getting over his hamstring tear. He is going to be given more time but it is clearly a worry to the Lions management.
Tuesday 4th June
I can't write this date without pointing out that, for what it is worth, today is my birthday.....but, as I am not counting the years these days, let's move quietly on shall we?
I head to the Western Australia basketball arena which is where the Force team picture is being taken. It's one last chance to put names to faces in real life as opposed to via the TV on the other side of the world. There are a number of young players on the bench who have been shipped in to play for the Force so the starting backline is not really anywhere near the Super Rugby starting 15 players. In the forwards, there is more experience but, despite the happy go lucky good natured joking around at the photo, I can't help thinking that this Force team might be dazzled in the flashlight of the Lions' backline and the powerful forwards picked to play in tomorrow's match. We shall see.
The evening is spent very convivially at a Quiz night organised by the Lions management at their hotel. At the risk of embarrassing my team-mates, I won't tell you the full result but let's put it like this - it is not a birthday celebration for our team! 'SkyFall', as we are called, turn out to be more 'Fall' than 'Sky'. For the record, Mr Gatland's team win and it wasn't a fix either.
Wednesday 5th June
Match day number two and the hard job rugby union has in these parts to find its niche is emphasised by the local paper's back pages. The big emphasis is on Aussie Rules and the State of Origin and the Lions versus the Force preview is buried five or six sheets inside.
At the ground though, the crowd is building nicely. However, once the game starts, the noise never really rises because it is all too predictable. Sport is never good when you know the result and you do for this one very early on.
Again though there are some clear plusses for the Lions, if we are thinking more about them and that is, of course, what they have to do in these early games. Leigh Halfpenny's kicking is world-class again for starters. Brian O'Driscoll and Manu Tuilagi combine well for a second-half score to remember, all initially created by Jonny Sexton. And, when the Lions get their power game running, the Force simply have no answer.
I think Sean O'Brien can be very pleased with his night and the bench impact well too. As Warren Gatland says after the game, he really is getting some serious selection headaches now.
However, there is one big negative and we are always knew it was going to happen at some stage on this tour: the dreaded injury. When Cian Healy goes down it looks a bad one although we then get some more encouraging news from Will G on the touchline, via the Lions bench, that it might not be as bad as we first thought. Yet, overall, it did not look good and our thoughts are all with Healy as he is taken to hospital for an x-ray with his tour in danger of ending after the first match in Australia.
If that's the case, it will be a clear blow to not only the player but to the Lions' chances because Healy must have been in a good position to start in the Tests. Gethin Jenkins' return to action against the Queensland Reds at the weekend now becomes even more important and that's where we are heading tomorrow.
4:45am is the wake-up call time for Perth to Brisbane. So, if you don't mind, I'm going to shut the laptop now and get some sleep. Speak to you all next week.
Watch every Lions game live only on Sky Sports. Click here to sign up or upgrade now.