A tour to savour
In his first Lions Tour Diary entry, Miles Harrison sets the scene for the opening game in Hong Kong.
Last Updated: 30/05/13 6:28pm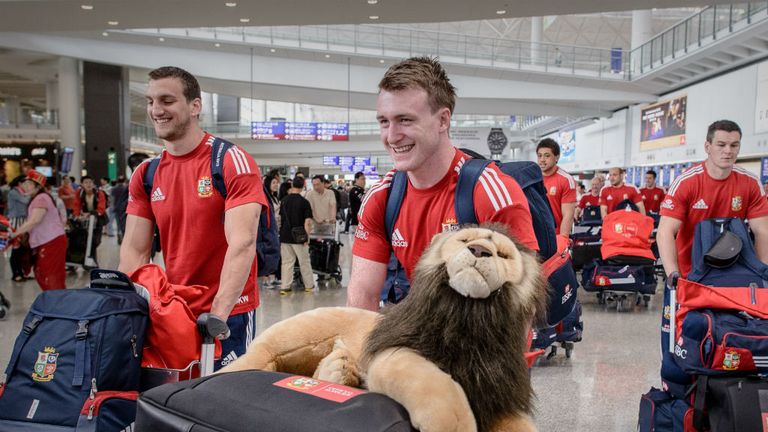 You know the start to Dickens' Tale of Two Cities - where it is half of this and half of that - well, that's exactly how it feels at the moment when it comes to the 2013 Lions tour.
Half of me is unbelievably excited to be about to cover a fifth one of these truly great sporting events for Sky Sports, whereas the other half of me is dreading the thought of being away from the girls in my life, my wife and daughter, for six weeks.
And, yes, those who know me well will also confirm that my dread extends to the missing the bulk of the village cricket season, too - but the sweetener this year is that my nearest and dearest are to fly out to Sydney for the third Test.
The Lions shirt has been bought and is already being worn at all available opportunities (by my daughter, I hasten to add) and we've certainly got Lions fever at home and, here in this column, over the next month or so.
I'm going to try and give you my thoughts on all that surrounds the 'fever' on what is a trip to savour for all concerned....
Friday, May 24th
It's just over a week out from the first game in Hong Kong and, having spoken to people over there, they say it is bucketing down - the rainy season has begun. I'm watching England train in the rain in Bagshot, thinking it is more like winter than the English spring.
The Test match at Headingley sounds like it is doomed for the day, a little like my batting last night in a squeezed-into-the-schedule 20/20 for my club. But there's certainly a feel-good factor about the England rugby squad with young finishers like Wade, Yarde, Eastmond and May all looking sharp and selected in the side to play the Barbarians on Sunday.
Stuart Lancaster expects the Barbarians to be right up for this, given their involvement at the start of the Lions tour. Having spent the day before at Barbarian training, I can confirm that the famous old club know their responsibilities over the next week or so. However, England will have had much longer together as a squad come Sunday and, in the modern game, that is normally a telling factor.
Saturday, May 25th
It is Finals day in the Aviva Premiership and the Rabo Direct Pro 12 and, of course, I've got to keep across both games, plus the three Super Rugby matches involving Aussie teams that are taking place today.
That's a lot of rugby to watch, plus I have to finalise my commentary notes for Twickenham the next day and make sure I find time for the girls (and Joe Root who is showing everybody how it is done in Leeds!).
The texts are flooding in from my Yorkie friends - they are rightly proud of the boy Root - he's class. But, sadly, on this day, Northampton's Dylan Hartley is not a class act and, after the Stephen Myler drop-out mix-up, fate takes a cruel twist for Hartley; on watching it, my immediate thought is that his Lions tour is over.
Wayne Barnes is angry - he has every right to be so. Some will feel that, given his history, Hartley is cruising for this bruising but you would not have a rugby heart if you didn't feel for him as he trudges down the tunnel with his loser's medal and into the Northampton dressing-room on his own. He knows that one of the greatest honours in the game, a Lions tour place, hangs by the thinnest of threads.
Leicester are always going to win the game from the moment Hartley sees red - despite the Saints' immense bravery. The Tigers are deserved Champions, yet Northampton proved a point by getting to the Final and more than playing their part in a cracking game. It is a match that will inevitably not be remembered for the quality of the rugby.
Leinster do the job efficiently on Ulster - my goodness that Joe Schmidt is a good coach. And, Ulster's Rory Best's post-match interview says volumes about him too and he looks destined to have Hartley's jacket re-tailored for him.
Sunday, May 26th
Twickenham is bathed in sunshine and all is set for a running try fest, but as feared if you are a neutral, the Barbarians don't gel and take nigh on 70 minutes to start to look anything like the part.
Dimitri Yachvili and Nick Evans make a difference when they come on and the Barbarians will get further reinforcements for Hong Kong, notably in the front-row where they struggle against England's fit again Alex Corbirsiero and Davie Wilson who still looks on fire after a strong end of season for Bath.
Another notable England performance upfront comes from Joe Launchbury but there are many, if not all, of the England team who leave the ground having done themselves no harm at all. Marland Yarde looks a terrific prospect as well - that big strong finisher that England have been looking for?
I hand back to the studio saying that he and his mates can go to South America in fine fettle - job done. For the Barbarians who fly out tonight, there is much to do..
For me, the day ends with a journey into central London to the Royal Courts of Justice for the Lions farewell dinner. Once again, tour manager, Andy Irvine, issues the call for his squad to make history by leaving Australia and Hong Kong, played 10, won 10.
As the players leave this most impressive setting, the heart skips a beat - here we go again for another great Lions adventure. Goodness only knows what the players are feeling like now the day has all but dawned....
Monday, May 27th
When the day does dawn the feeling hits hard that this is fly-out day. That means some final packing, a final family long lunch and a now traditional game of last-day garden cricket. And, yes, I still looking vulnerable outside off!
The car comes to take me to the airport and this is never an easy moment but there's no doubt that this time it is made easier by the fact that we will all be together in Sydney for the final Test.
At Heathrow, the bulk of the Lions management and backroom staff are on our flight; the players, Warren Gatland and Andy Irvine had left earlier in the day. I see some of the England support team getting ready for their flight south in another direction.
As our big bird leaves the ground I have a wistful glance down at home and the summer we are leaving behind - the Ashes and all that, but it's time for a glass of wine and the research, that began way back in the depths of winter, to really kick-on.
This job means having to juggle rugby balls from all over the world with competitions to keep across coming at you from all angles. But it is virtually all about the Lions now for the next six weeks - so where are those Lions tour records in non-test games?
Where are all those notes on the Force and the Reds? And, you know what, it feels every bit as good as it did when we left the ground for South Africa 16 years ago. What chance the first series win since 1997?
Tuesday, May 28th
We lose seven hours in the air because of the time difference - this flight to Hong Kong is the classic for making you feel that the meals you are eating are just not in the right order!
It's a while since I've been to HK and I'm looking forward to returning to a place that is desperate to put on a show for this Lions tour opener.
I recall one of my greatest rugby memories occurred in this rather unique rugby setting: Christian Cullen's virtuoso performance in the 7's back in the 1990s will never be forgotten by those who saw it. If you haven't seen it, then I suggest you 'YouTube' it when time permits - you will not be disappointed.
On arrival, the body instantly recalls my previous visits - hit by a wall of humidity - these will not be easy conditions come Saturday night. As for Tuesday night (I think that's what it is) - it is time for bed.
Wednesday May 29th
Gosh, breakfast is good and plentiful - and I have three meals rolled into one (my excuse is that it saves the mind having to think about which meal it should be!). A short trip to the next door hotel and Dai Young announces his Barbarian team for Saturday's game.
It is clear that some words have been said by both the management and the players in light of what happened on Sunday. It also clear that Dai felt let down and wants a reaction. The changes do strengthen things.
Nick Evans and Dimitri Yachvili get starts and the incoming captain, Sergio Parisse, sits proudly at the top table of the news conference - making it three world class players at 8, 9 and 10 - a point that Lions coach, Rob Howley, subsequently picks up on in his team's news conference at our hotel.
Both camps talk about the humidity level of around 85% and the difficulties they are having in training. I can't remember a game of 15-a-side that I have commentated on, so dramatically affected by this issue, as this one will be on Saturday night.
I once covered the US Open Tennis in New York in August in similar conditions but this is a different ball game, literally. And, to top it all, a member of the Lions Media team tells me there is a warm weather warning for the weekend - it is getting hotter...
Thursday, May 30th
I wake up to the news on the back of the South China Post that the Hong Kong Rugby Union has taken the non-selection by the Barbarians of their local hero, Rowan Varty, rather badly.
But, it seems now that after some hurried discussions Varty is back in the picture to be on the bench. Mike Tindall is carrying a bit of an injury and, if doesn't make it, then that would make a place available.
The Lions are due to announce their side as I meet their tour captain, Sam Warburton, to conduct an interview. We are set up pool side and it is crushingly hot - I promise Sam that we will make it all go as fast as we can.
What an impressive young man he is and during the course of the interview he says that he wants his team to be 'ruthless' against the Barbarians. It is a good and encouraging word. Equally encouraging are his words on his knee injury and it clearly is not a problem that is bothering him too much, although he would have loved to have played this weekend to kick-off the tour.
My next task is to head off to see the Lions training session and the 'fans' are their again. Not of the people variety but, electric ones, pitch-side, doing their best to cool the players. It is absolutely stifling and there is no amount of water or cap wearing that is going to protect the players.
Quite simply, they are going to be exhausted on Saturday after the game but, as Rob Howley said yesterday, that will give the Lions management a chance to see their players being put under the pump by trying conditions.
When you next read this column, we will know the outcome of that opening match and, of the second game in Perth against the Force - two from two by then? All Lions fans will be hoping it is. I'll speak to you from the commentary box at the Hong Kong Stadium - bottled water at the ready!
Watch every Lions game live only on Sky Sports. To sign up or upgrade click here