England face the Barbarians at Twickenham live on Sky Sports
Miles Harrison can't wait to see England's exciting youngsters take on the Barbarians on Sunday.
Last Updated: 24/05/13 12:15pm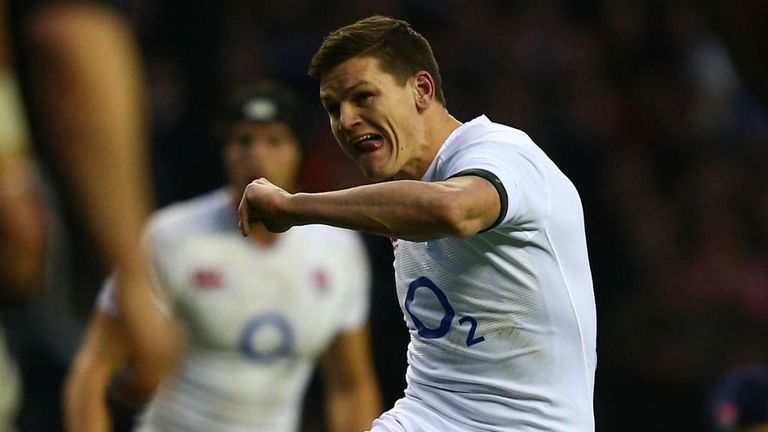 England are without a number of senior players, who are either on British & Irish Lions duty, preparing for the Aviva Premiership final (between Leicester and Northampton) or taking the summer off.
But their absences mean the likes of Christian Wade, Freddie Burns and Matt Kvesic have the chance to show off their exciting ability and announce themselves as major players on the international stage.
The famous Barbarians, though, will have plenty of motivation of their own as they prepare to face the Lions in Hong Kong and a number of players, such as James Hook, look to prove a point after being snubbed for summer tours.
So will England's youngsters outplay the celebrated Barbarians? Miles Harrison will be at Twickenham and he cannot wait to watch the action unfold...
These fixtures between England and the Barbarians can often produce exciting, high-scoring games - are you expecting the same from this game?
MILES REPLIES: Yes, I think so but with a little qualification this year. The Barbarians will play an attacking brand of rugby - they have to - it is the ethos at the heart of the club. But, there will be an undoubted Test match edge too to their squad on this tour in view of the fact that they are coming up against the Lions in Hong Kong next week.
That will be an even higher profile match and one in which the Barbarians will be desperate to perform, having been given the honour of kicking off a Lions' trip. So, they need to get their systems in place and it can't all be about chucking the ball around.
As for England, they have picked a squad for this match and the forthcoming tour of Argentina and Uruguay which is full of attacking flair and potential. However, for England this is always very much a 'Test Match' and this will again surely colour their decision-making in this fixture. But, I do feel there is the potential for both sides to find a very good balance and create a game that features its fair number of tries.
Which of the young England players are you looking forward to watching?
MILES REPLIES: Let's deal with the backs first. Freddie Burns at ten is being given a chance to run the show on this 'tour' and it will be fascinating to see how he goes. As readers of this column will know, I am a big fan and think he can bring an awful lot to the England squad over the coming years.
Award winning Christian Wade is another player who clearly is going to be looked at closely over the next few weeks to see if he can bring all that finishing power to a bigger stage. The signs are that he will be able to and I'm excited about his chance for a run too. In the forwards, Henry Thomas could be another key man for England over the next few years as he looks to show that, given the country's lack of depth in the tight-head prop department, he is one who is capable of adding to England's resources in this area.
So, the next few weeks are important for him too. And, flanker, Matt Kvesic, is a player that interests me. His form for Worcester has been outstanding this season and he could well be a man that England look to over the coming years as well - a genuine open-side with more than a touch of class and dog about him.
How important is it that England secure a win ahead of their tour of South America, or would some strong individual performances be enough to please Stuart Lancaster?
MILES REPLIES: Of course, the win is always the preferred option, especially against a side packed with talent and experience as is the case with the Barbarians. But, this is genuinely a match where strong performances, even without a win, would certainly please the coach. However, those performances need to enhance the team - the coach will be looking for players who can operate outside their club environment with unfamiliar faces alongside and use their skills to help the collective, not just themselves.
The likes of James Hook and Paul James must be very motivated to prove a point after their omission from the Lions squad...
MILES REPLIES: Yes, and you can add Jim Hamilton to that list as well. Also, the young Wasps back, Elliot Daly, might well be a bit sore having missed out on the England trip - I was certainly surprised by the omission and young, Sam Jones, Daly's club colleague, will have reason to catch the eye as well. All these inclusions in the Barbarians squad for the games against England and the Lions certainly add a little spice.
So Miles, what is your prediction for the match?
MILES REPLIES: It is a match that is full of unknowns as both sides have had limited preparation time coming together at the end of the season. Of course, for the Barbarians it is rather thrown together, their time really is very limited, just two sessions but, as I say, there is some pure class in their squad and that level of talent clearly points to a victory for them if they can get it right on the day. And, importantly, the motivation is all there in view of what is coming in Hong Kong too.
But, I'm excited about seeing this England team and if the English youngsters get it right - we are in for some afternoon and a great send-off on tour, wherever that tour may be!