Miles Harrison on Saturday's Heineken Cup final between Clermont and Toulon
Miles Harrison believes Clermont and Toulon will serve up a thriller in the Heineken Cup final.
Last Updated: 16/05/13 3:08pm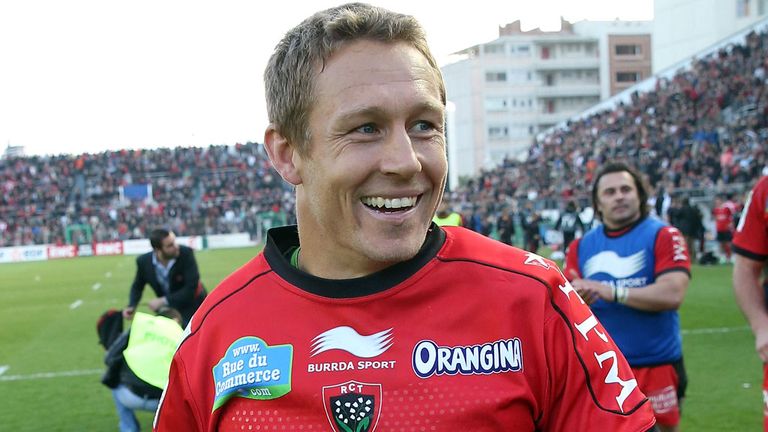 The two sides have been the dominant forces in this season's Top 14, with just one point separating them at the top of the regular season table.
Clermont know how to win at the home of Irish rugby, having defeated back-to-back Heineken Cup champions Leinster at the venue during this season's pool stages.
Vern Cotter's side are so hell-bent on claiming European club rugby's top prize that they have even fielded second-string sides in their domestic league, something that would have been unheard of in the past.
Clermont have produced some stunning rugby this season but it remains to be seen if they can repeat that against a powerful Toulon side that have outmuscled both Leicester and Saracens en route to the final.
Will the metronomic boot of Jonny Wilkinson lead Toulon to a first European trophy? Miles Harrison will be in Dublin and he cannot wait to watch the action unfold...
After a long season of intense Heineken Cup competition, do you believe these are the best two sides in European rugby?
MILES REPLIES: I think many will make that case - they are in the final - so it's a pretty strong case. But my own opinion is that there is another 'best side' in Europe, when they get it right on their day and with everybody fit, and they are actually playing in the Amlin Challenge Cup final, in their own city: Leinster.
I always thought that the team to beat in this season's Heineken Cup would emerge from that Clermont/Leinster pool. However, as soon as Leinster had gone, Toulon were always going to be another tough one to encounter, as Saracens and Leicester found to their cost. It is certainly a worthy final and I am looking forward to it with immense anticipation.
So, what type of game are you anticipating from the final? And will the fact that it is an all-French final affect the atmosphere and match in Dublin?
MILES REPLIES: I think it will be a good game to watch and not one of those French affairs where there is a lot of 'cancelling out'. That anticipation I was talking about stems, I have to say, mainly from the presence of Clermont. They have, at times, been majestic this season - a privilege to commentate on and see up close.
Okay, they stuttered at the end against a magnificently gutsy Munster but I firmly believe, or maybe hope, that this was their moment of stage-fright, the fear of losing for a second year running in their own country to an Irish team in the semi-final.
Now Clermont have got that out of the way, I am hopeful that they will bring their 'A' game to the whole of this final and express themselves, just as they did in the first half against Munster and much as they did against Leinster at the Aviva Stadium pre-Christmas.
As for the atmosphere - well, I don't think we are going to see a repeat of 2003 when Toulouse met Perpignan at a half-empty Lansdowne Road. The competition, European rugby and club rugby in general have moved on an awful lot in the last 10 years.
How wary will Clermont Auvergne be of Jonny Wilkinson and how big a factor could he be in the match?
MILES REPLIES: They will be extremely wary of the great man. He hasn't missed a kick at goal in the knockout stages and his accuracy could be the decisive factor if Clermont play into Toulon's hands and show a lack of discipline when put under pressure.
If we want a great game, then it will take two to tango and the Toulon power game, with all their stars, is a genuine threat to Clermont's ambitions and the feeling that this could well be their time.
Toulon can win this - there are too many world beaters in their team not to allow some to reach that conclusion and to respect it.

How important will the rest of Toulon's English contingent, such as the Armitage brothers, Nick Kennedy and Andrew Sheridan, be to their hopes?
MILES REPLIES: They've all been big for Toulon this season, playing major roles. Steffon Armitage didn't make the starting line-up in the semi-final but he's got his hands full with so many world class back-rowers fighting for these spots.
Whether Steffon starts or is on the bench, and we don't know at the time of this hitting the website, he should have a significant role to play, as indeed, will his fellow countrymen. Both sides' bench talent is amazing, which is always the sign of a high class game.
Who do you think will be the key players for Clermont Auvergne? Do you expect them to produce the scintillating rugby that has taken them to the final or could they crack under the pressure?
MILES REPLIES: If I had to pick out key players for Clermont, I would say Wesley Fofana, Sitiveni Sivivatu and Napolioni Nalaga because, if those three produce their best rugby, they can be almost unstoppable - in fact, strike that, they are unstoppable at their best.
With players of that ilk, Clermont would be foolish not to use them so, yes, I do expect them to try and produce the scintillating rugby they have played in the competition this season as it is their best route to victory - a style that arguably no other side in Europe can live with.
Whether they crack, time will tell as finals do funny things to people but I stand by my point that they are in a better place mentally than they were in their nervous semi-final conclusion.
Stick your neck on the block for us. Who do you think will be crowned champions of Europe on Saturday?
MILES REPLIES: I said here right at the start of the competition that the winner would come out of that Clermont pool and that, this year, I did always feel it was Clermont's time. They got past Leinster, they've seen off Munster's fighting spirit; it is now Toulon that stands in their way.
Toulon are, of course, no small matter but I'll stick with Clermont to become European Champions for the first time. Either way, we will have a new name on the trophy on Saturday night and I sincerely hope you will join us to see the coronation. Speak to you from Dublin.