End of Tigers' run?
Miles Harrison says that if anyone can end Leicester's amazing home semi-final record, Harlequins can.
Last Updated: 10/05/13 12:53pm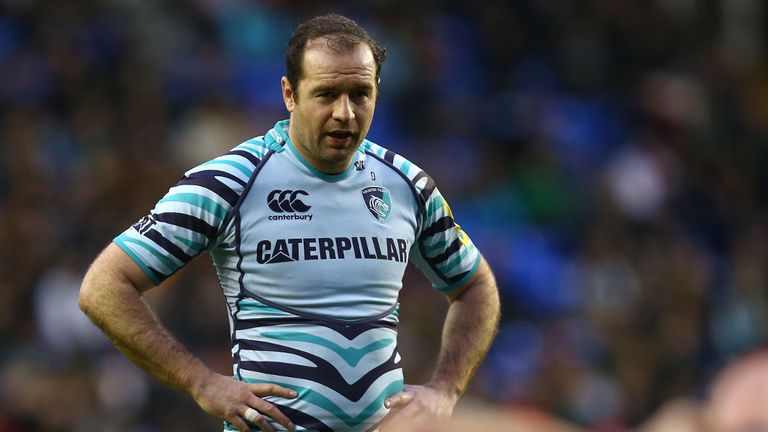 Defending champions Harlequins face the daunting task of travelling up to Welford Road to take on the in-form Leicester Tigers for a place in the Premiership final.
The Tigers have made the last nine Premiership finals and will be looking for their first title in three years. They have not lost a semi-final at home in 15 years.
Quins beat Leicester in a thrilling final last season and have stamped their mark on their last two visits up to the Midlands in the regular season.
It sets up Saturday's clash very nicely and Miles Harrison looks at who will prevail...
Harlequins beat Northampton last weekend with plenty of pace, pace and more pace but Saints got back into the game with their power game. Will that be a worry for Quins against this Leicester powerhouse?
MILES REPLIES: Leicester Tigers' power is a worry for any team but Quins coped alright with the Saints power for the majority of last week's game. Also, Conor O'Shea's team have a good recent record against them. Quins have won the last three meetings and have also won on their last two visits to Welford Road. These are impressive facts and it is why Quins will go there this weekend believing that they can do this. And, whilst I accept that recent form indicates Quins may not be the favourites for this one, they have got some momentum back now after the severe blow of the Munster defeat. Also, they are, after all, Champions and, given the way things have gone between the two clubs lately, they must have a good chance of what would be a rare semi-final away-day win in this competition.
Leicester seem to be in good health for this time of the season. Ed Slater has been injured but he's had a great season and fully deserves his England call-up doesn't he?
MILES REPLIES: He certainly does. In a season of Lions call-ups for the Leicester squad, Ed Slater has still managed to shine, even amidst all the other star names. Slater has been consistently good and that is what will have caught Stuart Lancaster's eye - that ability to keep performing week in, week out. He has all the physical attributes to make himself into an international second-row and he operates like a back-row too. He and Bath's Dave Attwood thoroughly deserve their England selection and should put big pressure on Lion, Geoff Parling, and Joe Launchbury and Courtney Lawes.
Geordan Murphy has announced his retirement at the end of the season. What has he brought to Leicester?
MILES REPLIES: How long have you got? Geordan Murphy has been such a part of the modern Leicester story; not quite at the club as long as Alex Ferguson has been at Manchester United but it's been a long time nevertheless. In fact, Murphy was of course once likened by Dean Richards to another United great, being described as the George Best of rugby. Well, he certainly brought the footballing skills to his job at full-back for the Tigers and I think that is what we will all miss most - those touches of pure class and sublime skill. Still, the good news for Tigers' fans is that he is not going far, as he will be part of the coaching set-up next season. Geordan certainly has skills you cannot coach but I would wager that he will make a big impact off the field too. And, if that influence is in the same bracket as the impact he made on the field, then Leicester will benefit greatly again.
Harlequins have won their last two league visits to Welford Road but the Tigers have never lost a home semi-final in the Premiership. Do you see them continuing that trend?
MILES REPLIES: It's a tough one - to back against Leicester at Welford Road with that kind of semi-final record is a difficult thing to do. But, they are not living on past glories and they have been playing really well lately - that performance in Toulon, even though it was a defeat, showed just how much Leicester have going for them this season. I do believe though that the Quins can do this but I'm not so sure that I would go as far as to put money on it. So, the Tigers, just, I think, but, as I say, I'm really not sure at all and that is the beauty of this semi-final.
Just a word on the other semi-final Miles. How do you rate Northampton's chances against Saracens on Sunday?
MILES REPLIES: I think most people will see Saracens as being firm favourites here, given their record at home this season, especially at their new home and the fact that they finished top of the pile. The Saints, despite coming close last week at Quins, still haven't got that big win against a top three side this season. However, they are clearly a dangerous team that, on their day, can cause damage. Over the Xmas holiday period it was a matter of centimetres that separated the two at the MK Stadium and Saracens won't have forgotten that. And, just remember how close Northampton came to winning at the eventual Champions Quins in the semi-final last season when things were stacked against them with injuries etc. That's not the case this season, so don't rule Northampton out regardless of the fact that they have failed to get that win over a top three team. But, shock of shocks, I'm going for a 1 v 2 Final - two semi-final home wins...Saracens to meet Leicester on May 25th.