In the balance
Miles Harrison says the form of two men could be the difference when Saracens and Toulon clash.
Last Updated: 27/04/13 5:26pm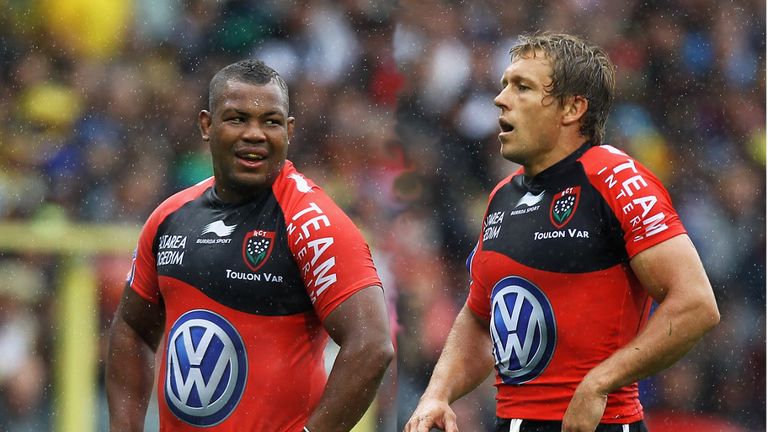 Toulon head to Twickenham with an all-star cast aiming to beat Saracens and book a place in the Heineken Cup final.
Their leading man is Jonny Wilkinson, who could be the difference in getting Toulon to Dublin if they are able to control territory. Toulon look to have more firepower in the backs to score tries but Sarries' defensive system has been outstanding this season and they will look to close down Toulon at every opportunity.
Miles Harrison cannot really separate the sides and believes the battle between Owen Farrell and Wilkinson could be crucial.
There is a lot of excitement surrounding Jonny Wilkinson returning to Twickenham and taking on Owen Farrell - the former England No.10 against the current England No.10.
MILES REPLIES: It is a great story. What a fantastic opportunity for people to see one of the great England match-ups of recent times. On one hand you have Wilkinson, the impeccable international rugby player who served England so well and then you have this youngster who, in many ways, could be exactly the same in years to come. Hard tackling, brilliant kicking, commitment, drive - they are cut from the same cloth really. It is a great match-up and I am sure it will be a special moment for Owen Farrell to come up against Wilkinson, a man whom he would have put on a pedestal for many a year.
Do you think Saracens really need to attack Toulon's scrum like Leicester did?
MILE REPLIES: You would not look at the Toulon team sheet and say it is a weak scrum. However, in their quarter-final against Leicester, there were a few moments when Leicester looked like they were getting the upper hand there. These things are very often dependent on referee interpretation though and I would not say this is an area of clear water between the two sides - in fact, I can't see clear water between the two sides anywhere and I think this will be a very close game of rugby. Saracens played a game in the quarter-final that was just too much for Ulster; if they play a similar sort of match then clearly they will give themselves a very good chance of victory.
Saracens do seem to get a bit of criticism regarding their performances and game plan; do you think that is fair?
MILES REPLIES: I don't think they will particularly worry about it - it may give them a little more motivation if anything. The way I see it with the quarter-final is that the proof is in the pudding - what was the best way to beat Ulster? They utilised the best game plan, scored two tries and won the game convincingly. There were one or two moments when the game might have turned, and perhaps Saracens were fortuitous with regard to how a couple of their scores came about, but I don't think anyone walked away from Twickenham thinking the better team had not won that game. They got through to the semi-final and that, after all, was the aim! So, on that level, any criticism is unfair because they did what was needed. I think the bulk of the criticism is based more on stylistic grounds and this is where the debate has been. But, in their defence, Saracens play some pretty good stuff too. I watched them in Nantes where they were absolutely superb. In Brussels against Racing Metro, they played some beautiful rugby at times. They've also run in some terrific scores at their new home, albeit against opposition not of the calibre they will encounter at the top end of Europe. And, after all, they are top of the Premiership and are the only English team left in the Heineken Cup. They are doing a lot right. Clearly, a team like Clermont, play in a certain way that makes you drool at times but you could also argue that no team in Europe can compare favourably with that level of 'entertainment'. And, let's not forget, that one of the major reasons why we all love this game so much is that there are different ways to skin the cat.
How do you see this one going Miles?
MILES REPLIES: I would usually say that home country advantage would swing it towards Saracens slightly. However, Toulon have such big name players who are not going to freeze on the day and are certainly not going to think that Twickenham is an alien environment - so many of them have been there before. This game will swing on whoever is able to get those little moments that decide the momentum of the game; that one missed tackle, that one bounce of the ball, that one refereeing call. If push came to shove, I would say Saracens but it really should be very tight indeed.