A fighting chance
Miles Harrison says Clermont may be favourites to win the Heineken Cup but don't write-off Munster!
Last Updated: 26/04/13 2:07pm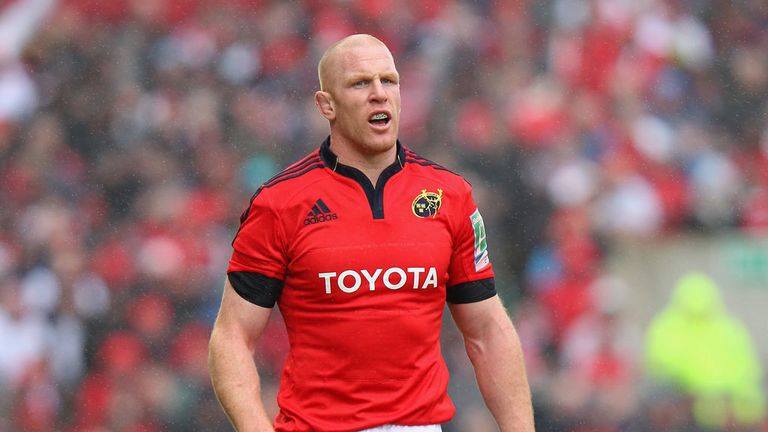 Munster may have defied the odds to beat Harlequins in the quarter-finals of the Heineken Cup but they will need to go up a whole different level if they want to beat Clermont Auvergne.
The French side look like European Champions in waiting with class all over the park. However they have been in this position before - Leinster beat them in Bordeaux last season - and Miles Harrison says that if they give Munster a chance the Irish province will take it!
Munster have been written off in the past and proved those doubters wrong, but is this too much for even them?
MILES REPLIES: Those who wrote Munster off before their quarter-final against Harlequins were daft to do so and the result proved them wrong. This time I would have thought there are even more people writing them off and given Munster's heroics over the years, that is still a dangerous stance but this is as tough as it gets. Munster have achieved some great things in this competition and have won spirited battles all over Europe but, if they beat Clermont Auvergne on Saturday, then that would top the list. Clermont just look ready to be European Champions but Munster have earned the right to be in this semi-final and they will give it everything that they have got. Whether that is enough, well, time will tell. Clermont were my tip for the Cup if they could get past Leinster which they have done, so I am not about to say that they are not my favourite to go through this weekend. But, Munster have a fighting chance and sometimes that is all they need because they can fight alright.
Munster still have a few injuries. How will that affect them?
MILES REPLIES: They are still without Doug Howlett. In the Harlequins game, Donncha O'Callaghan came off the bench but he too is out of the Clermont game now. I take the point that, if you are going to go to France and play a semi-final against a team like Clermont Auvergne and the depth that they have, then you sort of need everybody. It does seem that the odds are stacked even more against Munster with those injuries but I go back to my point that they don't mind a bit of adversity.
Clermont are playing in France but not at their home ground. Will that have any impact on them?
MILES REPLIES: Well, yes, in that they don't lose on their home ground! And, in Bordeaux last year in the semi-finals, they did lose to Leinster. However, it took a great Leinster side to beat them. Munster in the past have gone to the Stade Marcel Michelin and twice come away with a bonus point. You could argue that Munster were further down the road in the development of those previous teams but, I think we saw at Harlequins, that this Munster team can now hold their heads up high after producing an away performance that any Munster side from any era would be very proud of. Paul O'Connell made the point that he sees in training week in and week out that these players are ready for these sorts of games now and they will have taken great confidence from the events at the Stoop. There will be a lot of Munster supporters of course which will help neutralise things and it will be a very colourful day but we must not forget that this game is still in France. And also, regardless of the crowd, these games are normally won by the better team.
You mentioned that painful semi-final defeat last year to Leinster. Will that be at the back of Clermont's mind?
MILES REPLIES: I think it is more than at the back of their minds, I think it is in the front of their minds. I think the pain of that defeat has been a major motivation for them all season. But, it is interesting because if they get to a stage in the semi-final where things are level with say 20 minutes to go, or Munster are at least in touch, then it may well play on their minds. They may think that they have been here before - home country advantage - and they could not do it. However, there are those who will argue that such is the power of Clermont that they will be too hot to handle anyway and will be away and gone by then. They are that good. And, having that hard learning experience may work in their favour too; teams that win this competition have gone through some agony first - Munster know that - it could be that we are seeing that now with Clermont.
A few players like Paul O'Connell, Conor Murray, Donncha Ryan, Simon Zebo and even Nathan Hines could play themselves into Warren Gatland's Lions squad too, couldn't they?
MILES REPLIES: Warren Gatland will surely not have his mind absolutely made up at this point - he has to leave the door slightly ajar with such a big weekend of European action coming up. Paul O'Connell - well I think he did enough in the quarter-final against Harlequins to book himself a place on the plane. Gatland will want him to replicate that form on Saturday - which would be great news for the Lions if that was the case. Conor Murray is a similar player to Mike Phillips - I think we all presume that Phillips will be the No.1 choice and it could be useful to have someone who fits the bill and slots in if anything was to happen to Phillips. There is a lot for Murray to play for on that front. Donncha Ryan is right in the mix but that is a very competitive area although you could argue that all areas are competitive. I think Nathan Hines would make a very good Lion but he is playing in a French team that is obviously going to go a long way in the Top 14 competition. Warren Gatland has made it pretty clear that he is not particularly interested in players who will be overlapping their domestic season with the start of the Lions tour. And, Gatland does have genuine choices at the moment too - it is not as if there are no other players who would make very good Lions who will be more available.