Sale no pushovers
Northampton are almost in the play-offs, says Miles Harrison, but they must not underestimate Sale.
Last Updated: 19/04/13 2:41pm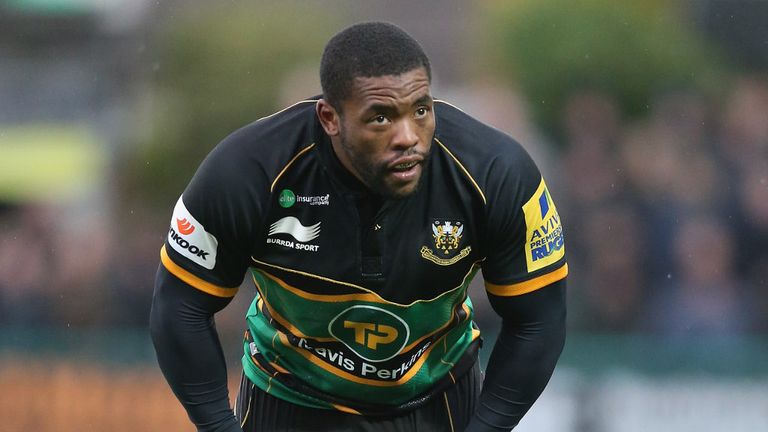 A bonus-point win against Sale on Saturday would almost certainly give Northampton a place in the Premiership semi-finals.
Gloucester have an outside chance of ruining Northampton's plans but will need a win against Saracens on Friday night to close the five-point gap that Saints have over them.
Sale, now unshackled from relegation wories, are playing with a freedom and confidence many expected to see at the start of the season and, despite being 10th in the table, will know a strong finish this year will help them build for the following season.
Sky Sports commentator Miles Harrison will be at Franklin's Gardens and believes that Sale will be a stern test for Northampton...
Jim Mallinder says he wants to nail down a top-four spot for Saints against Sale. They have a week off after this and then head to Quins - how important is it for them to secure that semi-final spot now?
MILES REPLIES: It could all be sorted by the time Northampton kick-off on Saturday evening - they could be in the top four without having done anything more, if Gloucester fail to win and get any match points from their afternoon game against Saracens. But, with respect to Sale, Northampton know that they are not going to be serious contenders if they can't beat a team lying 10th in the table at home and one that has spent all of the season in a relegation dogfight.
If the Saints do win, that should be job done unless Gloucester can perform some end of season heroics against Sarries. Having said that, I know what Jim means when he says he wants to get it sorted this weekend because that trip to Quins would be a decidedly tricky one if Northampton needed something out of the game. But I come back to my previous point - the Saints will be looking to show, both in the game against Sale and then in the one versus Quins in Round 22, that they have the game to be ready to be a genuine contender in those semi-finals.
It will be an emotional last home game for prop Brian Mujati, amongst others, how important has he been for Saints over the years?
MILES REPLIES: The 'Mooj', as the Saints fans affectionately call him, has been as big as any playing influence at the club in recent times, given the way the Northampton pack has performed. His farewell and also that of his front-row mate, Soane Tong'uiha, will leave sizeable holes, literally, in the Northampton front-row. The Saints are buying well though and are buying big - and in Alex Corbisiero and Salesi Ma'afu they have gone into the market and come back with two star forward names.
Sale will be relieved that they are safe in the Premiership for one more year. What do they need to do in the last two games of the season?
MILES REPLIES: Sale are relieved as it has been a trying season for them. What they have to show this weekend is not the character that they have been showing since Christmas to get out of the dogfight but the character within the squad that will show that there is a lot to work with next season and that the club can look forward to much happier times. There are two ways they can go this weekend - the beach or the workplace - and, with Steve Diamond in charge, it should be the latter!
It was a good win for Sale over Gloucester, the score may have flattered them a bit but could you see some signs of what Steve Diamond is trying to achieve there?
MILES REPLIES: The score did flatter them in that those two early charge-down tries were gifts and, for whatever reason, Gloucester were just not on their game that night. And those Gloucester gifts were not only for Sale but Northampton, too! But as far as Sale are concerned, they did all that was asked of them, winning with a bonus point and there is some clear direction now - you can see the influence of Diamond the motivator and Bryan Redpath's tactics. The team is trying to play in the right areas and their home form has settled into a winning run after they clearly struggled to cope initially with the change to a new ground and the pressure that followed by losing games there. As I said earlier, Northampton must expect to win games like these if they are to challenge for the title itself over the next few weeks, but Sale should be no pushover if they turn up with that correct mind-set. In fact, if they do that, they could be very dangerous indeed. Time will tell and I hope you can join us to see it.