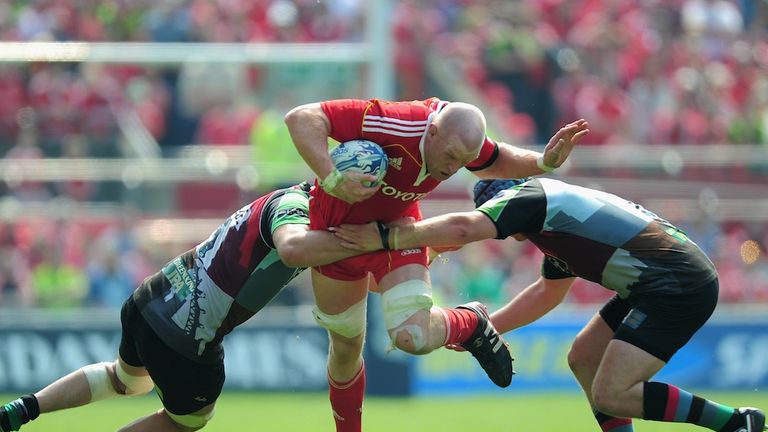 Harlequins and Saracens will attempt to prove they are ready to rule European rugby when they face Munster and Ulster respectively in titanic Heineken Cup quarter-finals
Premiership champions Harlequins will have to be at their best when they host Munster in their Heineken Cup quarter-final on Sunday.
Munster, who have won the Heineken Cup twice, may be having a tough time in the RaboDirect - they were embarrassed 51-24 by Glasgow last weekend - but have enough pedigree and talent to compete with anyone.
Buoyed by the return of skipper Paul O'Connell, Munster will look to keep wrap up the harlequins forwards and not let them get into their stride.
Quins, aiming for the double this season, have had some form issues of their own but know that there will be no second chances come Sunday.
After three defeats in the Premiership there are big questions surrounding Harlequins' form before their Heineken Cup quarter-final against Munster aren't there?
MILES REPLIES: Inevitably there are questions being asked but I'm not sure at this point how big they should be. Quins were strangely off their game against Exeter and Saracens but there are always going to be blips in the season, even for the most successful. Conor O'Shea, whilst disappointed with the result at Kingsholm last Friday, was delighted with the performance and is convinced that if Quins play like that between now and the end of the season, then they will end up in good positions. This Sunday though is the biggest test of them all so far this season because of what is riding on it. Quins have known that their last three games would not decide the outcome of their season - possibly the venue for their Premiership semi-final - but not the outcome of the season. However, in European Cup terms, this weekend is, to quote Conor again, a 'no tomorrow' game. How they handle that pressure and, quite frankly, expectation, given that the game is at the Stoop and given those recent defeats, will have a large bearing on the outcome. Judging by the anticipation down at the club this week, they still feel they are in a good place to deal with it all.
Then again Munster's form has not been setting the rugby world alight either has it- they were thumped 51-24 by Glasgow in the RaboDirect.
MILES REPLIES: Yes, that was a rather embarrassing defeat in the end. However, and it might seem strange to say it, for a large part of that game, Munster looked pretty comfortable; they just kept shipping intercept tries. And, Munster have been here before, not exactly ripping up trees in the week prior to a big Heineken Cup game. So, let's not read too much into events in Glasgow. What you might be able to read something into is Munster's general form in the Pro 12, which has now left them unlikely to qualify for the semi-finals. But, once again, look at how difficult Munster were to beat at Vicarage Road and how they beat Saracens at home this season - you have another indicator of just how important this European Cup is to the men in red. They may not be favourites but I wouldn't go writing them off. They know and we know, that the true answer about how good Munster are this season will be provided on Sunday at the Stoop.
Their coach Rob Penney has asked for patience as he tries to tinker and experiment with Munster's game plan - do you think that patience is running thin though and should he going back to Munster's traditional way of playing?
MILES REPLIES: It's been very much a live debate in Ireland this season and I think the coach is getting a little tired of the constant focussing on it - Rob Penney's patience may be running a 'little thin' on the whole topic. But, as far as Munster going back to their 'traditional way' for this game is concerned, well, quarter-finals in this competition are very rarely open affairs. It will undoubtedly suit Quins if the game is played at pace and goes wide and, for that reason, Munster, with Paul O'Connell their inspirational lock fit again, could well pull it back a bit but that may well happen quite naturally anyway. This is going to be a scrap to the death with Munster's whole season and Harlequins European season, something that is so important to the English champions now, both on the line on Sunday.
A quick word about Leicester's trip to Toulon Miles - should be a cracking game - how do you see this one going?
MILES REPLIES: Leicester certainly go there in good heart after how they tore their East Midlands rivals Northampton Saints to shreds last week. However, as with Clermont Auvergne on Saturday, you feel that home advantage could be a major factor in this tie - such is Toulon's obvious strength in front of their partisan fans. Against that though is the fact that Toulon have not been this close to realistic glory in this competition before - this close to a genuinely long run in the competition. If Leicester can get their big guns going, like Manu Tuilagi and do enough to keep it tight then, come the hour mark, the Tigers could just be on for what would be one of their great European Cup triumphs and that is saying something. In their Pool, Leicester struggled and fought their way past Toulouse and the Ospreys - did that show that Leicester are not good enough to go a long way in the Cup this year because they so nearly perished in that Pool or did it show that the Tigers are as good as they always have been when it comes to getting a result in the majority of games that really matter? I guess Sunday will tell us the answer to that as well.