Northampton Saints can silence critics with defeat of rivals Leicester
Miles Harrison says Northampton can silence their critics with a win over local rivals Leicester.
Last Updated: 29/03/13 10:45am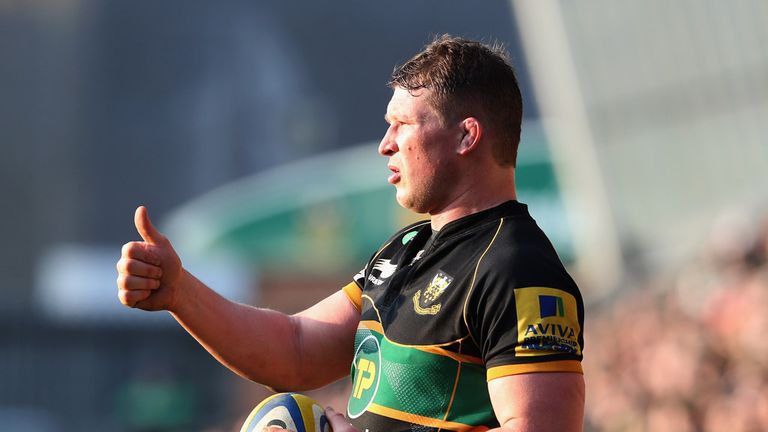 Jim Mallinder's side demonstrated their strength in the forward department as they powered through the Wasps defence to strengthen their hold on fourth place in the Premiership last time out.
However, the Tigers pack is expected to put up far more resistance to Saints' impressive power play when the sides meet live on Sky Sports 1 HD at 2.30pm on Saturday.
Here Sky Sports commentator Miles Harrison previews the contest and says Saints can silence their critics by defeating second-placed Leicester...
Northampton did their play-off chances a world of good last weekend with that win against Wasps - their rolling maul was once again very effective in that game. They'll have to have more than that against this Tigers pack though?
MILES REPLIES: Well, for a start, you can't imagine the Leicester pack succumbing to the tactic in quite the same way but Northampton's forwards have certainly got their mojo back and they will undoubtedly look to take Leicester on upfront with some confidence in the locker. But, as I say, you can't see Leicester shying away from that battle either. With the derby element, the top four aspect to this match and a sell-out crowd waiting this could be one of the best forward contests that the league has seen this season.
However, I take your point that Northampton need to show more than the rolling-maul if they are to get what they want so badly: the English title. But, they know that and have said so this week, and Franklin's Gardens this weekend is the perfect place to really get that point across.
The Saints showed great heart in the way they came back last weekend, having at one stage raced into an early lead only to see that advantage taken away by London Wasps. They kept their cool and showed the kind of qualities that will stand them in good stead over the next few weeks.
They have worked really hard to get right back into the top four picture and know that this weekend is a chance to show their credentials to not only their own supporters but also all the other sides jostling for those play-off places.
In short, you feel this is a mini-Cup final for Northampton, the day when they can really announce their challenge. Nothing will be decided on Saturday but , if the Saints win, their critics will surely have to concede that Northampton are right in this because the table does not lie come Round 19.
How big a game is this for England hookers Tom Youngs and Dylan Hartley as far as their Lions aspirations go?
MILES REPLIES: Of course, it is a big one for both of these men when it comes to Lions considerations but you can rest assured that neither of them will be thinking about it on Saturday - they will leave that to others. Actually, thinking about international rugby and not concentrating on club matters when wearing the colours of Leicester has been tantamount to treason over the years at Welford Road. Consequently, I can't think of many who have ever been accused of letting their mind wander when they have a job to do for their club.
Anyway, Tom Youngs is not that kind of bloke - his down to earth way has been one of the reasons why he has risen so quickly to challenge the likes of Hartley at international level. And, likewise, Northampton's skipper has his hands full this weekend again, not just with Youngs but with the captaining of a team that is growing the expectation level once more.
Also, did you see Hartley's reaction to the final score by Northampton in Wycombe last week? There was a man 100% committed to his club's cause. The two England men may not be in international colours this weekend but it is going to be a contest to savour.


With Gloucester breathing down their necks for that fourth spot - is this a must win game for Saints?
MILES REPLIES: Obviously, given the standings on the table at the moment, Northampton are under that little bit more pressure to get the win with Gloucester lurking and having a home game on Friday night, albeit against Quins. And, the fact that they too are the home side means the pressure is on the Saints to deliver something positive. They do not want to be going into the semi-finals with the distinct possibility of being away from home, showing the others that they can't beat the big guns when they are at home.
However, there is pressure on Leicester too, of course. They have put themselves in with a great chance of a home semi-final now with their win last week at Worcester and Harlequins' latest slip at Saracens. A win against their East Midlands rivals would give the Tigers four unbelievably precious points. No, Youngs and Hartley won't be thinking about the Lions; Leicester won't be thinking about Toulon; instead, it's all eyes and minds on Franklin's Gardens this Saturday and I hope you can join us for what could be a very special afternoon.