Green grass of home
Miles Harrison says Exeter will need to keep a cool head when they visit Saracens' new abode.
Last Updated: 15/02/13 3:17pm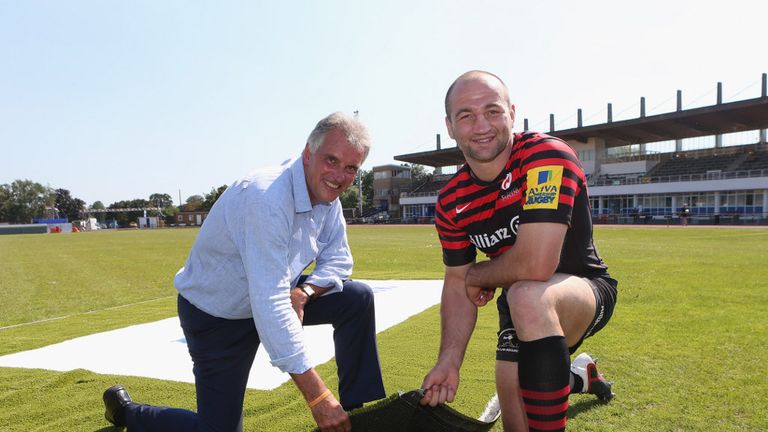 All eyes will be on Allianz Park on Saturday when Saracens host Exeter in the first top-flight league game to be played on anything other than grass.
Saracens have invested £24 million on their new stadium which includes a state-of-the-art artificial pitch that could be the way forward for clubs all around the world.
Both Sarries and the Chiefs will be disappointed with their performances last weekend - the former lost to London Irish, while the latter let a good lead slip against Sale - and will be determined to get back to winning ways.
With Sarries still missing their international players, Miles Harrison wonders if Exeter could spoil their 'house warming' party...
This game is getting a lot of interest because of the artificial surface it will be played on. What are your thoughts on this?
MILES REPLIES: I went down and had a look at it on Tuesday and I was really impressed. It does not really feel like grass to the touch, but it looks like grass and underfoot it feels like grass. It is getting pretty good reviews from the Saracens boys who are training on it and from the Cardiff Blues players who played on it in an LV= Cup game. It will be fascinating to see how everyone reacts to it but Saracens will get more and more used to it - their opponents may not have that advantage but it felt like a good, fast surface which will allow a fast game for those who want to play. This is one of those matches to be at - a historical moment in the game and I am looking forward to seeing it all play out.
Saracens will still be smarting from their loss to London Irish. What happened to them?
MILES REPLIES: They ran into a London Irish side who were very determined - especially in defence - and it was a well organised display. Irish feel that they should not be down at the bottom of the table and are desperate to show that and improve their position over the next few weeks. For teams like Saracens, who have a lot of international players away these are not easy times - those who come out of the international window with more points than not will feel that they have got through pretty unscathed.
What about Exeter, Miles? They are in a bit of a slump at the moment, have teams worked them out?
MILES REPLIES: They just can't quite nail it at the moment. You look back at some of their recent games - Bath around the Christmas period: they should have won that. Last week at Sale: they definitely should have won that, too. That killer instinct just seems to have deserted them. I think the Heineken Cup has taken a lot out of them both physically and mentally. It was a great journey for them and they threw heart and soul into it. Having dreamt of being in Europe they were not going to throw their chances away and having sampled it once, there is now the danger that they won't make the Heineken Cup next season. That is what it is all about for Exeter now - to get that Heineken Cup place. To do that, they have to rediscover the ability to get across the line again. It used to be them who won the tight games but now they seem to be letting them slip. The word coming out of the Exeter camp this week is 'responsibility' - they need to take a little more responsibility for those match-winning situations. What's good is that they are creating those match-winning situations but they are not taking them. Cool thought and level headedness is what is needed - easier said though against teams striving for the same things. It is going to be even tougher at Saracens at a sold-out ground - Saracens will not want a losing start in their new home. It is stacked against Exeter here.
On the Rugby Club Will Greenwood said when he played on an artificial pitch it was quicker and players were reluctant to go to ground as much and were looking to offload a lot more. Will that have an effect on how Exeter and Saracens will approach the game?
MILES REPLIES: Exeter don't go to ground a lot on real grass so I don't think it will necessarily change their game. They have been quite ambitious - in fact, they may need to rein that in a little bit as it has not been leading to the end result they desired. But, by and large, I'm sure they will continue to play in the Exeter way and hopefully look to finish off some tries. Saracens, meanwhile, are a team who are quite changeable anyway. They have had moments this season where they have been very fluid in what they have done. We have seen, especially in Europe, what a complete game they have but they are also happy to pile up the three pointers and squeeze the life out of the opposition. Because of the faster pitch there may be more to come from Saracens, but what you have to admire about them is their ability to win. The do that, more often than not.