Building belief
A win over Gloucester would help Northampton get some much-needed confidence back, says Miles Harrison.
Last Updated: 08/02/13 1:00pm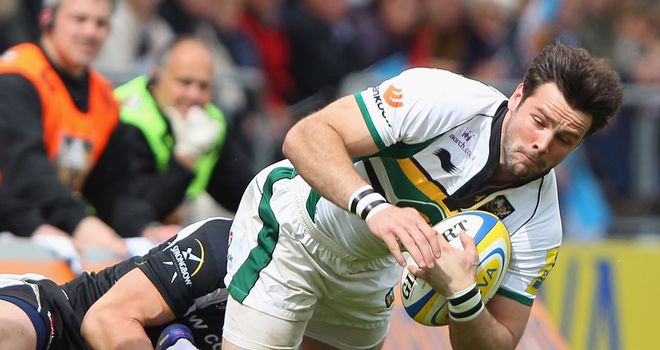 The Premiership is back after two weeks of LV= Cup action - and Northampton and Gloucester will want to get back to winning ways.
Saints were accused by their coach, Jim Mallinder, of "still being at the hotel" in the first half at Exeter, as they lost 28-19 to the Chiefs and bowed out of the LV= Cup.
Gloucester fared no better - in fact, their fans would say worse - and their 32-5 loss to fierce rivals Bath must be a low point of their season.
However, with Northampton in fifth place and Gloucester in sixth, both are still in contention for a Premiership play-off spot, and a victory on Saturday would boost their chances.
Sky Sports commentator Miles Harrison previews the Saturday-lunchtime clash...
A month ago Saints were competing in the Heineken Cup, the LV= Cup and the Premiership. Now they find themselves out of the two Cups and battling for a top-four place in the Prem. What has happened?
MILES REPLIES: They left themselves too much to do in Europe after that home defeat to Ulster, although the Round Six loss to Glasgow was a very disappointing way to end the campaign. As for the LV= Cup, I have never read too much into form in this competition until the semi-final stage. Saints would not have been happy with their exit at the hands of Exeter last week, especially with the way they started the match, and especially having won at Sandy Park in the Premiership at the start of the year. But the task to qualify had just got too difficult in the LV= Cup as well and maybe that showed in the performance. This weekend is the game that the Saints will have been focussing on and it is the nature of that victory over the Chiefs early in January which means they are still very much part of this run-in to the top four in the Aviva. A home win on Saturday against Gloucester would be a double bonus as it would take them a little bit away from the Cherry and Whites and also put the pressure right back on London Wasps, who play late on Saturday night. Northampton may well be out of two Cups but they are right in the Premiership hunt.
Ben Foden is still not required for England, but would you say that Saints need him more than England do at this stage?
MILES REPLIES: Yes, I think that is a fair assessment. Foden is not hitting the heights at the moment and England seem well covered in the starting back three, but there's no doubt Foden is a class act and we saw plenty of that in the win at Exeter a few weeks ago. I'm sure he will return to his very best pretty soon and If he does that in Northampton colours then the club will, of course, be very pleased how it has worked out. In my mind, Foden still has a lot to offer England, especially as he covers full-back and wing - a versatile route that England are clearly going down.
Gloucester lost 26-7 at Northampton a couple of weeks ago in the LV= Cup but they did mix-and-match their selection a bit? Was that so they did not give anything away for this game?
MILES REPLIES: No, I don't think so - it was probably more a case of managing players than keeping tactics under wraps and it's also to do with my point about the LV= Cup and where it sits in the tournament rankings. Gloucester will have been targeting this game like Northampton. They have lost matches in the Premiership this season but they have been tight affairs - they are never far away in the games that matter most. Fifth versus sixth at this stage of the season when the fourth-placed team is only one or two points better off - well, it's always going to be a major match, isn't it?
The Cherry and Whites also lost to Bath last weekend in the LV= Cup. It was a pretty humiliating 32-5 derby loss, so how would that have affected their confidence?
MILES REPLIES: I think there is more of a point to be made here, such was the size of the defeat with a pretty strong team having been put out for that one. Regardless of the competition, this might have had some impact on confidence but I detect that Gloucester know that they are generally going in the right direction this season. They have won more than they have lost and they have also secured a European quarter-final. As I say, they are hard to beat and I think they too will be right in the mix for this top-four spot up until the end.
Can the loser of this game kiss their play-off place goodbye?
MILES REPLIES: No. I think Quins, Sarries and Leicester are showing signs of a breakaway but, say Wasps lose to Harlequins on Saturday night, then the loser at Franklin's will still be in touch. There are still seven games to go after this one and that is enough points on the table to change things around. However, having said that, it is clear that the points on offer at Franklin's Gardens this weekend are important and, to bring it back to that word 'confidence', Northampton will not want a home reverse against a top-four rival at this stage of the season and Gloucester need that win against a side above them in the table, not a valiant defeat, just to push their confidence and belief up a level. I think it is going to be a fascinating way to start a busy Saturday of rugby.