In with a shout
Leinster can get a vital bonus-point win against Exeter if they play to their max, says Miles Harrison.
Last Updated: 18/01/13 11:17am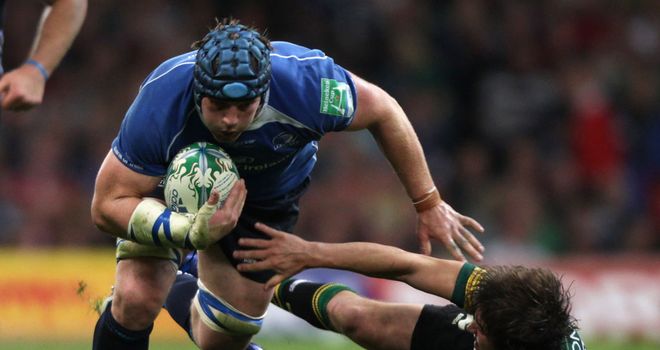 Defending Heineken Cup champions Leinster must secure a bonus-point win against Exeter this weekend to keep their hopes of a fourth European title alive.
After last weekend's five-pointer against the Scarlets, Leinster must now travel to Sandy Park and do the same to have any chance of qualifying for the quarter-finals.
Exeter may not be in the running, but Miles Harrison says that the Irish side cannot afford to take the Chiefs lightly and reckons a Leinster scalp would do the Devonians very nicely...
skysports.com: Leinster are in a make-or-break situation here, aren't they, Miles?
MILES REPLIES: Yes. It has been building for some time now and now here it is. I remember speaking to Joe Schmidt after the Round Four match in Dublin against Clermont and he did not seem too optimistic at that stage, and since then Joe has been talking about miracles. But he knew there would be a chance if Leinster could get five points in Round Five - which they did last week - and probably five points again in Round Six, but Schmidt would also have known that the easier job was last weekend at home against the Scarlets; I always fancied Leinster to get four tries in that game. There is though nothing easy about getting a win, let alone four tries, at Sandy Park, though. Clermont did it but they have been simply exceptional this season.
We know what Leinster can do, however, now that they have some big names back. What happens elsewhere will have a massive impact, too; if Montpellier lose to Toulon on Saturday afternoon, then Leinster will go into their match in a much stronger position - but if Montpellier win then it could be that Leinster/Munster show that has been on the horizon for some time. And, of course, Leinster are one try worse off than their great Irish rivals and are the team away from home. But they are far from done here because they are Leinster.
skysports.com: Leinster have suffered with injuries , but the likes of Brian O'Driscoll, Rob Kearney and Sean O'Brien are getting back to fitness. Is it too late, though?
MILES REPLIES: There is no doubt that getting these players back is crucial for Leinster's Heineken Cup campaign. It was no disgrace that they went to Clermont Auvergne and walked away with a losing bonus point, anything but, and they nearly won that day. They will be very disappointed that they performed as they did when getting Clermont back to Dublin - and, ultimately, that is what has put them in this precarious position now. However, they did all of that without some key players and the fact that they have got them back in and around the squad is a major boost for them now. Is it too late? I don't think it is, but it is fingertip stuff for Leinster now.
skysports.com: You mentioned Sandy Park not being an easy place to go and win, but Clermont Auvergne managed it in Round Two. Do Leinster have the same fire power as the French giants?
MILES REPLIES: If Leinster fire on all cylinders then they can play in a way that very few teams can; you don't get to be Champions three times in four years without being a special side. However, it could be that in Clermont this season we are seeing the Champions in the making. I sat down and watched last week's Clermont versus Exeter games and the first try that Clermont scored was sensational; they are breathtakingly good at times. You don't score 46 points home and away against Exeter unless you are a very good team.
Exeter did not play badly either and there were decent spells of the game when they were more than in it. But, Clermont were always just too strong, as they were at Sandy Park earlier in the competition. As the game goes on they seem to get better and better. Do Leinster, at the moment, have that ability to be just too strong as the game goes on? That is the key question. If Leinster can answer 'yes' to that then they will get the four tries that they desire so badly.
skysports.com: Is there any danger that Exeter might be thinking more of domestic matters and making sure they qualify for Europe next year rather than this game?
MILES REPLIES: No! They will do any resting in the LV= Cup but remember that might be a very useful route into Europe for them as well. For now, Exeter have no intention of being part of this Heineken Cup and not giving it their all. They have said that from day one and they have been true to their word. You don't sit and dream of playing in the Heineken Cup for all the years Exeter have and then decide, just because you have not qualified, to think of something else. Exeter, in front of their fans, will give it their all. What better way to say 'we are Exeter and this is what we are about' than knocking the reigning European champions out of the Heineken Cup.
Exeter came so close to beating Leinster at the RDS - we talked about Leinster being irked by their failure to beat Clermont in Dublin, well Exeter's failure in Dublin has really annoyed them, too. I'm sure that is still burning in them and if they win this game, then they would have won three out of six in their first season in Europe, not many sides do that. Exeter will be what they always are; incredibly competitive and proud to pull on the shirt.