Sarries on course
Miles Harrison tips Saracens to beat Racing Metro as the Heineken Cup returns this weekend.
Last Updated: 11/01/13 2:41pm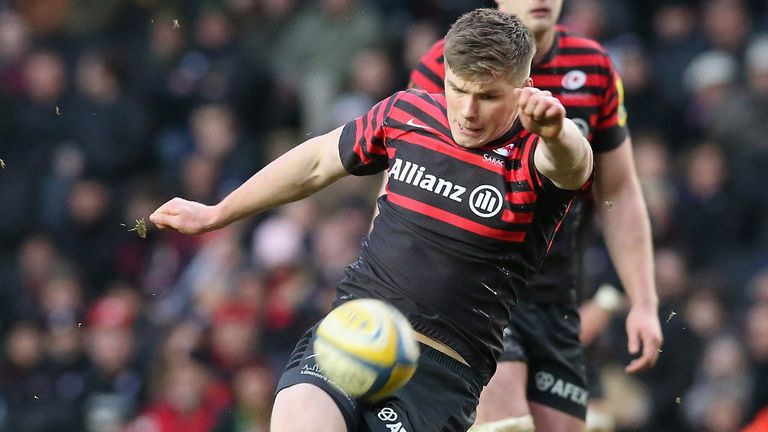 The Heineken Cup is back this weekend as the race hots up for the quarter finals.
There are just two rounds remaining for teams to secure their place in the last eight of the competition.
And this weekend we have 11 matches available live on Sky Sports, including Racing Metro against Saracens in Pool One on Saturday and Ospreys versus Leicester Tigers in Pool Two on Sunday.
Sky Sports commentator Miles Harrison previews the match-up...
Racing Metro v Saracens
With just three points separating the top three sides - what a game in store Miles...
MILES REPLIES: It has turned into a really tight Pool but it was always shaping up to be that way. What we did not anticipate at the start though, especially after their performance last season, was Edinburgh's non-performance this year. No points, no tries minus 100 points difference - it is incredible really. So, instead of it being a four way split, it is a three way split and, as it stands, Saracens have control of Pool One. They came out of those Munster games in control, playing the type of rugby that can see them through, but they need to back that up this weekend against Racing. They could actually qualify this weekend but I don't think they will. I say that not in as much as what Saracens may or may not do, but in what Munster should do in their game against Edinburgh.
Yes, that Munster v Edinburgh game will take place on Sunday but do you think Racing or Saracens will have concerns about that and what it means as far as bonus points go?
MILES REPLIES: I don't think they will. For Sarries, it is win this week then win next week against Edinburgh in Watford and the job will be done. They need to wipe out all external thoughts and get on with their game and they will be big favourites to win their final game against Edinburgh. For Racing, it is all about giving themselves a chance when they go to Thomond Park in Round Six and to do that they have to win as well. It is one of those weeks when you say...let the bonus points stay on the backburner.
This game is being played in Nantes at Stade de la Beaujoire, does that help Saracens?
MILES REPLIES: Yes, I think it does. It is not quite a neutral ground because it is still in France, but it is not where Racing normally play - so therefore it will be unusual for them as well. Saracens have proved that they can beat Racing on foreign soil - they did it quite convincingly in Round Two when they took their home game to Brussels. That decision is really paying dividends now because I think psychologically that is a great thing for Sarries to have in the bank. One proviso though is that the ticket sales have gone superbly - so the atmosphere will crackle by all accounts. However, Saracens rise to the occasion - whatever the ground.
Racing beat Toulon in the Top 14 over the weekend - not many sides go to Stade Felix Mayol and do that!
MILES REPLIES: It was a magnificent result for Racing and it could be the breakthrough win they have been looking for. It will give them massive confidence - especially after what they did the weekend before where they absolutely took apart Agen. They have great quality within their squad but what maybe they did not have was confidence. I watched their opening game against Munster again this week and their reaction to winning it - even though they were the home side - they looked like they had won the Cup. To me, that suggested that maybe the belief was not quite there before that game and perhaps that reared its head again against Saracens in Round Two. However, the Toulon victory should have shown them what is possible. Racing could be a very different animal this time.
So you think Saracens can win this one?
MILES REPLIES: Yes I do, they are moving in the right direction in this Pool. There have been some calls for them to expand their game but I think they have shown that they can do that. They absolutely stuffed Edinburgh 45-0, although looking at what has happened since that may not be quite as remarkable as we first thought! But, you still have to go some to score that amount of points. They looked good for spells in the Racing game and their battles against Munster were confirmation of their fighting spirit. If they keep on doing the job then they are going to be there contesting the key games at the end of the season both domestically and in Europe too. I think they can go to Nantes and come away with a victory, but it will be much tighter than it was in Round Two and could actually be a humdinger.
Ospreys v Leicester
Ospreys prop Adam Jones condemned his side's performance as shocking after their one point win over Zebre - was it a fair assessment?
MILES REPLIES: It's fair in that the Ospreys were not great but I think the point is that they can be so much better as they proved against Toulouse. This Ospreys side are still in transition and are moving to the next stage after losing so many of their key players. It is still early days for their coaching set-up too. But, they have continued the strong home tradition of the Ospreys in this competition which is much to their credit.
They have proved again that they are a tough nut to crack at the Liberty and were a pretty tough nut to crack at Welford Road too. That was one of the best games of the season so far - Leicester did pull away at the end but they had to play very well to do that. Ospreys have beaten Toulouse at home, they got four tries against Treviso at home -who are no walk overs as Leicester found out. However, it is going to be hard for the Ospreys to qualify given their current point situation and now especially given the major injury concerns they have. But, a win against Leicester on Sunday would represent another step forward by this group and show the squad in a very good light again.
As far as Leicester go, Toby Flood not getting banned is a big boost for them isn't it?
MILES REPLIES: Yes it is. I watched that tackle again this week and I agree with the decision not to ban him. I really do think the 'tip tackle' is a big problem area in the game at the moment and it needs looking at again. I know people are trying to do the best thing in terms of safety of the players and I would never argue against that. However, I am on the side of those who think that, at the moment, we are in danger of going too far the other way. And, on this one, I am glad Flood is free to play again.
This is another pool where the bonus point could decide who qualifies and who doesn't.
MILES REPLIES: It could well be. Toulouse have Treviso at home this weekend and they will be targeting a try-bonus point. That would take them to 18, if Leicester beat Ospreys without a bonus point they will also be on 18 points. These two play in the final game at Welford Road - is 18 points enough to get you through in second place? I don't think it will be, so bonus points will be crucial in an effort to get out of this Pool as the victor. However, I think Leicester will be first and foremost looking for the win - if they don't get that then they will be in a very precarious position and, as I said, winning at the Liberty is hard enough regardless of bonus points.
What about Leicester's form at the moment Miles - their scrum has been going well and was too strong for Ospreys to handle in Round Two, but they have not been the Leicester we know have they?
MILES REPLIES: By their own admission they are some percentage short of where they want to be. But, what you also see is Leicester still winning games and you can't take that away from them. Europe means so much to Leicester and I think these two games will have been looming large on the horizon and I've got a feeling we will see the best of them over the next two weeks...a little bit like we did when they played the Ospreys at home.
What other games this weekend have caught your eye Miles?
MILES REPLIES: Well, Harlequins are in a great position to qualify as top seeds and can help set that up in their clash against Connacht. A trip to the Stoop is a very difficult position for any club in this competition. Northampton, well I think they are still right in this tournament despite their third place. They take on Castres who are also in with a bit of a shout, but Saints played a very sensible game against Exeter last week and I can see them playing well this week too. They are on ten points - the same as defending champions Leinster who entertain the Scarlets. It appears Leinster have to win with a bonus point - they were pretty down after they lost to Clermont home and away but I am convinced that they can still find a way out of this although it's probably got to be bonus points all the way.
In Pool Six, well you could argue that the most important game of the weekend is on Friday night when Sale host Montpellier. If Montpellier win this one - they are then at home against Toulon in the final round. The reputation that French teams have at home against other French teams means that both Montpellier and Toulon could then both come out of Pool Six. That has massive implications for the likes of Leinster, Munster and Northampton etc. It is a pivotal game in Salford and one that many others will be eager to keep in touch with. I'm off to Nantes and Swansea - bags packed and raring to go. Have another great weekend of Heineken Cup viewing!
Full list of Heineken Cup fixtures on Sky Sports this weekend